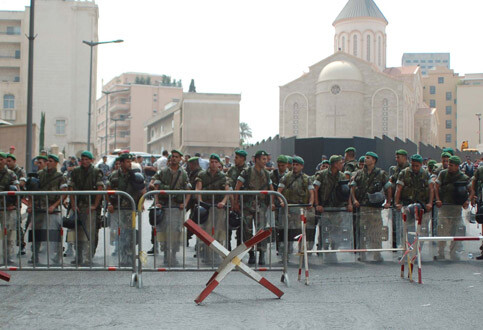 BEIRUT
— Lebanese citizens responded with fury at the news that more than 50 people were killed in an Israeli strike on a house in the southern town of Qana on Sunday.
Across the nation, Lebanese woke up to graphic pictures of at least 37 dead children being removed from the rubble of a destroyed house.
Days and weeks of frustration at the slow progress being made to resolve this conflict at the higher political level culminated in an impromptu mass convergence at the UN building in Beirut. As far as many ordinary Lebanese are concerned, Qana is the last straw.
"We are used to Zionist massacres," says Hani Mansour, a protester outside the UN building. "It's not the first time they have done it and I wouldn't be surprised if they do it again."
The centre of the capital was brought to a standstill as more than 2,000 demonstrators gathered outside UN House to protest against the Israeli offensive in Lebanon.
Some demonstrators protested peacefully while others stormed the building by force after breaking through an entrance. Offices and equipment were smashed on two floors and a fire was started. There were more than 80 Lebanese and foreign UN staff members in the building at the time of the incident, though none was reported to be hurt.
"This is an empty building and the UN are not doing anything," says Ali Salah, another demonstrator. "They don't care about Lebanon. They have done nothing."
With emotions running high, Lebanese security forces attempted to intervene and stop the angry protest from spinning out of control. Witnesses at the scene say, however, that members of political parties Hizbullah and Amal had more influence in calming matters.
The UN, on its part, condemned the Qana attacks and empathized with the anger of the Lebanese people, though denounced the 'destructive acts' of a 'core group' of violent protestors.
"We utterly condemn what happened in Qana," says Khaled Mansour, spokesman for the UN in Lebanon. "The Secretary-General has called for am emergency session of the Security Council with the hope of bringing an immediate cessation of violence."
Mansour adds that the UN and its various humanitarian agencies will continue to operate in Lebanon to help the government and Lebanese civil society assist the hundreds of thousands of Lebanese civilians affected by the war. It also called for an investigation into the Qana incident.
For many Lebanese, Qana became a tragic symbol of their country's conflict with Israel following the death of more than 100 people there in an Israeli strike in 1996.
"It's horrible," says protestor Karim Harmoushe. "I don't know why they hit the town again. The image that is being shown in the West is so biased. Now there are 50 dead Israeli civilians and 600 here. Does each Lebanese civilian count for one tenth of each Israeli civilian?"
The Qana incident has led Lebanese Prime Minister Fouad Seniora to demand "an immediate and unconditional ceasefire" before any negotiations, sending a message to US Secretary of State Condoleeza Rice that she would not be welcome in Beirut.
Seniora's position was supported by many Lebanese politicians who expressed their anger at the incident
"All efforts should be deployed for a ceasefire," MP Boutrous Harb says. "This should be the start of a comprehensive settlement. We cannot let people die this way."
But although there are increasing calls for diplomacy in Lebanon, many fear that the conflict will escalate, with Israel seeking to continue its offensive for 10 to 14 days and Hizbullah vowing to respond to "the horrific massacre".
"Israel will feel what our response will be," says Salah from the midst of the demonstration. "We've got used to their aggression, but we can make them suffer."
Related Links
This item comes to you via IRIN, a UN humanitarian news and information service, but may not necessarily reflect the views of the United Nations or its agencies. All IRIN material may be reposted or reprinted free-of-charge; refer to the copyright page for conditions of use. IRIN is a project of the UN Office for the Coordination of Humanitarian Affairs.