CONTROVERSY OVER SALES TO ISRAEL DOMINATES CAT SHAREHOLDER MEETING; SIGNIFICANT MAINSTREAM INVESTOR SUPPORT AS CAT STOCKS TAKE DOWNTURN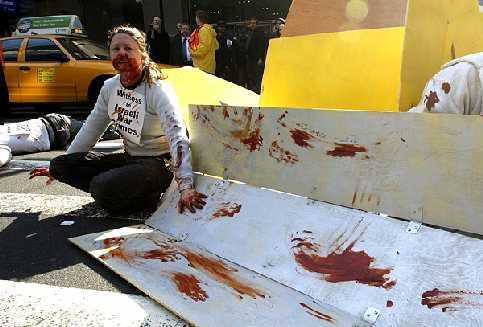 April 13, 2005 - A controversial shareholder resolution calling for Caterpillar to investigate whether their sale of bulldozers to Israel violates the
CAT
"good global citizen" code of conduct received a 3% vote at the annual shareholder meeting today in Chicago.
The resolution was backed by investors with holdings estimated to be well over $600 million, including CalPERS, the largest pension fund in the world.
Michael Passoff, Associate Director, Corporate Social Responsibility Program, As You Sow Foundation, said, "That size vote is common for a resolution as controversial as this one. That shareholders with holdings worth over half a billion dollars voted yes on the resolution is a victory because it means mainstream investors were voting for this issue, not just social investors.
Today's public protests against
CAT
in over 30 cities and
CAT
's 3% drop in stock price today assure that the company will have to deal with this issue sooner rather than later. And if not sooner, then we expect to be back next year with another resolution."
Jewish Voice for Peace member Sara Norman said: "Since shareholder resolutions are non-binding, our primary goal was to put this issue front and center in the minds of the Caterpillar board. By that standard, today was a remarkable success. The issue of CAT's role in demolishing homes of Palestinian families, and the use of CAT D-9s to violate various human rights laws, completely dominated the discussion in the shareholder meeting. "
Matt Gaines of the Stop Cat Coalition said, "Caterpillar is so image-conscious that it actually sued Disney to block a children's movie featuring evil Caterpillar bulldozers. The threat to the CAT brand caused by news footage of real life bulldozers crushing family homes makes the damage caused by movie bulldozers look like child's play. CAT should just get out of the business of destroying homes."
The shareholder resolution was filed by Jewish Voice for Peace with the support of Sisters of Loretto, Mercy Investment Program, Sisters of Mercy, Maryknoll Sisters, and Sisters of St Francis of Philadelphia.
Currently, CAT is facing charges of war crimes in a lawsuit filed by the parents of a young American woman who was killed by a Caterpillar bulldozer while trying to protect a Palestinian home. In addition Caterpillar has come under fire from the international human rights community, in which there is near-universal condemnation of the company's policy of supplying weaponized bulldozers to Israel's military.
Caterpillar is also facing threats of divestment from major religious denominations, including the Presbyterian Church USA and the World Council of Churches, which represents some half a billion Christians, who have issued statements supporting selective divestment from companies that profit from Israel's occupation, of which CAT is the most well known.
Jewish Voice for Peace has become the largest grassroots Jewish peace group in the United States. We mobilize a national and international constituency of Jews to push for a change in Israeli and U.S. policies. Our dedicated volunteer activists spearhead our campaigns and programs, which include lobbying, direct actions, media activism, education and outreach, and solidarity work. We employ a full time staff of three. We sponsor a daily email service, Jewish Peace News, with thousands of subscribers throughout the world.
Related Links
Two homes demolished by Caterpillar excavation drills in Anata,

ICAHD

(13 April 2005)
Mother of murdered activist launches boycott call, Press Release, War on Want (13 April 2005)