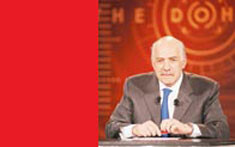 Two prominent Jewish personalities from Israel will speak at the next Doha Debates being held at the Qatar Foundation headquarters on Wednesday. The motion for the day will be: "This House believes the Palestinians should give up their full right of return." Bassem Eid, executive director, The Palestinian Human Rights Monitoring Group (
PHRMG
) and Dr Yossi Beilin, a member of the Israeli Knesset will speak for the motion.
PHRMG
is an independent Palestinian non-governmental organization working to end human rights violations committed against Palestinians in the West Bank, Gaza Strip, and East Jerusalem, regardless of those responsible. The members of the
PHRMG
believe that the strength of democracy and civil society in Palestinian society will be determined by the Palestinian people, through their defense or neglect of human rights, said a release yesterday.
Beilin, who represent the Meretz-Yachad Party, is a leading proponent of the peace process with Israel's neighbours and especially the Palestinians. He initiated the secret channel of talks that resulted in the 1993 Oslo Accords and subsequently in late 1995 concluded a 'non-paper' of guidelines for a permanent status peace agreement with Palestinian leader Abu Mazen. Beilin headed the Israeli delegation to the multilateral peace process working groups from 1992-95 and was a negotiator at the Taba talks with the Palestinians in January 2001.
Ali Abunimah, co-founder of Electronic Intifada and the child of refugees and Dr Ilan Pappe, Israeli historian who teaches at Haifa University will speak against the motion. Ilan is considered one of the "New Historians" who have re-examined and hold controversial views of the history of Israel and of Zionism.
After years of being involved in the peace camp and talks, Pappe supported the boycott of Israel in 2005, including the academic boycott. According to Pappe, the reason for wanting the boycott is the "need to apply external pressure on Israel as the best means of ending the worst occupation in recent history."
Related Links