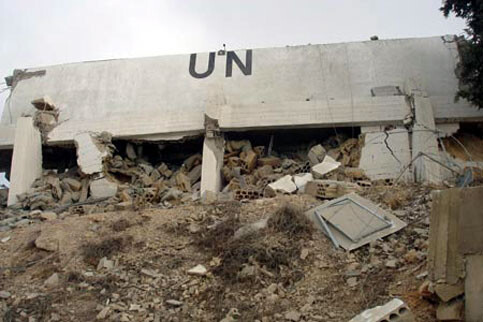 A board of inquiry into an Israeli attack in Lebanon that killed four United Nations military observers in July had no access to the commanders involved and was therefore unable to determine why the attacks were not halted despite repeated appeals from
UN
personnel, Secretary-General Kofi Annan's spokesman said today.
The Board, appointed by the UN Department of Peacekeeping Operations (DPKO) as standard procedure in such circumstances, noted that the Israeli authorities accepted full responsibility for the attack on the UN post at Khiyam and apologized for what they say was an "operational level" mistake, the spokesman added in a statement.
But he added: "The Board did not have access to operational or tactical level IDF (Israeli Defence Forces) commanders involved in the incident, and was therefore unable to determine why the attacks on the UN position were not halted despite repeated demarches to the Israeli authorities from UN personnel, both in the field and at Headquarters."
Immediately after the attack with a 500-kilogram, precision-guided aerial bomb on 25 July, Israeli Prime Minister Ehud Olmert expressed "deep sorrow."
On the day that the four observers - from Austria, Canada, China and Finland - were killed, the UN Interim Force in Lebanon (UNIFIL) said 21 strikes were made within 300 metres of the patrol base, with the UN protesting each one to the IDF. UN Deputy Secretary-General Mark Malloch Brown also made several calls to Israel's UN mission.
After UNIFIL headquarters lost contact with the base, it coordinated safe passage for two armoured personnel carriers which pushed through and discovered the shelter collapsed and the four observers dead. Despite repeated requests to the IDF to desist, firing was maintained during the rescue operation and continued to strike near UNIFIL positions, UN officials said at the time.
The Security Council called on Israel to conduct a comprehensive inquiry and Mr. Annan suggested a joint UN-Israeli investigation.
Today's statement said the Board's report concluded that all standard UN operating procedures had been followed and there was no additional action UN personnel could have taken that would have avoided the outcome.
Mr. Annan once again paid tribute to the four who gave their lives in the cause of peace and reiterated his heartfelt condolences to their families.
Related Links