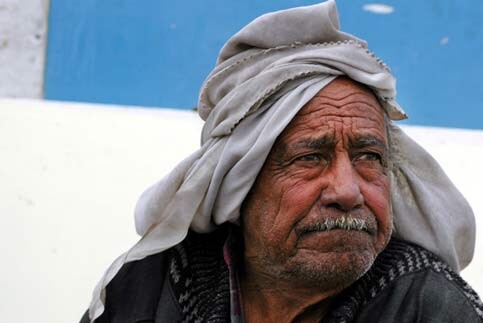 One day in 1981, my late father, Maurice Hanna Bisharat, returned from a long day at his Sacramento, Calif., medical office with an extra bounce in his step, his eyes dancing with excitement. His friend, Michael Himovitz, the young owner of a local art gallery, had called, offering to hold a one-person show of my father's paintings - mostly California landscapes.

My father had taken up painting after immigrating to this country from Palestine in the late 1940s, and although an amateur, had won a national art award within two years. But the demands of medical practice, raising a large family, and other avocations took their toll. It had been many years since my father's art had been publicly exhibited, and he was tickled.

My father was not a politician, but like any Palestinian living in the United States, he felt obligated to relate his people's experience to American friends. Educated and articulate, he spoke publicly in defense of Palestinian rights, and was a frequent commentator on Middle East events in the local media. Michael, a Jew, was perfectly aware of this side of my father's life. It did nothing to diminish his appreciation of my father's art, nor to inhibit their friendship.

Some weeks later I saw my father sitting, stony faced. He turned to me and whispered: "I just got a call from Michael. My show has been canceled." Michael, it transpired, had been visited by a group from the Sacramento Jewish community. Their message: "If you show Bisharat's art, we will boycott your gallery and close you down."

Michael may have been as crushed as my father, apologizing: "I just can't risk it - it's my livelihood." The indirect message to my father, of course, was: "If you speak critically of Israel, you will suffer pain." Fortunately, art was not my father's livelihood, and he survived this incident. But a deep sense of outrage never left him.

So when former New York Mayor Edward Koch and Rafael Medoff ask incredulously in a recent commentary critical of President Jimmy Carter's recent book Palestine: Peace not Apartheid "Are Jews suppressing speech?" - or when 14 Carter Center advisory board members resign in protest of the president's positions - the answer, for me, is not so straightforward.

The fact is that "Jews" are not suppressing speech. Michael Himovitz certainly didn't suppress my father's attempts to explain the Palestinian perspective to his fellow citizens. Many American Jews hold views not dissimilar to my father's - supporting peace, reconciliation and equal rights for Palestinians and Jews.

Yet, a minority of Jews, backed by some non-Jewish supporters, stridently protests any unflattering portrayal of Israel, often with unfounded accusations of anti-Semitism. Indeed, insinuations of anti-Jewish bias are now being unfairly raised against Carter. And some supporters of Israel, apparently, are willing to exploit economic clout to punish those who, like my father, buck the trend and defend Palestinian rights.

Nor is the example of my father isolated. Numerous variations are documented in former Illinois Republican Rep. Paul Findley's book, They Dare to Speak Out. More chilling, these efforts at intimidation are not always the spontaneous responses of individuals, as in my father's case, or likely in the resignations of the Carter Center advisory board members.

On the contrary, the pro-Israel lobby, joined by the Israeli government, sustains a systematic campaign to shape American public opinion. For example, the Committee on Accuracy in Middle East Reporting in America (CAMERA) harangues journalists over alleged "mistakes." In 2002, CAMERA attacked National Public Radio, claiming anti-Israel bias, including failure to report Israeli deaths. Two Boston area businessmen associated with CAMERA organized a boycott of local NPR affiliate WBUR that significantly reduced revenue. Meanwhile, a scrupulous study of NPR's coverage by Fairness and Accuracy In Reporting (FAIR) showed that, in fact, NPR had disproportionately reported Israeli deaths.

Honest Reporting is a media organization that mobilizes 140,000 subscribers worldwide. Its Web site once touted "major editorial changes at CNN which greatly shifted public perception of the Arab-Israel conflict." The impetus, according to The Jerusalem Post, was "up to 6,000 e-mails per day to CNN executives, effectively paralyzing their internal e-mail system."

The Israeli government also applied pressure to CNN, according to verbatim notes of a conference call in 2000 obtained by advocate/researcher Phyllis Bennis. In the call, Israeli government spokesman Nachman Shai outlined Israel's media strategy with 30 to 60 U.S. Jewish leaders, focusing concern on CNN, and especially two Palestinian reporters. "We are putting real pressure on the heads of CNN to have them replaced with more objective pro-Israel reporters that are willing to tell our side of the story."

Monitoring media to ensure accuracy is a public service. Yet, as besieged journalists have concluded, the goal of this campaign is not truth, but pro-Israeli advocacy, and silencing dissent. WBUR's general manager, Jane Christo, described CAMERA's message as: "Report our point of view, or we'll shut you down."

Dissenting American Jews are not spared. Jilian Redford, head of the Hillel Jewish student group at the University of Richmond was dismissed in 2004 after protesting the Israeli Embassy's repeated e-mail propaganda directives. Redford saw Hillel's mission as facilitating Jewish religious life on campus, not doing hasbara (Hebrew for "propaganda") for the Israeli government. To reiterate: This is not a "Jewish" campaign. In fact, hasbara, coordinated with, if not directed by right-wing Israeli governments, is unrepresentative of largely liberal American Jews. Many, like Michael, would no doubt be horrified by the actions of these self-appointed guardians of thought. Nor does the Israel lobby "control" the media, as publication of Carter's book and this article attest.

But the price of our still mostly one-sided exposure to Middle East affairs is high, and it is much greater than the hurt inflicted on my father and others like him. Americans are shielded from diverse perspectives about a pivotal conflict, and are thus hampered in critically evaluating U.S. policies. Our unconditional support for Israel is a principal cause of global anger against us.

Last summer our government ran diplomatic cover for Israel's invasion of Lebanon, prolonging the attack for weeks. Israel killed more than a thousand Lebanese, mostly civilians, heavily damaged the country's civilian infrastructure, and displaced a quarter of the population. The consequence: National Intelligence Director John Negroponte, delivering the annual U.S. threat estimate in mid-January, moved the Lebanese group Hezbollah - which has not targeted Americans for decades - up to second. Meanwhile, UPI editor Arnaud de Borchgrave reports that former Israeli Prime Minister Benjamin Netanyahu and other prominent Israelis are urging a public relations blitz to instigate a U.S. strike on Iran.

It is one thing to match ideas with ideas, facts with facts, perspectives with perspectives. It is different to threaten, bully, discredit and harass opponents of one's views - whether they are writers, artists, Jewish dissidents, ex-presidents or anyone else. And in this case, our resulting ignorance is not bliss. It is downright dangerous.

George Bisharat is a professor of law at Hastings College of the Law in San Francisco, and writes frequently on the Middle East. This article appeared originally in the Houston Chronicle and is reprinted by permission. It comes to EI courtesy of the Institute for Middle East Understanding.
Tags