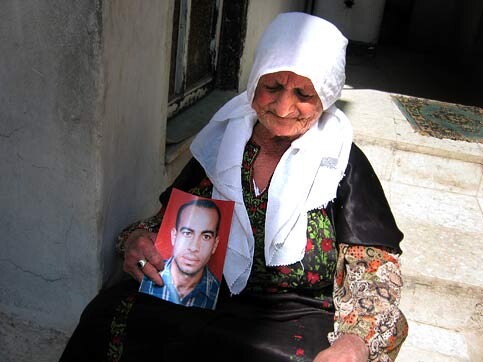 Aysheh Faraj Mohammad of al Doha in Bethlehem has always had a hard life, but lately, simply making sure that there is enough food for the family day to day has become all consuming. Her eyesight is fading; she can barely distinguish shapes; she suffers from arthritis, and yet everyone still looks to her to keep things together. Hasan Mousa Hasan, her husband of more than 40 years, is known to have a temper. He has difficulty walking because of a childhood condition, but he does make it to the market every day, where he has a lemonade cart.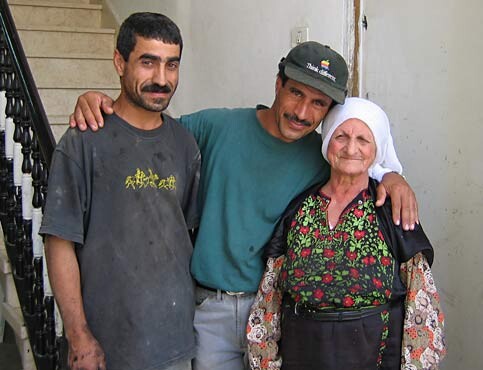 Aysheh and Hasan have nine children, two married daughters and seven sons. Five of the sons are married and each has a couple of rooms for his family in the compound where they all live close together. Two of the sons, Mousa, the oldest, and Rasmi, are mechanics and have set up shop in the front of the family compound. Mousa and Jamal are the only two without a high school diploma.

Jamal and his brother Khaled are unemployed having been laborers in Israel before the second Intifada. Now Jamal tries to make ends meet by selling used clothes. When tourism was still a going concern in Bethlehem, his wife, Khitam, would take work fashioning and stringing prayer beads - two dozen for less than two dollars. Jameel owns a taxi and Kamal has a low-level job at the courthouse.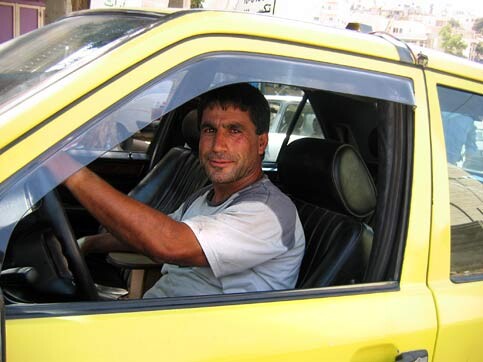 Aysheh's youngest son, Majdi, the only one among her children to graduate from college, is in Israeli prison. In April of this year, he graduated from Bethlehem University with a degree in physical therapy. When he was arrested, he was looking for steady work while taking odd jobs as a masseur for $10 a sitting. For four years, he has been engaged to a young woman from Aida Refugee Camp. Being unmarried, he was the main support for his aged parents.

Israeli soldiers broke into the back of the family compound to pick Majdi up in the early hours of the morning a few months ago. He was sleeping in the same room as his mother, a room that also doubles up as a kitchen. He is now in Ofar awaiting a hearing scheduled for November 25th. His mother and his fiance have visited him once, and they are hoping for a light sentence, as he did not confess to anything. His mother is unable to provide him with the clothes and food he needs in prison, and is casting about for help.

Among Bethlehem's unemployed are 2,200 who had worked in the tourist industry and who are now all without jobs. Palestinian unemployed men used to get assistance from Syria or Saudi Arabia through the Palestine National Authority. Now, however, such funds have stopped, having been labeled by the US as money that goes to "support terrorists".

The municipality of Bethlehem has 165,000 inhabitants, close to 650 of whom are in Israeli prisons. Last year, 90% of the boys in the Tawjihi (high school graduation exam) class at Iskandar School in Beit Jala were in Israeli prisons. Many are thrown in prison with no evidence other than reports from informers. Bethlehem itself is a prison. The Israelis are systematically isolating the city. To reach Bethlehem from Ramallah, for example, the trip, which used to take barely an hour through the road south of Jerusalem, now has been rerouted by the Israelis through Wadi al Nar and takes two to three hours on terrible roads. All this is to cut Bethlehem off from Gilo settlement in the south of Jerusalem and from Jerusalem itself.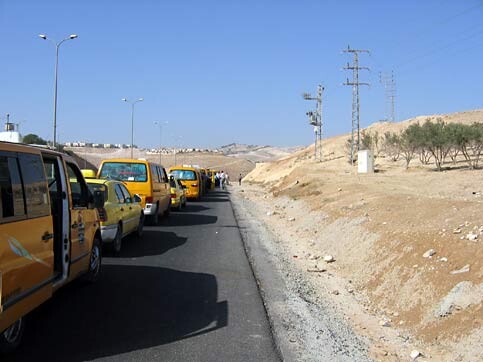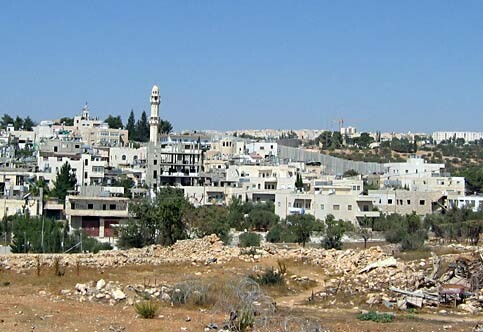 Wadi al Nar's check point opens at 5 a.m. and closes at 8 p.m. Passing through it routinely involves long delays. An Israeli military road now circles the city cutting it off from the Israeli settlements that ring it, and there is the wall designed to separate Bethlehem from Jerusalem. The wall is built literally at the door steps of Palestinian urban areas, eating up as much agricultural land as possible, separating Bethlehem inhabitants from their lands on the other side and enclosing six villages in the municipality of Bethlehem. Har Homa settlement, built in 1996 on forested land historically owned by Palestinians from Bethlehem, Beit Sahour, and from the villages of Um Tuba and Sur Baher is now connected with Gilo settlement through a bypass road creating a new border for southern Jerusalem.

The Israeli settlements are built very close to Palestinian townships and villages taking a a good portion of their fertile farm lands in the process. For example, Gilo settlement is just one half kilometer from Beit Jala. Ifrat settlement, which spreads for 20 kms, is just 1 km away from the village of Qirtas. From the south also, going to Hebron, Bethlehem has only one outlet.
Related Links
More prisoner stories
Rima Merriman is a freelance writer and a communications specialist. She has been working in the West Bank for the past four months.