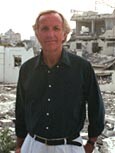 Yesterday, John Pilger's documentary 'Palestine is still the issue' had its premiere today in London at the Institute of Contemporary Arts. After showing their latest film, both Pilger and his producer Christopher Martin appeared on stage and took questions.

John Pilger's latest film, Palestine Is Still The Issue, is to be broadcast by ITV1 (UK) on Monday, September 16, at 11.00pm.

In July, Pilger wrote in the New Statesman, 'if you got your news only from the television, you would have no idea of the roots of the Middle East conflict, or that the Palestinians are victims of an illegal military occupation.'

The film sees Pilger return to the Middle East, twenty-five years after first reporting from the region, to ask why Palestinians are still refugees in their own land and to explore the effects of the Israeli occupation on the day to day lives of ordinary Palestinians.

Pilger's 'Palestine is still the issue' will be available in the United States from Bullfrog Films.