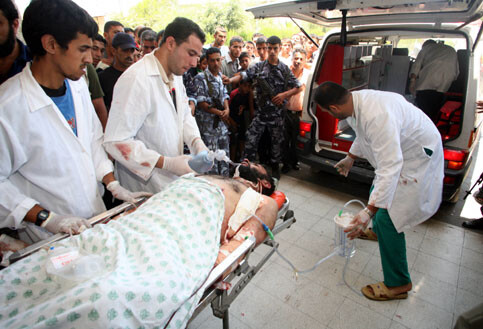 PRCS
condemns the Israeli targeting of the health organizations and medical staff as well as the series of Israelis attacks at medical staff and particularly at
PRCS
staff.
PRCS confirmed that Israeli Army attacked the medical center in Al-Maghazi camp in Gaza and wounded a PRCS Emergency Medical Technician (EMT), Mr. Anwar Juma Abu Huli. In addition, a PRCS ambulance was shot in Bet Lehya receiving two bullets causing damage to the vehicle.
PRCS EMT Anwar Juma Abu Huli, 40 years old, was wounded today by the Israeli Army while he was on duty. Anwar Juma Abu Huli was transported to PRCS Al-Quds hospital in Gaza for medical treatment. Mr. Abu Huli lost his right leg as well as his right hand fingers. His left leg was also burned. It is worth noting that since the beginning of the Intifada, on September 29th 2000, 12 PRCS staff members have been killed and 206 wounded by the Israeli Army.
The Israeli Army surrounded the PRCS Branch in Nablus and kidnapped three bodies from PRCS ambulances. PRCS confirms that nine Palestinians were killed today by the Israeli Army; six of them in Al-Maghazi camp (Gaza) and three in the city of Nablus (West Bank).
The President of PRCS, Mr. Younis Al-Khatib, confirmed that at 6:00 am, on July 19th 2006, the Israeli forces occupied the PRCS branch premises in Nablus. The Israeli Army is delaying and restricting the movement of PRCS ambulances and staff. Three military jeeps and one mechanical shovel are on the premises and the zone is being used as a shooting base.
Mr. Al-Khatib stated that the invasion of the Ministry of Health Hospital in Nablus and the use of the facilities as a military site and detention place is a clear violation of International Humanitarian Law and of the Geneva Conventions which prohibits the invasion of hospitals.
Mr. Al-Khatib said that the Israeli forces are still violating International Humanitarian Law and Geneva Conventions by targeting medical centers. Under International Humanitarian law and the Additional Protocols, the medical centers are protected from any military aggression and activities.
Al-Khatib added that the Geneva Conventions are not taken seriously by the Israeli Army. He is asking the international community for immediate condemnation of the Israel violations of International Humanitarian Law and the Geneva Conventions.
Related Links