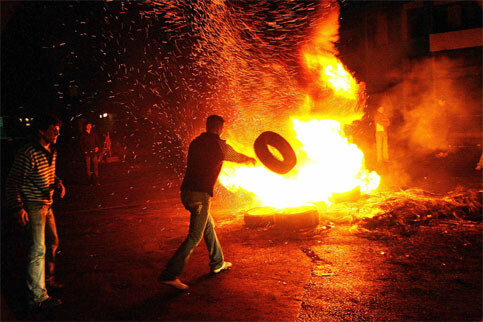 BEIRUT, 28 January (IRIN) - Deadly Shia riots in southern Beirut protesting over power and water cuts have occurred because these basic services have become part of the country's increasingly tense political stand-off, said protesters and analysts.
At least eight people were killed and 22 wounded as gunfire and grenades erupted after an official with Shia opposition group Amal was shot dead during a confrontation between angry demonstrators and the army on 27 January.
Opposition protesters, who said they had received only four hours of electricity and water over the past few days, used blazing tires to block several main roads around south Beirut, including the highway to the airport, burned several cars, threw grenades and smashed shop windows.
"The government is punishing the Shia because we are the opposition," 21-year-old protester Ali Abdullah told IRIN at the scene of the riot in Mar Mikhael, where several people were killed in gunfights and explosions. The fighting began between the army and Amal supporters but spread to include gunmen from the neighboring Christian-majority neighborhoods and led to the deaths of several Hizballah supporters.
"Life in this neighborhood is very hard," said Abdullah. "We don't have enough power or water and no money and few job prospects."
"Punished"
Ahmed Mousali, professor of political science at the American University of Beirut, said basic service provision had become part of the political deadlock that has pitched the Western-backed government against a Shia-and-Christian opposition backed by Iran and Syria, and left Lebanon without a president, parliament or fully functioning cabinet.
"Certain areas of Beirut have been punished by the government by having electricity shortages and the threat of rising bread prices," he said, referring to the Hizballah-controlled southern suburbs, where several protests have taken place over the past three months against power cuts.
The government denies politicizing the electricity supply, arguing that many households in the southern suburbs tap power off the mains system without paying for it, which causes short-circuits and blackouts.
Villages in Shia-majority south Lebanon and the eastern Bekaa Valley regularly have their electricity cut after 6pm, but in recent months cut-offs were extended to Beirut. Though nearly all neighborhoods suffer power cuts, the southern suburbs are worst hit, with few families able to afford to run generators on increasingly expensive diesel. Parts of central Beirut on the other hand enjoy 20 hours of electricity a day.
Economic disparities
In its latest National Human Development report the UN Development Programme highlighted growing disparities in Lebanon.
While general literacy has decreased nationwide, in the Bekaa it has increased; in 1995-2005 Beirut received 16 percent of total public investment spending, despite having only eight percent of households categorized as in need of basic services. By comparison, in the Shia town of Nabatiyeh in south Lebanon, where 11 percent of households struggle, the state spent just one percent.
Strikes
The rioting on 27 January followed an earlier strike by the General Confederation of Workers of Lebanon, in which hundreds of taxi drivers blocked roads and refused passengers in protest over rising fuel and food prices.
"Two years ago, 20 liters of petrol was 15,000 Lebanese pounds [US$10] and I used to make a profit of 40,000 pounds a day [$28]," 40-year-old taxi driver Khaled Abdel Hadi told IRIN at one of the protests. "Today fuel is 25,000 [$17] and I'm lucky to make 10,000 [$7] profit, which is hardly enough to feed my wife and children two meals a day."
Abdel Hadi said he recognized global inflation was driving up prices of basic commodities but said the "government is doing nothing to support its citizens."
Though meant as a nationwide union strike, in areas such as west Beirut's Hamra, dominated by pro-government parties such as the Sunni-led Future Movement, many taxis were seen working as normal, highlighting the deeply politicized nature of the labor protest.
This item comes to you via IRIN, a UN humanitarian news and information service, but may not necessarily reflect the views of the United Nations or its agencies. All IRIN material may be reposted or reprinted free-of-charge; refer to the copyright page for conditions of use. IRIN is a project of the UN Office for the Coordination of Humanitarian Affairs.
Related Links