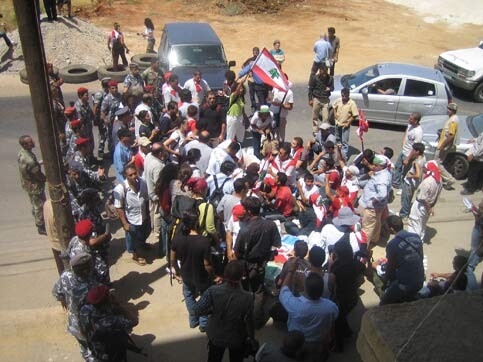 BEIRUT
- A civilian convoy of more than 150 people in 47 cars was turned back by local police when attempting to bring relief supplies from Beirut to Nabatiyeh, 80km south of the capital on Saturday.
Organisers and participants of the Campaign of Resistance returned to Beirut after being advised by police that it was unsafe to travel any further than the checkpoint at Neama, about 20 km south of Beirut.
"We are currently meeting and discussing our next move," said campaign spokesperson Rasha Salti. "It is likely, though not definite, that it will be the organisation of another civilian convoy. Either way, we will be taking action very, very soon."
Participants of the Campaign of Resistance arrived at Martyrs Square in downtown Beirut early on Saturday to launch a civilian movement expressing anger at Israel's forced blockade of south Lebanon as well as at the overall destruction the country has witnessed over the past month.
The current conflict started after the armed wing of Lebanese political party Hezbollah captured two Israeli soldiers on 12 July. In response, Israel launched a military offensive that has focused largely on the south of Lebanon, from where Hezbollah has since been firing rockets into Israel.
Israel's bombs have so far destroyed 630 roads and 73 bridges, according to the Lebanese Higher Relief Council (HRC) - a government body set up specifically to manage relief efforts in this conflict. South Lebanon has become almost completely cut off from the rest of the country and, as such, is suffering shortages of a range of essential supplies, medicines and fuel.
Israel says it is targeting "terrorist infrastructure" and that it intends no harm to the civilian population of Lebanon.
While hundreds of thousands of people have fled the south over the past month of conflict, some 120,000 remain, says the HRC.
"It is imperative to go south and reach those who have stayed behind to resist by steadfastly remaining on their land," said Huwaida Arraf, campaign co-organiser.
Participants of the civilian convoy included members of non-governmental organisations (NGOs), various Lebanese political parties and an array of professionals from countries including Egypt, the United States and Ireland.
According to organisers, the civilian convoy was carrying 200 boxes of medicines for chronic diseases, 300 loaves of bread, 3,000 units of incontinence diapers for the elderly, 200 boxes of canned and raw food, and hygiene bags including shampoo, toothpaste and soap.
Police said the convoy was stopped because security was poor beyond the Neama checkpoint. Organisers said they later received calls from Interior Minister Ahmed Fatfat stating that it remained unclear whether the convoy might be targeted by Israeli aerial bombing, particularly as Israel had issued warnings that any vehicle travelling south of the Litani River, some 30km north of the border with Israel, would be a target.
Organisers were keen on preventing a confrontation with the police. "We had to return to a place where a discussion could be carried out as to how else to direct our efforts in expressing our solidarity with the Lebanese in the south and delivering aid," said organiser Rabih Salah.
Related Links
This item comes to you via IRIN, a UN humanitarian news and information service, but may not necessarily reflect the views of the United Nations or its agencies. All IRIN material may be reposted or reprinted free-of-charge; refer to the copyright page for conditions of use. IRIN is a project of the UN Office for the Coordination of Humanitarian Affairs.