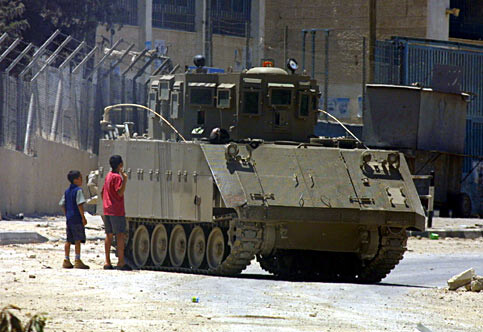 Through olive-groves as old as truth
The breezes tire; while cars lie crushed
On pavements meant for games and youth
And washing lines. The hungry, hushed
Indoors, see tanks mount every car;
And flagged, on every tank, Goliath's star.

Is all this worse, this stench of war
And power, than on that bright morning
When, from the mess, the emperor
Reclaimed the spot and made it sing?

Or worse than when the King of all
Chose for himself this cave and cattle stall?

For times like this He came in mire
And myrrh and milk and blood; for such
A time the angel and his choir
Explained what made this birthing much

More universal than it seemed -
He came that such as this might be redeemed.

O little town of Bethlehem -
Still forced to live another's lie!
But force or fear cannot condemn
Worship (which is both soil and sky).

(What God on earth would thus conceal
In simple bread and wine a freedom meal?)

With worship, and with wine and bread,
the hopes that almost died are yet
Not crushed on pavements, but instead
Rise, swirling up like incense: let

Shalom (which is God's will) be done,
And justice ripen in the West Bank sun.

The Revd. Jeremy Frost is Precentor of Canterbury Cathedral, England. He
holds degrees in Music and Theology from the University of Oxford. Jeremy
has visited the Middle East on several occasions. His recent Masters thesis
through King's College London, which received a distinction, focussed on the
theological relationship between Israel and the Church, countering Christian
Zionism in the process. He hopes to take these studies further in the
future. Jeremy turns 30 next month, and has been writing poetry since an early age. He is also a composer, and has recently written some music inspired by the story of the Palestinian people.