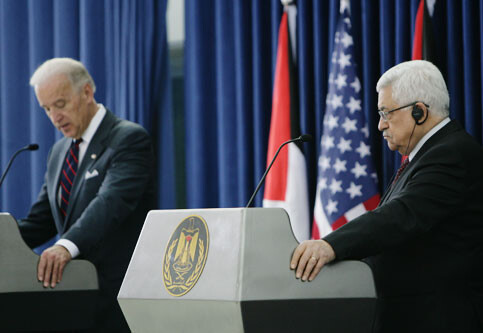 At last September's New York summit with Israeli Prime Minister Benjamin Netanyahu and Fatah leader Mahmoud Abbas,

US

President Barack Obama publicly abandoned his demand that Israel halt construction of colonies in the occupied West Bank as a precursor to the resumption of

US

-brokered negotiations. Thus, Obama humiliatingly signaled the collapse of his much-hyped peace effort.

Since then, Obama's envoy, George Mitchell, has been shuttling about looking for a face-saving formula to make it seem as if there were still a "peace process" that might one day result in a two-state solution.

After months of effort, the US managed to bludgeon and cajole Abbas and certain "moderate" Arab states into backing "indirect talks" between Israel and Abbas, even as Israel escalates its ethnic cleansing of Jerusalem, its colonization of the West Bank, its blockade of Gaza and its daily rounds of murders and kidnappings of Palestinians throughout the occupied territories. Even this meager achievement seemed in doubt after Netanyahu's government brazenly announced an additional 1,600 Jewish-only homes during a visit to Israel by US Vice President Joe Biden.

There is no doubt that the Obama Administration will press on with the charade of negotiations no matter what. The alternative would be to actually use the massive US subsidies Israel receives to tame its rogue behavior. But Obama, before and after entering office, never showed the slightest inclination to do that (despite naïve and inflated expectations across the Arab world and within peace process industry circles), and will not do so now as his vulnerable Democratic Party heads for midterm elections with virtually no achievements to present to voters.

Amid this dismal situation, comes a new paper by Saeb Erekat, senior aide to Abbas, and "chief negotiator" for the US-backed Ramallah Palestinian Authority (PA).

The 7,000-plus word document, produced by the Negotiations Affairs Department of the Palestine Liberation Organization (NAD-PLO), is clumsily titled "The Political Situation in Light of Developments with the US Administration and Israeli Government and Hamas' Continued Coup d'etat: Recommendations and options." (NAD-PLO is actually administered by the Adam Smith Institute, "the UK's leading free market think tank," and funded entirely by Western governments.)

Dated December 2009, the paper was reported on in several Israeli newspapers in mid-February, and distributed to European and other diplomats as a warning that the Palestinians had options other than continuing with futile negotiations. They could, for example, abandon the two-state solution and call for one state, it warns. However, a close reading reveals a different picture.

The paper is very poorly-written, repetitive and at times barely coherent. One passage reads: "Accreditation papers cannot be presented to the US Administration and to others without the Palestinian paper. These issues bear a significant link with the forcible take-over of the Gaza Strip, which cannot be construed except by accurately understanding regional developments and how to present accreditation papers." There is much more of this jumbled, and seemingly nonsensical language — all those governments should wonder what their money is really buying!

Nevertheless, a key concern does emerge: Erekat is very worried that the US will pressure Abbas to resume negotiations from scratch, instead of from the point at which they ended in December 2008 with the previous Israeli government headed by Ehud Olmert. Indeed, the paper makes this precise demand no fewer than 15 times, warning that failure to start from that point would make Palestinians vulnerable to "Netanyahu's vision" which would mean Palestinians "will be obliged to accept Israeli positions" particularly its refusal to negotiate about Jerusalem, "as well as recognize Israel as a Jewish state." The paper warns that "The file of refugees will be excluded from negotiations and Palestinians [would] need to agree that Israel preserve control over Palestinian border crossings and aerial space."

Only starting from the point reached in December 2008, it would seem, could stave off such a disaster! But in fact, the paper lays out in detail what was supposedly agreed by December 2008 and it is clear that on all the key issues the Abbas leadership had already conceded to Israel's demands in principle and in practice.

Abbas had offered (and Israel had rejected) that only 15,000 refugees per year return to the lands from which they were ethnically cleansed in what is now Israel, for a period of ten years. This effectively cancels the right of return, and acts as a de facto recognition of Israel's "right to exist as a Jewish state" by conceding that its racist exclusion of non-Jewish Palestinians trumps the refugees' human right to go home.

Moreover, the Erekat paper makes no mention whatsoever of the "right of return" — a fundamental consensus demand of Palestinians inside the country and in the diaspora — but refers vaguely to a "just and agreed solution in accordance with UN [General Assembly Resolution] 194." It does not call for implementation of the resolution — which demands that any refugee who wishes to do so be allowed home "at the earliest practicable date." Needless to say, what Israel considers "just" and would agree to is completely at odds with Palestinian rights and international law. Indeed, Olmert had offered the return of 1,000 refugees per year for five years — or about one tenth of one percent of all refugees.

As far as territory is concerned, the paper reveals that Abbas conceded Israeli demands to annex large settlement blocs all over Jerusalem and across the West Bank. Once this concession is made, all the bluster about the "1967 border" being a sacred line behind which Israel must withdraw becomes meaningless.

While not conceding a "demilitarized state" by name, Abbas apparently offered that the "sovereign" Palestinian state "would have the right to possess the weapons necessary for the full assumption of its responsibilities" but only "in cooperation with [a] third party." This third party is not named, but this is almost certainly a reference to the United States, which has since the George W. Bush Administration armed and trained PA militias under the supervision of Lt. Gen. Keith Dayton to go out and hunt Palestinians who resist the occupation; US officials have often stated that these repressive militias are to be the nucleus of the armed forces of the future Palestinian state.

Given that the purpose of negotiations is presumably to reach an outcome that lies somewhere between the starting positions of both parties, it is horrifying to think that these proposals are Abbas' and Erekat's starting positions. Even if Israel were to grant them, which it clearly will not in any US-brokered process, the end result would be a Palestinian pseudo-state: a bantustan. It would not be a state that fulfills Palestinian rights, but exists in order to deny them, particularly the right of return.

The incoherence of this approach is further highlighted by the fact that the paper accuses the Obama Administration of first promising Abbas that any negotiations would restart from the December 2008 point, and then abandoning that promise. Yet despite the apparent betrayal on this issue and the settlement freeze, the Erekat paper still proposes that the Palestinians "[u]rge the US to propose principles for the resolution of all core, final status issues (borders, settlements, Jerusalem, refugees, security, water, prisoners) …"!

This addiction to always-broken American promises recalls the iconic episode in the Peanuts comic strip where Charlie Brown repeatedly runs to kick a ball held in place by Lucy; each time, Lucy pulls the ball away at the last second leaving Charlie Brown to fall flat on his back. And each time, Charlie Brown believes Lucy's renewed promises that the next time she will hold the ball in place.

The Erekat paper provides insight into the thought processes of a "leadership" that has not only lost all legitimacy, but does not dare to even to speak about the rights of the people it purports to represent. Indeed, it holds those people and their rights in utter contempt.

While appealing for "national unity," the paper continues to propagate the false story of a Hamas "coup" in Gaza (in fact the Abbas leadership through its warlord Muhammad Dahlan had tried, ever since Hamas won elections in 2006, to launch a civil war to violently overthrow the group as part of a scheme conceived and executed in collaboration with then US Secretary of State Condoleezza Rice and approved by President Bush — see David Rose, "The Gaza Bombshell," Vanity Fair, April 2008).

Apparently aware of the utter lack of credibility that the Ramallah Palestinian Authority and the Abbas-controlled skeleton of the PLO have, the Erekat paper proposes a sort of PA hasbara campaign among the Palestinian diaspora in Europe, the Americas and Asia, "to confirm the unified and legitimate representation by the Palestine Liberation Organization (PLO) wherever they are." This strategy, to be conducted by the "PLO Expatriates Affairs Department" (as if Palestinians are merely emigrés and not refugees), the "Palestinian Ministry of Foreign Affairs" and Fatah itself is aimed to "protect the question of Palestine from attempts targeting the promotion of division, separation and fragmentation and finding an alternative for the PLO by manipulating resistance and religion."

In other words, the Abbas leadership wants to export its civil war to the diaspora. Indeed, we have already seen this effort begin with the attempted launch of the Abbas-controlled "Palestine Network" aimed to divide and co-opt Palestinian activists ("USPCN: 'Palestine Network' is a PA Attempt to Divide the Palestinian People and Surrender their Rights," 20 November 2009).

Nowhere of course does the Erekat paper actually propose reviving and democratizing the PLO and really involving Palestinians whose voices have been so long shut out by the corrupt and oppressive Oslo clique. It does not recognize or mention the growing civil society-led campaign for boycott, divestment and sanctions (which scares Israel much more than Erekat's barking), and mentions the one-state solution only in passing without acknowledging the serious work that has already been done to develop and disseminate this idea.

This is not surprising; to acknowledge any of that would be to admit that the fiction of US-brokered negotiations is over, that those who acted in it and benefitted from it for so long have already done all the damage they can do to the Palestinian people and their rights, and that they should leave the stage.

Download the NAD-PLO's report [PDF]

Ali Abunimah is co-founder of The Electronic Intifada and author of One Country: A Bold Proposal to End the Israeli-Palestinian Impasse.