Each year during the month of Ramadan, thousands of Palestinian Muslim worshipers struggle to reach Jerusalem on Fridays to pray at the Haram al-Sharif, home of the al-Aqsa Mosque, the third holiest site in Islam.
The Israeli army imposes additional barriers with concrete slabs at both the Qalandiya and Bethlehem checkpoints — the two main checkpoints that Palestinians from the occupied West Bank must pass in order to reach Jerusalem.
In Bethlehem, Palestinians from all over the south of the West Bank arrive as early as 5am. They are usually forced to wait for several hours and go through a number of security checks. This year, for those observing the fast, the conditions were even more difficult as Ramadan took place in September when the days are still long and the temperatures high. Exhaustion and dehydration cause many to faint.
Harsh restrictions, physical obstructions and confusing procedures prevent many Palestinians from even reaching the checkpoints. Of those who did, many are turned away. According to the UN agency OCHA, Israel has prohibited nearly 60 percent of Palestinians in the occupied territories, including all of Gaza's population and more than 40 percent of the West Bank population, from entering occupied East Jerusalem for Friday prayers.
Most Ramadan Fridays, access is restricted to men older than 50 and women older than 45 years of age, and boys and girls younger than 12, who may pass without permits. Men between the ages of 45 and 50 and women between 30 and 45 years of age are allowed to enter with special permits, except on the last Friday of Ramadan which this year coincided with the beginning of the Jewish new year holiday.
This year there was coordination between the Israeli army and the Palestinian Authority (PA). PA police officers were seen working alongside Israeli soldiers at the Bethlehem checkpoint — a scene that troubled many Palestinians trying to enter Jerusalem.
The below images of the scenes at the Bethlehem checkpoint were photographed by Anne Paq over the course of a few Fridays during Ramadan.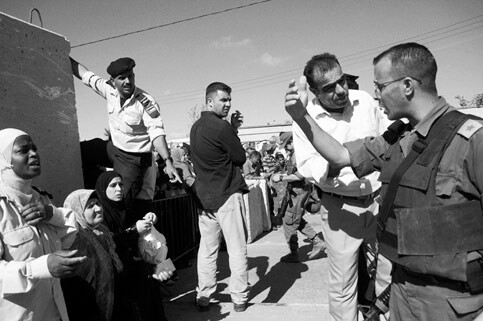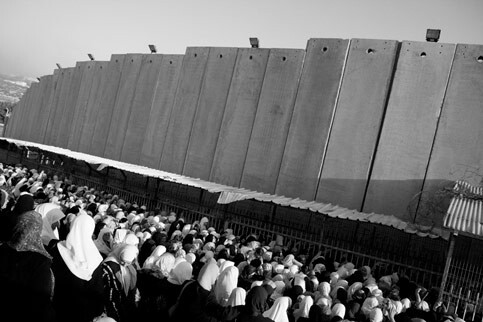 Anne Paq is a freelance photographer based in Bethlehem. She is a member of the photography collective ActiveStills.