On 21 May 2004, Al-Mezan Center for Human Rights in Gaza reported that: "An Al-Mezan fieldworker, who managed to enter Al Brazil and As-Salam neighborhood, reported that the IOF caused widespread destruction to the infrastructure and homes. In interviews with the victims, a number of residents reported that bulldozers started destroying their homes while aware that �people were still inside."
Kristi, a close friend of slain activist Rachel Corrie and her roommate for several years in Olympia, Washington, is currently in Rafah with the International Solidarity Movement. On 21 May 2004, Kristi spoke by phone with Dr. Samir Nassrallah in Rafah, whose home Corrie died defending. She reported: "I am very afraid for the people in Rafah. Dr. Samir is still in his flat in Brazil camp. I talked to him this morning (Friday 11am pst, 9pm Rafah), and he was so exhausted he could hardly talk. There were two apaches overhead when I called, but the army withdrew a bit and people had been grabbing everything they could and fleeing the area.
"Samir said he tried to transfer some stuff out of the neighborhood, but the army destroyed all the roads and there are no cars, so if he wants to leave he will have to carry everything himself 600-700 meters before getting to a road. The camp is destroyed. Samir said everyone has left, but he is too exhausted to leave, so he is going to wait there until the bulldozers actually come and try to flee then. He said hopefully he'll be able to grab some of his kid's schoolbooks, but that will be it.
"I asked him why he doesn't just leave and he said there is nowhere to go anyways, the army is attacking all of Rafah and he is exhausted. He said while he was sleeping the army called for all men betwwen the ages of 16 and 50 to come out of their houses. They are taking them all somewhere. Samir was asleep and he didn't hear it, but when he woke up, his son Kareem told him. He said he wants to eat, but he can't, he can only smoke.
"He kept saying it is like last time returned. [like six months ago when the army invaded and demolished his house] He said he is in the last house again on the front line with the army now that they demolished up to his flat, and everyone else has fled.
"He said his daughter Iman got cut badly from some glass because everything everywhere is broken—the streets are all broken—everywhere there is tangled metal, glass, rubble. The main water pipe is also broken and water is everywhere flooding all of the streets, and there is still no electricity.
"Samir said 'I hope from my God to help us.' Then he said he was sorry to tell me such bad news because he knows I have a big heart. Maybe after tomorrow it will be better, he said, Inshallah ("God willing")."
Israel's destruction of Brazil neighborhood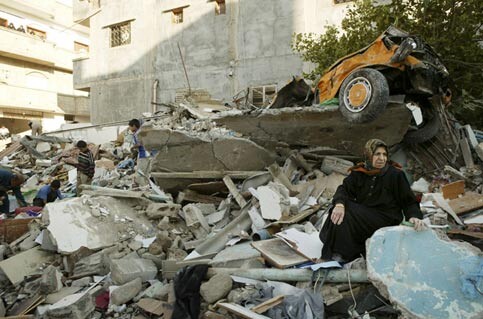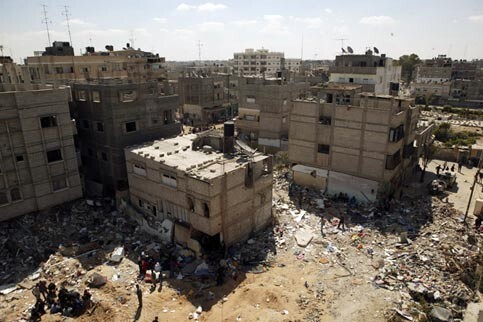 On 22 May 2004, Al-Mezan Center for Human Rights in Gaza reported that: "A 3-year-old Palestinian girl, Rawan Muhammad Abu Zaid, was killed by an Israeli sniper today in the Brazil neighborhood. Al Mezan�s fieldworker saw the girl and confirmed the medical sources reports that she died from two live bullets in her head and neck. In an interview with the girl�s uncle, he informed that Rawan was on her way to a grocery near the Taha Hussien School in Brazil neighborhood when Israeli tanks, which were stationed by the borderline in the area, opened fire. She was injured and died. Al Mezan�s fieldworker in Rafah reported to the Center that IOF is still in control of several tall buildings in the Brazil neighborhood in Rafah and is shooting at civilians."
Related Links
BY

TOPIC

: Israel's "Operation Rainbow" in Rafah, Gaza
Johannes Abeling is based in Amsterdam, the Netherlands. He studied photography at the Royal Art Academy in the Hague. Since 1999, he has worked as a freelance photographer for several newspapers, magazines and organisations. His pictures have been published by, amongst others, Het Parool, Utrechts Nieuwsblad, Arcam,

SNV

, Medicins Sans Frontieres, Plan Samenweking, Nieuwe Revu, Spui, Nirov, Woord

&

Gebaar, Metro and Trouw. Abeling can be reached via his website at www.abeling.nl.

EI

's Nigel Parry compiled the text for this photostory.