The Israeli attack on Palestinians in the Gaza Strip, which began on June 27, has provoked worldwide condemnation. Protest rallies and mass mobilizations were organized in Greece within hours of the attack. The protests were expected to continue until such time as the Israeli government ceases its bombing attacks on Gaza's population and civilian infrastructure.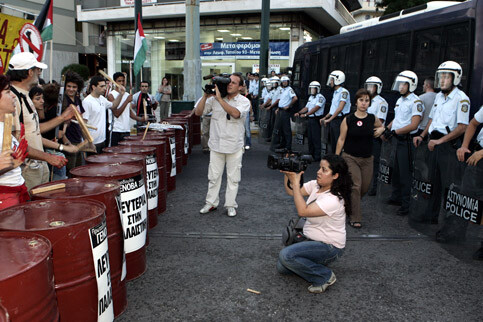 In Greece, political parties, alongside trade unions, peace groups, women's organizations and other movements, swung into action from the very first moment of the attack. Rallies were organized in Greece's three largest cities — Athens, Thessaloniki and Patras — demanding the immediate withdrawal of Israeli forces. The demonstrators condemned not only the Israeli government, but also the support given to it by the United States and the European Union.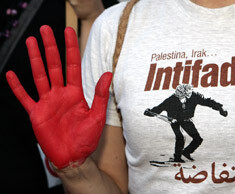 A July 9 protest action called by the All-Workers Militant Front (

PAME

) outside the

U.S.

Embassy in Athens, followed by a march to the Israeli Embassy, drew wide support. A similar action was held in Thessaloniki. In its call for the protest,

PAME

said, "The Israeli army has carried out a series of murderous attacks on the Palestinian people. Humanity is witnessing the development of an unprecedented barbarism, fully supported by the

U.S.A.

and

NATO

."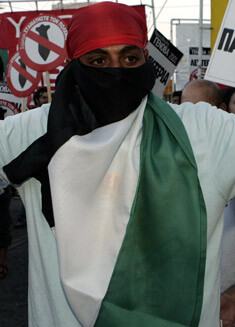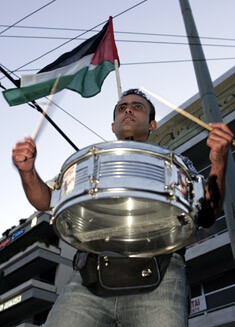 On July 25, Greek protesters toppled a statue of

US

President Truman and clashed with police during demonstrations against the war in Lebanon. At least 2,000 activists marched to the Israeli Embassy. Demonstrators gathered earlier outside the

U.S.

Embassy and brought down the Truman statue. Many Greeks feel Israel is targeting civilians in Gaza and Lebanon. Picket marches and vigils continue to be organized on a daily basis in different cities throughout Greece.
All images: Spyros Tsakiris
Related Links