Burj el-Shemali is a Palestinian refugee camp, located in Southern Lebanon on the outskirts of the city of Tyre. Upwards of 20 000 refugees reside in Burj el-Shemali, which is one of Lebanon's most impoverished camps. Similar to other refugee camps in the south of Lebanon, Burj el-Shemali is home to cases of extreme poverty, thousands of camp residents are essentially homeless, residing in make-shift shelters with zinc roofing, without basic plumbing, water supply and little income.
On June 6th 1982 during the Israeli invasion of Lebanon, 93 Palestinian refugees from Burj el-Shemali were killed by an Israeli phosphoric bomb, which was dropped on a shelter in the middle of the camp. The majority of the refugees who lost their lives were women and children, who had all taken refuge in a sports club in the camp called al-Hooli. This event, the al-Hooli massacre, is commonly referred to throughout the camps of Lebanon as the forgotten massacre. In recent years the residents of Burj el-Shemali camp constructed a monument in the camp to remember the victims of the al-Hooli massacre.
Refugees residing in Burj el-Shemali were forced from their homeland Palestine through the creation of the state of Israel in 1948 and shortly after established the camp near the Palestinian border. During the 15 year Lebanese civil-war and specifically in the Israeli invasion of Lebanon in 1982, large sections of the refugee camp were destroyed. Today, Burj el-Shemali remains destroyed, as Lebanese military check-points which surround the camp prohibit refugees from bringing construction materials into the camp to repair or rebuild after the civil-war. Burj el-Shemali today is a deteriorating Palestinian ghetto, socially, physically and economically isolated from Lebanese society.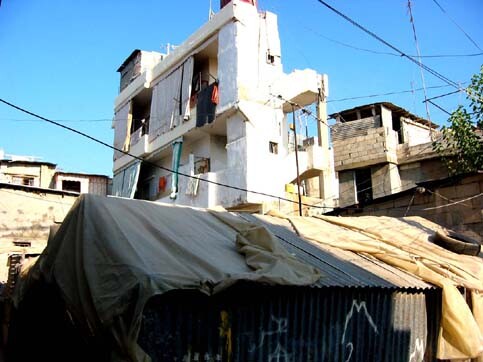 To view an extended photo essay on Burj el-Shemali camp from the Independent Media Center of Beirut visit Indymedia Quebec.
To visit the official website of Burj el-Shemali refugee camp click here.
Stefan Christoff is currently in Lebanon as Electronic Intifada's Special Correspondent, reporting on present-day struggles for social justice. Stefan is a member of the International Solidarity Movement and also is active with Indymedia Beirut. You can contact Stefan at: christoff(at)resist.ca.