The thin donkey wound his belabored way through the narrow alleys of Khan Younis.
Two young brothers, Muhammad, 12, and Karim, 8, helped him pull a cart brimming with cement blocks and stone bricks in various states of disrepair, all collected from the ruins of the many homes and buildings in the area wholly or partially destroyed.
Behind them and astride the cart, their mother grew frustrated with the donkey's leisurely pace, and repeatedly snapped the reins against his bony back, accusing him of laziness.
It had no obvious effect. It never does. Like they do up to three times on most days, Jihad Abu Muhsen, 48, and her two boys continued their slow progress to a workshop on the outskirts of town.
The Cold River
There, Abu Muhsen called the workshop owner, Abu Shukri. After a quick inspection, he gave her 10 Israeli shekels, some $2.50, for her cargo.
The three Muhsens and their donkey had a short rest. Then they started off back to town. "Half an hour," Abu Muhsen cried over her shoulder to Abu Shukri. "We'll be back with a second load."
It's a hard way to make a meager living, but one that is seen increasingly around Gaza. And ever since Israel's devastating 2014 assault, this is what Abu Muhsen has done almost daily to survive.
For her and her two sons it is also brief if backbreaking respite from their own poor Nasser neighborhood, which lies next to a landfill in the northern outskirts of Khan Younis and is now, since it flooded last winter, known locally as Nahr al-Bared — literally, The Cold River.
Abu Muhsen's husband Ahmad, a former street hawker, suffers acute osteoporosis and finds it almost impossible to move; he cannot undertake such work. But Jihad is unfazed by the kind of physical labor that in Gaza is traditionally the exclusive domain of men.
"There is no shame," she said, after a short pause and with a smile, "for anyone to work any job. It's hard, yes, but this family curses begging."
Coarse and calloused
In Gaza's desperate economic reality, Abu Muhsen is simply doing what she can. The World Bank says Gaza's 43 percent unemployment rate is the highest in the world, and youth unemployment has soared above 60 percent.
Nearly 80 percent of Gaza's 1.8 million residents receives some kind of social assistance, and nearly 40 percent still fall below the poverty line, according to the World Bank.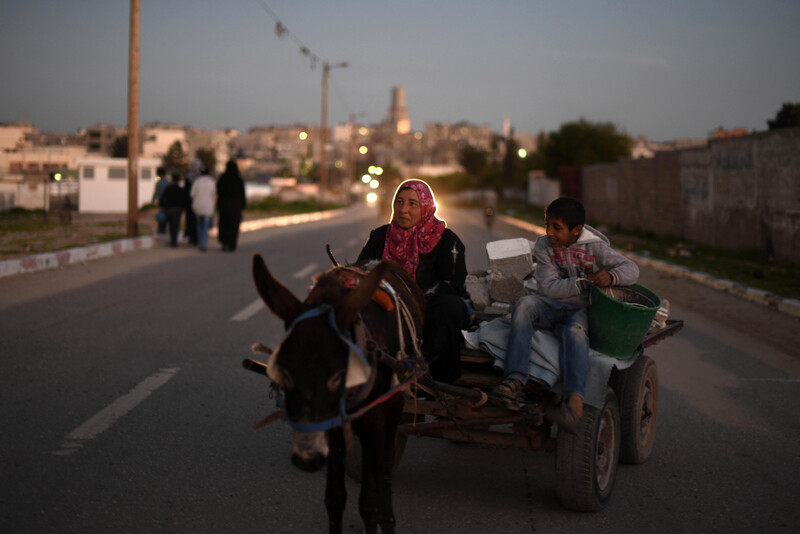 The UN estimates that nearly 18,000 homes were destroyed or badly damaged in Israel's 2014 assault.
According to the Palestinian Economic Council for Development and Reconstruction, more than 350 industrial buildings, factories, workshops and dairies were destroyed in Israel's 51-day bombardment.
It is in the rubble of this devastation that Abu Muhsen rummages for a living. And she is relentless. With the sun high in the sky and her children complaining of tiredness, the mother pushed on regardless, spying another demolished house, another earning opportunity.
"We clear the rubble from the destroyed houses," she said with a shrug. "We make it easier for the decision-makers to eventually rebuild."
This particular former home proved fruitful, yielding more bricks and blocks than the family's little cart could handle. But it also became too much for Karim, who sat down on the ground and refused to continue. "I'm hungry," the boy insisted.
His mother reached under the cart and took out some bread. She called over Muhammad and the three lunched in the ruins of someone else's life. Abu Muhsen sat contemplating her hands, coarse and calloused now after carrying so many bricks.
"I miss how they used to be. But what can I do?"
No time for play
The simple meal over, Karim's thoughts turned to play. An ardent soccer fan like most boys in Gaza, the boy asked whether this would be the last load and if he could go home to play.
"I'm sorry," his mother said. "We still have to do another one. Then you can play."
Muhammad cut in. "We're tired. Do we have to do three loads?"
His mother looked at him with reproach but not without sympathy. She put away the bread and the three turned silently back to the work at hand. They would deliver another load to the workshop on the outskirts of town that day before turning around to find a third.
Three loads, Abu Muhsen said, are about as much as they can do in a day. But they would need to get a third load quickly before they donkey and children completely faded, Abu Muhsen said in taking leave of this reporter, who wished them a speedy success.
Text by Hamza Abu Eltarabesh and photos by Abed Zaghout.
Tags