Deeb al-Aajleh, photographed above, has survived every Israeli war on Palestinians since the Nakba, the 1948 ethnic cleansing of Palestine.
"I lived the wars, the intifadas, everything, but nothing was as bad as the last attack," al-Aajleh, 74, a resident of the Shujaiya district of Gaza City, told The Electronic Intifada.
Israeli forces dropped bombs and fired shells into the neighborhood during the first weeks of the 51-day war on Gaza. On 20 July, drones circled above, missiles slammed into homes and tank shells pounded apartment blocks. Dozens of residents were killed and even more injured by the end of the day.
The majority of homes in the eastern part of the district were obliterated and every building bears bullet holes and the markings of shell attacks. Throughout the neighborhood, dozens of mosques, several schools, government buildings and a hospital were all turned into massive piles of rubble.
Charred family photographs, destroyed furniture, collapsed stairwells and prayer mats are all visible amid the wreckage. As Israel's siege severely limits the amount of building supplies allowed into Gaza and donor countries fail to make good on reconstruction pledges, families sit on plastic lawn chairs in front of their toppled homes and wait.
Displacement
Hundreds of thousands of Palestinians were displaced during the Israeli assault, and many sought shelter in United Nations-administered schools.
"We didn't go to the schools," al-Aajleh recalled, adding that they fled on 20 July as Israeli forces intensified their attack on Shujaiya. "We stayed with friends during the war in a safer area [of Gaza City]. We came home after the war was over and found the whole house destroyed."
"After that we had to rent in different places across Gaza," he said, explaining that the residence had been home to more than fifty of his relatives. "My wife and I lived here with all our children and grandchildren. It's all gone now."
Running out of money for rent, al-Aajleh and his family have begun to return to their home, one member at a time.
"I came back first and am the only one living on the first floor," he explained. "Now my son and his children are moving back in on the second floor. It's very difficult — there's no electricity or water. We cannot cook or keep warm."
The al-Aajleh family — originally from Jaffa, but displaced to Gaza in 1948 — had been waiting for financial assistance from UNRWA, the UN agency for Palestine refugees.
Yet due to a budget shortfall, UNRWA last month halted aid to thousands of Gaza families like al-Aajleh's whose homes were damaged or destroyed last summer. "We have had enough of our homes being destroyed," al-Aajleh said. "Enough bullets, enough missiles."
Approximately 2,257 Palestinians, the vast majority of them civilians, were killed in the summer onslaught, according to the UN monitoring group OCHA. More than 338,000 Palestinians were displaced, says the humanitarian coordination body Shelter Palestine.
"Nothing is improving"
Weaving through the remains of homes and stepping over mounds of rubble on Shujaiya's outskirts, Moayen al-Kheyseh entered his home and greeted his sixteen-member family. With no electricity, they sat on plastic lawn chairs around a fire.
"There is no water either," al-Kheyseh said. "It has only gotten worse here since the war ended. Nothing is improving."
Referring to the heavily militarized boundary between Gaza and present-day Israel, al-Kheyseh said his family's home was one of the first "destroyed here because it is so close to the border."
Israeli shells rained down when al-Kheyseh, his children and grandkids fled on 20 July. "We had to run from house to house," he recounted. "People were hit by shells next to us; there was death everywhere."
The family moved back to their home after Israel's assault concluded in late August, but there was little left.
"All of our furniture is gone. The clothes, the money, the pictures – it's all gone," al-Kheyseh said. "Sleeping here is very difficult. There is no door — wild dogs come in at night, we have to block the door off."
Reportage by Patrick O. Strickland and photography by Ezz Zanoun.
Patrick O. Strickland is an independent journalist and regular contributor to The Electronic Intifada. Website: www.postrickland.com Twitter: @P_Strickland_
Ezz Zanoun is a freelance photographer based in the Gaza Strip. His work has appeared at The Guardian, APA, Time, BuzzFeed, El Mundo, Reuters and many more. Follow his work on Facebook.
Deeb al-Aajleh's grandson Mustafa, 17, cleaned the second floor of his family's home, where he and fifteen of his relatives will live now that they have run out of money to rent an apartment elsewhere. "It is very dangerous," he said. "I hope it won't fall, but we have nowhere else to go."
"The international [humanitarian] organizations have promised us money, but it's pointless," Mustafa added. "There is no money anywhere. We can't afford to rent and it's too dangerous to live here. We have to put our fate in God's hands."
Down the street, the al-Aajlehs' neighbor Ahmad Habib watched his 62-year-old father die during the summer war. "He went out of the house and was hit by tank shelling," he said. "I saw him die with my own two eyes."
Ahmad, who is now the oldest member of his family, says sixteen of his relatives were killed during the Israeli attack. "I stayed in my home the whole time," he said. "I refused to leave. My dad and I were the only ones here until he was killed. He was only a hundred meters ahead of me in the street when we were going out to get food. God rest his soul."
"There are still forty-five of us living in this house, when you include my seven brothers and all their kids," Ahmad said, adding that he was married three months before the war and has a baby on the way. "We have nowhere else to go."
Amjad Habib, 12, looks out at the apocalyptic destruction in Shujaiya. "Many of his friends were killed," Ahmad recalled. "Children pay the most during war because they have to live with it for the rest of their lives." The UN estimates that at least 538 Palestinian children were killed during Israel's assault last summer.
"We lost four kids in this house alone," Ahmad said. "My nephews. They were all under twelve years old. Are these Israel's terrorists? I don't want to talk about it — I don't like thinking about it."
"We saw shelling and airstrikes hitting the neighborhood," Ahmad recounted. "My father and I had decided that the kids and the other relatives should go somewhere safer. We sent them to the schools. When they left there were bodies in the streets. What kind of world is this when children have to see their neighbors' bodies in the streets?"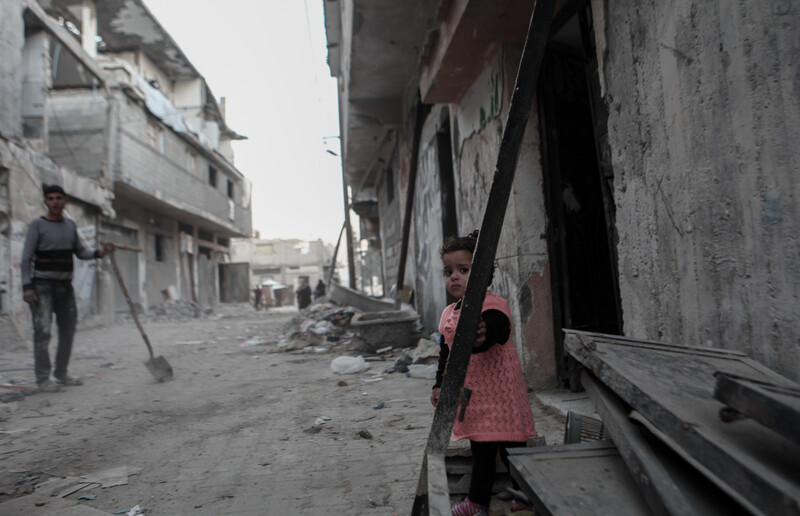 "Look here," Ahmad said, pointing across the street. "That house went down on top of the people inside — there was a whole family inside."
Israel's "open-fire policy" during its attack resulted in "dozens of instances in which residential buildings were attacked from the air or ground, causing them to collapse on entire families," according to a new report by the Israeli human rights group B'Tselem.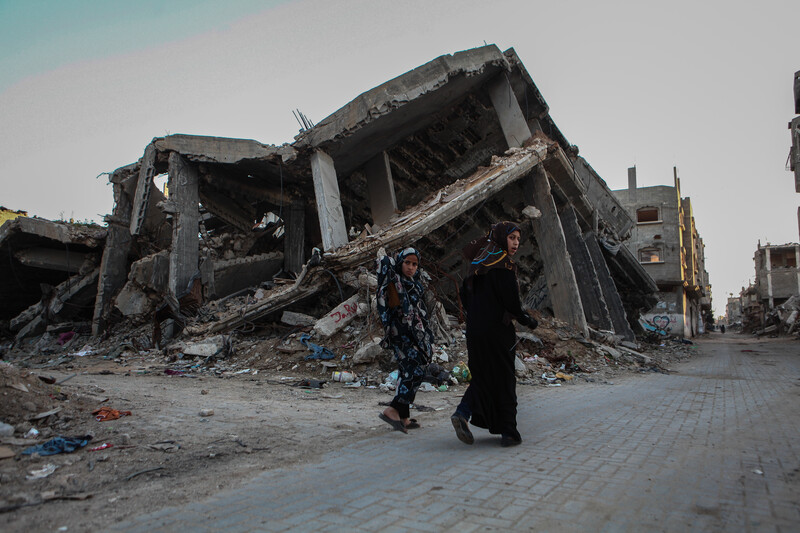 Entire neighborhoods in the Shujaiya district of Gaza City were flattened by Israeli bombs and shelling. "We fled to the school at the Latin Church," Moayen al-Kheyseh recalled. "We couldn't stay there. It was full of people and very crowded. Fourteen of us were in one room with a toilet and a sink."
As Israel intensified its attacks on the area, Shujaiya was subjected to a bombing campaign that included a hundred one-ton bombs being dropped on the area. Dozens were killed by Israeli forces who carried out a massacre in the neighborhood in the early morning hours of 20 July.
The following day, at least seventeen Palestinians, including medical workers and journalists, were killed by Israeli shells in the Shujaiya market on 21 July.
"Before the war this neighborhood was like heaven," al-Kheyseh said sorrowfully. "I used to sit in front of the houses and drink tea and smoke hookah. But Israel destroyed everything and killed everything that was breathing. I had six sheep that I used to graze in that field," he added, motioning to a patch of agricultural land across from his home's remains. "They were killed, shot."
"Israel didn't leave a stone untouched," he said.
Across from the al-Kheyseh family's home, a flattened apartment complex bears graffiti reading "All this family killed by US weapons."
"That was when we decided to leave, when they died. We tried to stay, but we had to leave on the last day … when the Israelis entered Shujaiya [by ground]."
On 14 July, just a week before Israel's massacre in Shujaiya, the US delivered to Israel a shipment of fuel for fighter jets and military vehicles. The fuel was "being used in attacks resulting in mounting civilian deaths and horrific injuries," Brian Wood, head of Arms Control and Human Rights at Amnesty International, said at the time.
"We all lived here before the war," al-Kheyseh said, explaining that his wife, four kids and fourteen grandchildren were living in the two-story home. "We tried to come back several times during the war, but it was very dangerous. There was shelling even during the ceasefires. When we finally got back to the house [after the ceasefire], there were dogs living in the living room."
Al-Kheyseh's grandson Wadie was born as Israeli bombs pounded the besieged strip. Just five months old, Wadie died from exposure to freezing temperatures on 13 January this year. The child was memorialized in a poster held by al-Kheyseh in the above photo. "No one is watching over us. No politicians have visited us. No one from the UN cares. What kind of life is this?" al-Kheyseh remarked.
According to statistics released by the UN monitoring group OCHA in December, an estimated 600,000 residents' homes were damaged during the onslaught. Another 22,000 homes were "rendered uninhabitable," according to the group.
"No one sees us here," al-Kheyseh added. "Where are the Arab countries? Where is Saudi Arabia? Saudi Arabia is a rich country. I wish one leader from Saudi Arabia or the rest [of the Arab countries] would come see us living here. Eight of us are living in this room and the others had to rent elsewhere."
"They don't care," he said. "No one from my family was a resistance fighter. No one here had political ties. We are all civilians. Why did Israel do this to us?"
Although international donor countries pledged $5.4 billion to rebuild Gaza at an October conference in Cairo, the UN announced in late December that only two percent of that had been delivered.
"We have relatives still waiting for their homes to be rebuilt from [Operation Cast Lead]," al-Kheyseh remarked. "How long will it be until we can live our normal lives again?"
Tags