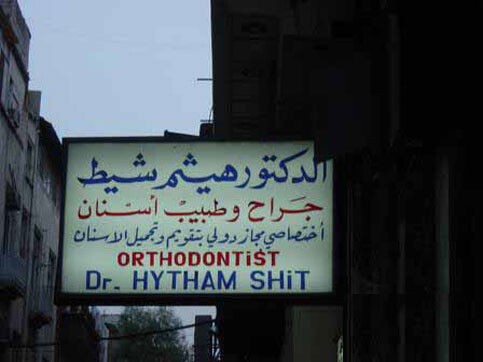 RAMALLAH
— Residents of the Palestinian town of Ramallah increasingly appear to have bad teeth. One of the few orthodontists, Dr. Hytham Shit, fears that it has something to do with his name. Asked whether his patients reacted differently upon entering his clinic, Dr. Hytham Shit said that once in a while when tightening a patient's brace, they would start to explain that they are nauseous and that they are not feeling well every time he put his hands in their mouths.
"Perhaps it's the situation, you know, the tanks, the occupation, the problems, you know, of course, we're in a bad shape and people react, not necessarily to my family name." Dr. Shit told BNN that sometimes his patients would pay someone else to go for them or they would put lots of onions and garlic in their falafal, humos and other breakfast dishes.
"Sometimes they tell me how uncomfortable my chair is. They would move every 20 seconds in a more comfortable position. This is not how I can work. Okay, I have a strange name and yes, we the Palestinians are in deep shit. You know braces are not the same as a complete concrete wall they're building her."
Dr. Shit told us that some Ramallah residents wear dracula teeth to his appointments instead of their retainer. "Yes, and then they tell me that they didn't know how that could have happened. That Israeli bulldozers shifted their teeth."
The unfortunate Ramallah doctor, who studied in Moscow in the former Soviet Union, tried several times to change his family name. Neither the Israeli authorities nor the Palestinian Authority was able to do the trick. "I understand that they do not cooperate very well, but I really feel like shit."
Photo of the Day is a BNN feature which offers a photograph on a day, and calls it "Photo of the Day". This is not to imply that this is a regular feature, nor that this photo is truly the mother of all photos for the day in question. Usual disclaimers apply.