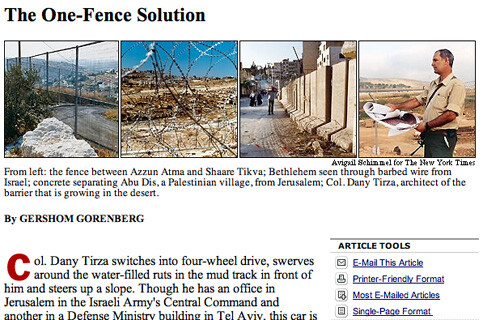 A Partners for Peace letter was published in the New York Times Magazine of September 14, 2003. The letter appeared after weeks of effort to have the Magazine acknowledge that the illegal settlement of Har Homa (Jabal Abu Ghneim) is not part of Israel. The Magazine refused to issue a correction, but said it would provide space for us to comment on the matter.

Our letter was to appear in the Magazine of September 7, but we refused to accept their edited version as it thoroughly drained the letter of accuracy and vitality. Unwilling to accept this form of censorship after we were explicitly told we would have space to address the matter, we rejected their draft and returned to the matter the following week.

After another exchange, we agreed to the version below, although it was disappointing the Magazine would not accept language stating that democratic governments around the world opposed construction at Har Homa. The Magazine would only allow us to say "governments" and not "democratic governments." They insisted the word be omitted despite the fact that we provided abundant evidence as to the veracity of our assertion. The Magazine failed to answer our request to see their evidence.

Below is the letter as it appears in the Magazine. Within the confining parameters set by the Magazine, it does let readers know that the construction at Har Homa was both illegal and opposed by many governments.

The One-Fence Solution

In Gershom Gorenberg's article (Aug. 3), the magazine ran a photograph that was shot from Har Homa with the caption "Bethlehem seen through barbed wire from Israel." But Har Homa (known to Palestinians as Jabal Abu Ghneim) is an illegal settlement in occupied Palestinian territory, one whose construction governments around the world opposed. It is not part of Israel, whatever the Israeli government might claim.

Michael F. Brown
Executive Director
Partners for Peace
Washington
Letter at http://www.nytimes.com/2003/09/14/magazine/14LETTERS.html