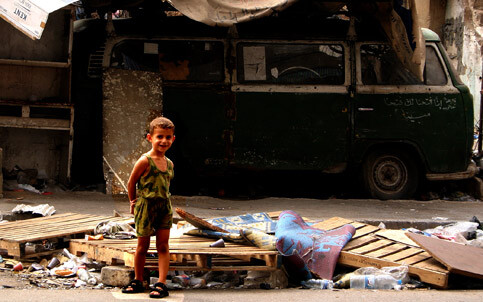 BEIRUT
— From the roof of his crumbling house, Mahmoud Kallam has a clear view across the slums of south Beirut where Palestinian children play football in streets lined with rotting bones and discarded clothes.
As he looks, columns of brown smoke from Israeli air strikes rise into the sky. "My children are asleep now because they spent all night watching the missile attacks. They have started playing a game of who can spot the drone first," says Kallam, a Palestinian researcher and life-long resident of the Shatila Camp.
Shatila is one of dozens of camps where over half Lebanon's estimated 400,000 Palestinian refugees live in squalid, cramped conditions. The camps are fully built up with concrete buildings and infrastructure, albeit in a deteriorating state.
Shopkeepers in Shatila say they have been unable to bring in fresh supplies of food since Israeli air strikes began targeting suspected Hizbullah strongholds in the south of Beirut, on 12 July. Most of the bakeries that supplied bread to the camp have closed since the conflict started.
"Ninety percent of our goods came from the southern suburbs," says refugee Khaled Yousef, sitting in his small store in the labyrinthine streets of Shatila. "Many women and children have left the camp and now I'm just selling what I have left."
Behind him, shelves are sparsely furnished with bottles of olive oil, tinned food and kitchen cleaner, while the fridge at the front of the shop - once filled with yoghurt, milk and fresh meat - lies empty. On the streets outside, the voice of Hassan Nasrallah, the leader of Hizbullah, blares out through old speakers.
Richard Cook of the UN's Relief Works Agency (UNRWA) says UNRWA completed its three-monthly delivery of food aid to the poorest Palestinian families in Shatila before the attacks. The priority, he says, is to get aid to Palestinian camps around Lebanon's southern port city of Tyre, which has been heavily bombed.
"We still have no guarantee of a safe passage, and so at the moment we cannot risk the lives of staff," Cook says. "The camps in Tyre did not receive the three-monthly delivery and have been cut off for many days."
In Shatila, rubbish has not been collected in over a week, say residents, who have begun a local campaign to remove the waste themselves. Others have begun burning growing piles of food waste openly in the streets, producing acrid smoke.
Cook says rubbish collection by UNRWA is continuing, though waste remains piled up on the edge of the camp because Sukleen, a Lebanese waste disposal firm, has stopped collecting it for now.
Residents also say clinics are closing earlier than usual, some having only been open for a couple of hours. Early on Friday morning, Kallam says he witnessed an Israeli missile hit a car just past the east end of the Shatila camp. It was over an hour before an ambulance arrived to help the wounded driver.
"How do the Israelis expect peace when we are raising our children under the sound of explosions?" he asks. "My five-year-old son has a bullet case he found on the street and insists on carrying it around with him."
Many in Shatila remember the slaughter 24 years ago of Palestinians in the camp by Phalangists, a right-wing Christian militia allegedly allied to the Israelis during Israel's occupation of Beirut in 1982. Photographs of dead bodies are displayed at the camp entrance.
A development worker says the current Israeli attacks in areas around Palestinian camps could radicalise youngsters here. "The Palestinians should have had their living conditions in Lebanon improved a long time ago but they have always just been pawns in a political game," says Annie Kanafani, Vice Chairperson of the Ghassan Kanafani Cultural Foundation (GKCF).
Since 1974, the GKCF has run kindergartens and art centres that thousands of Palestinian children in the camps have benefited from. Among young people IRIN spoke to, there is universal agreement that Hizbullah's current conflict with Israel is also a Palestinian conflict.
"No government has done anything to face Israel," says Rabih Zaarour, as he e-mailed friends inbetween power cuts. "Hizbullah is now the only choice for resisting Israel, and as ours is a war of existence, we will take every occasion to fight for it."
For Kallam, the priority throughout remains his children's welfare: "This is hell. I am a human like you and I like life as you do. I want my children to be able to play football on green grass and watch cartoons. Is it normal for children to spend a night outside watching shelling?"
Related Links
BY

TOPIC

: Israel attacks Lebanon (12 July 2006)
This item comes to you via IRIN, a UN humanitarian news and information service, but may not necessarily reflect the views of the United Nations or its agencies. All IRIN material may be reposted or reprinted free-of-charge; refer to the copyright page for conditions of use. IRIN is a project of the UN Office for the Coordination of Humanitarian Affairs.