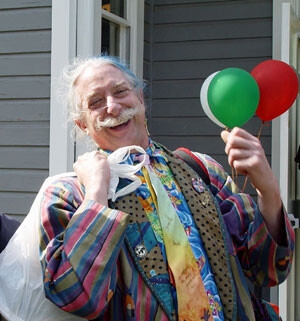 The Palestine Children's Relief Fund (
PCRF
) hosted a fundraiser in Washington,
D.C.
on June 21, 2003 featuring special guest Dr. Hunter "Patch" Adams. Dr. Adams — a medical doctor, professional clown, social activist, and
D.C.
native whose life was celebrated in a 1997 motion picture starring Robin Williams — led a clown delegation into Israel and the occupied Gaza Strip in December 2002 on a tour of schools and hospitals.
At the event, Dr. Adams spoke to a group of approximately 200 PCRF supporters about his Palestine experience as well as his three-decade-long effort to build a free hospital in West Virginia to serve the disadvantaged. He shared videos of his clown team entertaining Palestinian children at a school for the deaf, frolicking at the Erez checkpoint, and spending quiet time with parents of children in the intensive care unit of Shifa Hospital.
Dr. Adams explained that while he is in solidarity with innocent children who suffer anywhere in the world, he is committed to a two-state solution to the Mideast conflict in which all Israeli settlements are dismantled and Palestinians are allowed to live in an independent state. He noted that while in Israel, he was outspoken in this political view, and urged an end to Israeli occupation as the only solution to a conflict where children are bearing the brunt of the violence.
Dr. Adams was presented with the PCRF's first annual Humanitarian of the Year Award in honor of his dedication to bringing relief, in the form of humor, to children across the world. He agreed to return to the West Bank and Gaza on another mission to be organized by the PCRF.
The PCRF is an American non-political, non-profit medical relief organization that has worked since 1991 to provide life-saving medical care to sick and injured Palestinian children. PCRF brings children to receive cost-free surgical treatment in the United States and Europe; sponsors multi-national medical delegations to travel to Palestine and treat children there; conducts summer camps for disabled children; administers a sponsorship program for children with special medical needs; and sends donated medical supplies and equipment to Palestinian hospitals. The PCRF is also spearheading an international project to establish the region's first comprehensive pediatric cardiac surgery program in the West Bank.
Those interested in learning more about the PCRF's efforts and how to become a volunteer may visit www.pcrf.net.