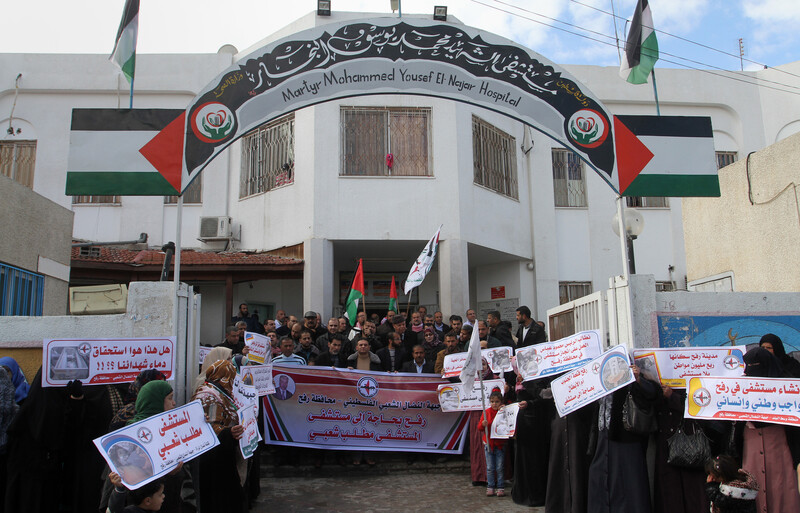 On 3 September, Muna al-Shaer felt that she needed medical treatment. Her temperature had been high for the previous few days and she was worried by news reports on the spread of COVID-19.
Al-Shaer, 36, called Abu Yousef al-Najjar hospital in Rafah, Gaza's southernmost city, around 9pm. "I was told that there were not enough beds in the hospital as there was an emergency situation," she said.
The staff there arranged that she would be brought by ambulance to the European Gaza Hospital in the Khan Younis area.
It was around midnight by the time she was admitted to that hospital.
Al-Shaer tested negative for the coronavirus and has subsequently recovered from her illness. Yet her experience emphasized how Rafah – a city with approximately 240,000 residents – does not have adequate health care facilities.
Abu Yousef al-Najjar hospital only has 65 beds – with just nine in the emergency department. Frequently overstretched, the hospital's staff have no option than to tell people requiring medical assistance that they must find it elsewhere.
Abu Shaer's family has already been affected by these constraints.
Her brother was among many people injured by Israeli forces who attacked the Great March of Return protests held in 2018 and last year. Abu Yousef al-Najjar hospital was unable to treat him when he was shot in the leg during the protests in May 2018.
He, too, was referred to the European Gaza Hospital.
Targeted
The advent of COVID-19 in Gaza has compounded problems caused by Israel's oppression of the Palestinians.
Abu Yousef al-Najjar hospital was directly targeted by Israel during its 2014 offensive against Gaza. Israeli forces fired missiles toward the hospital on 1 August that year – a day that has become known as Black Friday.
The hospital was so overwhelmed at the time of that offensive it had to place corpses of people killed by Israel in freezers borrowed from local traders. Ordinarily, the freezers would have been used for storing vegetables and ice cream.
If official statements were taken at face value, the neglect of Rafah was supposed to end following that horrifying period.
In 2015, the Palestinian Authority stated that it had allocated $24 million so that new medical facilities could be built in Rafah. This sum was supposed to come from aid promised by various governments after Israel had caused devastation during its 2014 attack on Gaza.
Earlier this year, the government of Qatar announced that it would soon implement a $24 million project aimed at providing Rafah with a hospital. A site covering about 5 acres has been identified and the cornerstone has been laid.
Construction work has, however, been delayed amid the COVID-19 pandemic.
"We will be working on this project as soon as the crisis is over," said Ashraf al-Qedra, a spokesperson for Gaza's health ministry.
"Shocked"
On 4 September, Ahmad Harz donned a mask and gloves and set out on foot from his home in Tel al-Sultan, a Rafah-area refugee camp, toward Abu Yousef al-Najjar hospital.
He had learned that a cousin had tested positive for COVID-19. As he had met and shaken hands with his cousin a few days previously, Harz was worried that he also might have contracted the disease.
"People in Rafah are familiar with overcrowding in Abu Yousef al-Najjar hospital," he said. "But I was still shocked when I went there. More than 40 people had come for testing."
Harz underwent a COVID-19 test in the hospital. Members of its staff later visited his home in Tel al-Sultan so that other members of the family could be tested. They were relieved when the results were negative.
In late August, Aya Aqil called a pediatrician because her baby daughter Janna had diarrhea and a high temperature. The doctor recommended that Jannah's urine and stool should be tested.
Aqil contacted Abu Yousef al-Najjar hospital. The staff told her that it was only able to handle urgent cases and recommended that Janna be brought to a clinic.
Unable to find a clinic where a test could be performed – one near their home was closed because of restrictions introduced following the COVID-19 outbreak – Aqil contacted the hospital again the following day. After a couple of hours, the hospital sent an ambulance and brought Jenna in for a test.
The tests showed that she had a stomach infection.
Although Janna has subsequently recovered, the experience proved to be a very stressful one for the family. Aqil was taken aback by the large number of people waiting to be tested for COVID-19.
"Rafah has a number of schools, mosques, shops and overcrowded refugee camps," said Aqil. "All we need is a proper hospital. Why is no one able to solve this problem?"
Amjad Ayman Yaghi is a journalist based in Gaza.
Tags