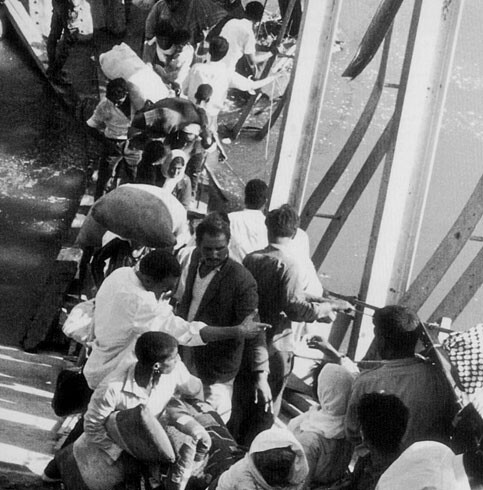 Commemorations of the 59th anniversary of the Palestinian Nakba in May, followed by the 40th anniversary of Israel's occupation of the West Bank and Gaza Strip in June, and the ongoing struggle against the Apartheid Wall and Palestinian displacement from the occupied city of Jerusalem result in a surge of activity and events. Palestinian civil society networks and political organization and movements from the 1967 occupied Palestinian territories and Israel have agreed to combine forces for effective coordination and maximum impact.
The establishment of a national coordination committee was announced in the Palestinian press on 19 April. It includes representatives of the National and Islamic forces, the National Committee for the Commemoration of the 59th Anniversary of the Nakba, the Anti-Apartheid Wall Campaign, the National Coalition for the Defense of Palestinian Rights in Jerusalem, the Palestinian NGO Network (PNGO) and the Union of Arab Community-based Organizations (Ittijah).
In its press statement, the committee emphasized the need for a "firm stand on Palestinian national principles […], foremost the right of return of Palestinian refugees to their homes and properties in accordance with UN General Assembly Resolution 194, which is the essence and the center of the Palestinian cause and a sacred right which must not be prejudiced."
The statement expressed gratitude to the British National Union of Journalists for the support of a consumer boycott of Israeli products. It called for world-wide boycott activation and for holding Israel to account for the war crimes committed against the Palestinian people and the people in the region.
Commemorations of the 59th anniversary of the Palestinian Nakba will be launched in Israel on 24 April with the traditional Return-March of Palestinian citizens of Israel to the 1948 depopulated village of Allajun. On 1 May, the Cultural Palace in Ramallah will be the site of the first Al-Awda Award Festival, an annual event aimed at encouraging cultural expression on the Nakba and the right of return. 2007 Award winners in five categories - best poster, short film, oral history accounts, children's stories and research papers - will be honored by Palestinian ministers, artists, scholars, and the Popular Dance Troupe al-Funoun.
Related Links