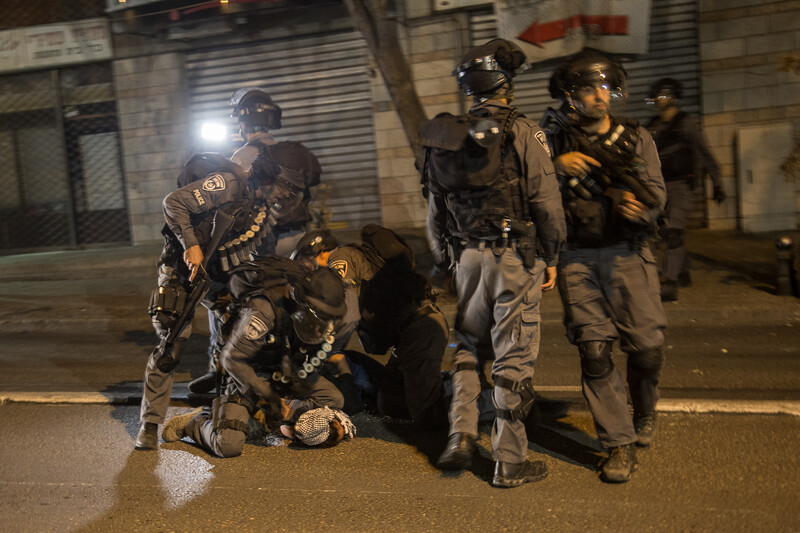 Most Palestinian citizens of Israel fear attacks by Jewish extremists, according to a new survey.
The poll by the Haifa-based research center Mada al-Carmel indicates a climate of fear faced by the Palestinian minority in present-day Israel. Of its 307 respondents, 72 percent reported a moderate or high fear of violence by Jewish extremists against Palestinian towns in Israel.
Palestinian citizens' concerns about violence by right-wing extremists are not misplaced. A spate of anti-Palestinian attacks have been committed in recent weeks inside Israel.
In Dimona, a town in southern Israel where racist graffiti is abundant, a Jewish teen stabbed four Palestinians in October, stating that he committed the act because "all Arabs are terrorists." Meanwhile, in the city of Netanya, Jewish Israeli assailants attacked three Palestinians while chanting "death to the Arabs."
Others have been attacked after being mistaken for Palestinians.
A 29-year-old Eritrean refugee, Habtom Zarhum, was shot and beaten to death by an Israeli mob in the central bus station of Bir al-Saba (Beer Sheva). A security guard reportedly "misidentified" him as a "terrorist" shortly after a Palestinian had shot and killed a soldier before opening fire on others.
Unlike Palestinians allegedly involved in violence, Jewish attackers are not shot by authorities on the spot, but rather apprehended or even granted impunity.
The Dimona attacker has been sent for psychiatric observation, while the only individual to be immediately detained and questioned by police after the Netanya attack was its victim. It took several days after Zarhum's slaying in Bir al-Saba for any Jewish Israelis involved to be arrested, and so far no one has been charged.
Such lax treatment for Jewish assailants adds to the sense of insecurity felt by Palestinian citizens.
"You feel scared because there is no implementation of the law. If anyone assaulted me, no one would intervene, the state won't intervene," said Alhan Nahhas-Daoud, a Palestinian citizen of Israel and a research assistant at Mada al-Carmel.
Firearms in public
Further increasing fear, officials such as Jerusalem mayor Nir Barkat have made appeals for Israeli Jews to carry firearms in public and act as vigilantes.
After this call was echoed by the Israeli police, 66 percent of Palestinian citizens of Israel reported feeling a high degree of insecurity, compared to only 13 percent who felt highly safe, according to the Mada al-Carmel survey.
"They feel that they are the targets – that the guns will be pointed at them," explained Ameed Saabneh, the director of Mada al-Carmel's survey research unit, adding, "The politicians are supposedly making these calls to make the public feel safe. But in fact, they are causing fear among the Arab public."
In addition to violence by vigilante extremists, Palestinians have also been shot by police in present-day Israel.
In the northern city of Afula, the Palestinian woman Israa Abed was shot six times by police while supposedly holding a knife, although video evidence suggests that she posed no threat to anyone when she was hit.
"The incidents that we have seen in Israel recently and the way that the police are responding to them are very similar what is occurring in the West Bank," Saabneh said.
Avoiding Jewish areas
Palestinians living in Israel say there is popular support among Israeli Jews for calls made by politicians to shoot and kill the perpetrators of alleged stabbings. No less than 64 percent of respondents to the Mada al-Carmel survey said that such calls find high or moderate levels of support from within Israeli society.
As such, many Palestinian citizens feel unable to openly express their views to Jewish Israelis, for fear of retribution.
"If I meet Jewish friends, I prefer not to talk about the situation with them. I find that it is hard to express my feelings," said Nahhas-Daoud. "They don't talk about the occupation and dehumanization of other people – they are closed off and focused on national security."
In the survey, 70 percent of Palestinians in Israel also reported avoiding Jewish towns and areas to various degrees in recent weeks for fear of their safety.
"As a result of fear, people avoid being in Jewish areas even when it's important for their work or daily lives," Saabneh said.
Many Palestinians also feel unsafe on Israeli public transit. 
"My wife used to go to Tel Aviv for work on the train, but lately she has been using the car instead, because of recent events," Saabneh added.
Others avoid speaking in Arabic while taking public transportation.
"I get afraid when talking in Arabic to my kids," Nahhas-Daoud said. "If I take the train to Tel Aviv, I won't speak at all."
Crackdown on dissent
Though all Palestinian citizens are affected, Israel is particularly intent on fostering fear among those who speak out against state policies.
Hundreds of Palestinian protesters have been arrested inside present-day Israel in recent weeks, with many finding themselves subject to "preventive arrests" by police before even attending demonstrations.
At a small, nonviolent demonstration in Akka (Acre) in mid-October, more than 20 protesters were arrested and detained overnight with no apparent cause, according to the Haifa-based activist known as Yoav Haifawi, who was present on the scene.
The intent of such arrests is clear: to create a chilling effect that discourages others from demonstrating in the future.
"The very fact that you go to a quiet demonstration, you don't do anything against the law, and you spend the night with the police deters people from attending demonstrations," Haifawi said. "It will cause people to think twice before they go."
In other instances, Israeli authorities have arrested bus drivers who transported demonstrators to protests. At an early October demonstration in Tamra, a city near Haifa, three bus drivers were detained overnight and later put on house arrest for five days.
"The drivers were sitting quietly in the buses – they were not even taking part in the demonstrations," Haifawi said. "The authorities also kept the buses in police custody afterwards, preventing the drivers and their families from making a living."
Such repressive policies further Israel's ultimate goal of keeping Palestinian citizens quiet, obedient and fearful. In this sense, they resemble tactics of control implemented by Israel in the occupied West Bank and Gaza Strip.
"The methods of policing and repression used in the West Bank and Gaza are also used here," Haifawi said. "The difference is quantitative, not qualitative."
Fear for the future
While the West Bank and Gaza Strip have undoubtedly been hardest hit by recent violence, Israel's state ideology and policies have violent implications for all Palestinians.
Many Palestinian citizens fear for their future as a community within Israel, according to the Mada al-Carmel survey.
Nearly half of the poll's respondents reported feeling a low sense of security, or none at all, about the future of the Palestinian community in Israel. Only 15 percent feel that a future Palestinian presence in Israel is highly secure.
Such findings give lie to the claim that Israel is a normal democracy where minorities feel safe. In reality, Palestinians in Israel are not seen by the state as equal citizens deserving of rights, but rather as a security and demographic threat.
"The government is basically speaking about Palestinians in Israel and Palestinians in the occupied territories in the same way," Saabneh said.
"They are all the same Arabs," he added. "Everyone is a suspect."
Robin Jones is an intern in Haifa at Mada al-Carmel – The Arab Center for Applied Social Research.
Tags