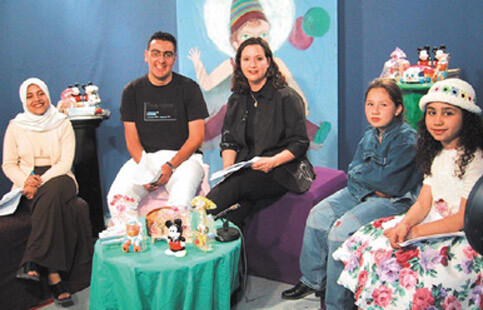 The 2004 International Children's Day of Broadcasting (
ICDB
) marks the second anniversary of Alli Sotak (Speak Up), a two hour weekly programme, which is created by and for Palestinian young people.
The inspiration for starting a new programme for youth was born when the Palestinian National TV network realized that, amidst the gloomy circumstances and grim news headlines which children are exposed to , there was a great hunger for positive content. As a result, Palestine TV began to participate in the annual ICDB event in the year 2000, by sponsoring annual special programmes.
By 2002, the network had recognized how important the young people's audience is – it includes 53 per cent of the Palestinian population. As a result, a regular weekly programme – Alli Sotak – was created, and the rest is history.
"For the first time ever in OPT, Palestinian children take the lead where it comes to media programmes," said Monica Award, UNICEF Communication Officer. "They speak their minds freely and democratically."
More than 100 weekly episodes broadcast
Alli Sotak is produced by young people aged 13-24. They research the topics, prepare the reports, write the scripts and present the programme. Alli Sotak, partially supported by UNICEF's OPT office, is broadcast via terrestrial and satellite channels of Palestinian National TV network.
Alli Sotak has broadcast more than 100 weekly episodes, each addressing issues of concern to young people. Topics chosen by the young producers vary from child rights, national identity, religion, relationships, and social issues to health-related issues such as HIV and AIDS.
The Palestinian Youth Association for Leadership and Rights Activation (PYALARA) was instrumental in sparking participation in ICDB, and in creating and helping produce Alli Sotak. PYALARA has also managed to keep the show running, by persistent advocacy and campaigning for young people's right to express themselves and communicate with their peers.
An empowering experience
Today, Alli Sotak reaches more Palestinian youth than any other programme. During its two hours, the young hosts lead live discussions with their peers and with Palestinian and international officials, and present a variety of entertaining segments such as pop quizzes, where young people can call in and win prizes.
The young people who produce and appear on Alli Sotak have found it to be an empowering and enjoyable experience. "I became a more responsible person and I am now able to stand in front of a TV camera without being afraid," said 17-year-old presenter Nisreen.
After two years in the air, Alli Sotak has become a voice of young Palestinians, a platform for youth interaction, and a pathway to resilience and hope.
PYALARA was founded to encourage constructive activity among Palestinian adolescents in the various fields of communications. PYALARA publishes a monthly newspaper for teenagers, distributing tens of thousands of copies through the West Bank and Gaza Strip. The youth-run newspaper aims to provide young people with a platform for expressing themselves, and to help prevent feelings of despair due to the stress and violence they are exposed to in their daily lives.
Related Links