11-YEAR-OLD LOST HIS LEG IN A MISSILE ATTACK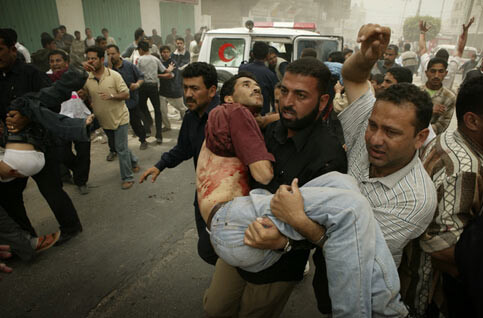 WASHINGTON
,
DC
- September 13, 2004 — Eleven-year-old Hamad El-Neirab does not remember much about the explosion that sent metal shards through his body and severed his left leg. But today the boy from a Gaza Strip refugee camp sat half a world away in a state-of-the-art Washington,
DC
examination room to be fitted for a new leg.
On the morning of May 19, after three days of continuous assaults on Rafah, the IDF partially pulled back its tanks from the heart of Rafah's Tel-el-Sultan neighorhood and took up positions at its entrances. For three days and nights the residents of Tel-el-Sultan had lived without electricity, water, or food. They lived in complete darkness, too afraid to pull open the curtains on their windows for fear of a sniper's eager shot. The IDF's code name for this invasion was "Operation Rainbow." According to Palestinian medical sources, 56 Palestinians were killed during "Operation Rainbow." The children among them numbered 22.
When the siege was partially lifted on May 19, people came out of their homes seeking some relief from the suffocating curfew and to ask their neighbors about the dead, the wounded, and the missing. Hamad El-Neirab also awoke that morning to hear loudspeakers announcing a peaceful march in Tel-el-Sultan to protest the devastation that the IDF had left in its wake. "My family was listening to radio when I heard the appeal, so I fed and watered my pigeons, then put on my boots and told my mother that I am heading to the march. She refused and tried to convince me not to go. But my mind was working in the opposite direction and I told her the march was going to be peaceful," Hamad remembers.
"I was in the demonstration, we were clapping and chanting, suddenly the Israeli helicopters fired a missile into the demonstration. I fell to the ground. After the explosion, I stood to run away but a second rocket blew up near me, and I was wounded in both legs. I saw the body of a man near me was ripped to several parts." Eight people — among them several of Hamad's schoolmates — were killed during the attack. Later that day, the UN Security Council passed a resolution condemning the killing of civilians in Rafah.
At the scene, paramedics faced a dilemma because of the large number of victims. Hamad recalls trying to help some of the others who were injured with him. "Though I was wounded, I helped some people. We were four wounded in the ambulance. Blood was pouring from the neck of one of them, the medic was wrapping my leg and asked me to put my palm on the wound of the neck to stop bleeding. I did while looking at my leg, not realizing what was going on. I had never imagined that they will fire missiles on a peaceful demonstration."
Hamad's mother Hamdiya, 52, could not see her son for five consecutive days. "For five days, my son was being transferred between three hospitals in the Gaza Strip — the European, the Red Crescent and al-Shifa Hospitals. I could not see him because of the Israeli siege. When I finally saw him and the medics told me they had to amputate one of his legs, I felt as if somebody was suffocating me. I wished someone would rip out my heart instead of my son's leg."
Hamad's father Mahmoud, 68, suffers from cardiac disease and does not work. "I was home when I heard several loud thunderous explosions that day. I dashed out to the street to see what happened, and somebody told me that my son has been wounded in the raid." Hamad preoccupies his father's thoughts these days, and he worries about his son's future. "I can not help thinking about him and his future. His life has completely changed. "May God bless him and help him succeed in the future."
Steve Sosebee, president and CEO of the Palestine Children's Relief Fund (www.pcrf.net), learned of Hamad's case from his network of field workers in the West Bank and Gaza Strip. Sosebee visited the El-Neirab family in Rafah to begin the process of referring Hamad to the US for treatment. "The El-Neirab family has experienced such devastation, so I'm pleased we were able to coordinate free travel and medical care," said Sosebee. "The family has expressed to me their sincere appreciation for everyone who will make it possible for Hamad to walk again."
The PCRF succeeded in locating a center (Nascott Rehabilitation Services) in Washington, DC to donate a prosthetic leg to Hamad. The PCRF also located a host family for Hamad and established a support network of DC-area volunteers willing to help with his care — everything from driving him to his appointments to taking him on outings. During his visit to DC he also spoke about life in Palestine with Little Friends for Peace, a local group that teaches young children to appreciate other cultures and to be peacemakers in their daily lives.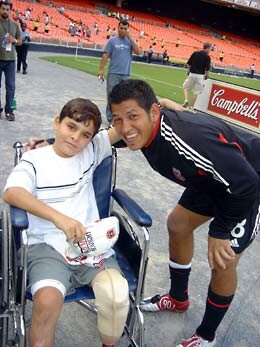 "Hamad is a pleasant and energetic youngster. It is an injustice when a limb is lost due to war and war-like conditions," said David C. Fenton, certified prosthetist at Nascott. "I am glad we are able to assist him and I anticipate that in a short period of time, the prosthesis will allow him to actively participate in many youthful activities."
Before his injury, Hamad loved to play soccer. "I loved football, and I had a dream to be a professional footballer like Ronaldo. I admire him and his yellow t-shirt number 9," Hamad said to reporters before leaving the US for treatment. "I had a dream to play in the World Cup and Olympics. Now I cannot be a footballer. How can I play with one leg?"
After learning that Hamad was an avid soccer player before his injury, the DC United soccer team donated free tickets to its September 11 home game to Hamad, and surprised him with a personal meeting with its star players after the match. Hamad posed for photographs with the entire team and was presented with a signed soccer ball.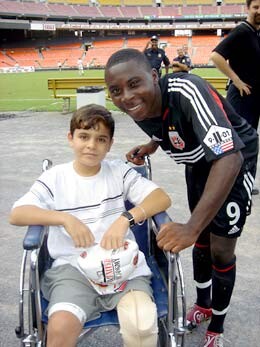 "My new favorite player is Freddy Adu because he scores all the goals, and because he is young like me." Through a series of handshakes and high-fives, the professional players told Hamad to keep up his spirits and work hard to make his dreams come true.
Although Israeli missiles brought a painful end to the young boy's dreams of becoming a pro soccer player, Hamad has set his sights on a new goal: "I will finish my school then study computer engineering. I only hope father will have enough money for it." 
According to
UN
agencies, more than 573 Palestinian children have been killed since September 2000. Almost 2,000 Palestinian children have been arrested and detained, and 337 Palestinian children are currently being held in Israeli prisons.
Related Links
BY

TOPIC

: Children
The PCRF (www.pcrf.net) is an American non-political, non-profit medical relief organization established in 1991 to provide life-saving medical care to sick and injured children of the Middle East. PCRF brings children to receive cost-free surgical treatment in the United States and Europe; sponsors multi-national medical delegations to travel to Palestine; conducts summer camps for disabled children; administers a sponsorship program for children with special medical needs; and sends donated medical supplies and equipment to Palestinian hospitals. The PCRF is also spearheading an international project to establish Palestine's first comprehensive pediatric cardiac surgery program in the West Bank. Those interested in volunteering to help PCRF should contact dc-chapter@pcrf.net