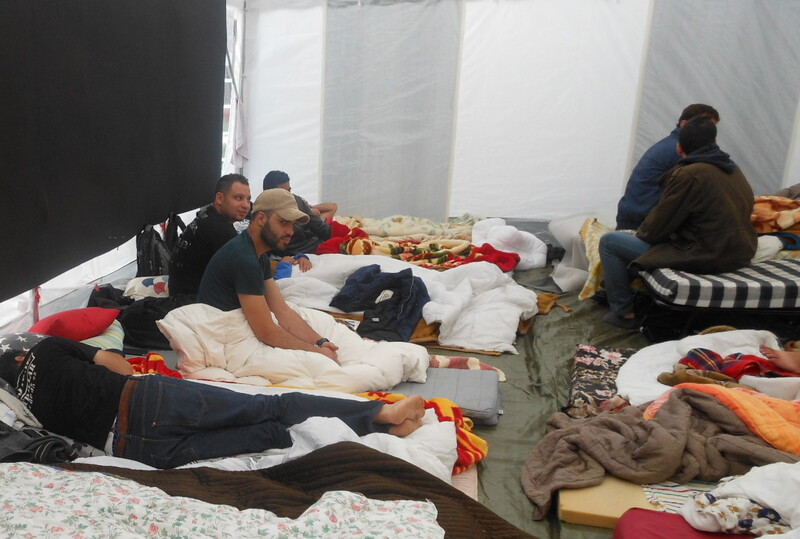 On Thursday last week, 24-year-old Nidal Lulu was taken to a hospital by emergency services after he lost consciousness as a result of nine days without food. Lulu is one of thirty Palestinian asylum-seekers, some of whom are under the age of eighteen, who commenced a hunger strike on 6 August in central Gothenburg, Sweden.
Thirteen have been taken to hospital. But ten have returned to tents erected in a city square and continue the strike.
"We cannot go back. We are from old Palestine and we have no country and no homes anymore. Many of us have been here from two to eight years without being granted residence. It's no way to live," one of the refugees, Muhammed Abughalioun, told local newspaper Göteborgs-Posten last week.
"We will continue our hunger strike until we die," he said.
Most of the asylum-seekers have lived in Sweden for several years. Five arrived from the occupied West Bank and the other 25 from Gaza. They are currently staying in three tents erected on Olof Palme Place, named after the assassinated Social Democratic prime minister who was a vocal opponent of South African apartheid in the 1980s.
The area in front of the tents functions as a makeshift information center, where a number of local residents and political activists have been gathering. On a table with various documents and leaflets lies a petition where visitors have added their names and contact details.
The petition and signatures, which will be delivered to the Swedish Board of Migration, are supplemented by an online petition on change.org and an information page on Facebook, where the asylum-seekers are posting regular updates on the strike.
Solidarity
Local residents have been turning up at the site to demonstrate solidarity with the hunger strikers, and a sit-in protest carried out over the weekend attracted a significant number of people. Political activists and elected representatives, including a member of parliament from the Left Party, have expressed their support.
Nidal Lulu has returned from the hospital, but two weeks without food have taken their toll. He speaks quietly and with obvious effort, but the message he conveys is loud and clear. The refugees have nowhere to go and no other option but to continue their fight for a life in safety and freedom.
"Some of us here had our asylum claims rejected several years ago, but it's not possible for us to go back. Yet we are not allowed to stay in Sweden, so what are we supposed to do?" he remarked. "When we walk down the street, we constantly feel that we are different from other people in society, and this is no life. It's awful."
Looking around at the other people in the tent, most of whom are too weak to do anything but rest under their sleeping bags and blankets, he said: "This is difficult. To not eat for such a long time, and two people have also stopped drinking water now. It's very dangerous."
Last resort
The hunger strike is about to enter its third week. It is a last resort, an appeal to the Swedish Board of Migration to reconsider its rulings in the cases of the hunger strikers, as well as its policy on Palestinian asylum-seekers more generally.
The board stated in July that it was temporarily halting expulsion to Gaza.
But it refuses to grant permanent asylum to these refugees, and many others like them, as the situation in Gaza is not considered critical in a long-term sense.
The migration authorities have expressed concern for the health of the hunger strikers, but are disavowing themselves of any responsibility. Fredrik Bengtsson, the migration board's chief press officer, suggested last week that his colleagues were "trying to establish a dialogue" with the refugees.
"This is of course deeply worrying," he said. "These are people who are determined and desperate enough to go very far to make their case heard."
But he added that "a hunger strike does not affect the judicial outcome of a case."
However, the possibility does exist for legal reinterpretation of the asylum claims of Palestinian refugees. Achieving such reinterpretation is one of the main goals of the hunger strike.
Last year, the Board of Migration took an executive decision in the case of asylum-seekers from Syria. As a result, people who fled the civil war in Syria will be able to apply for permanent "resettlement" in Sweden.
Before then, they had only been given temporary residency permits.
Too short?
The Palestinian hunger strikers are calling for a similar blanket decision to be made in the case of Palestinian refugees who seek asylum in Sweden. However, while Palestinians have lived under military occupation for several decades, and Gaza has been subject to blockade and intermittent military attacks since 2006, Bengtsson of the the migration board maintains that such a policy change is currently not being considered.
He claimed that "far too short a time has passed" since the most recent Israeli attacks. When asked whether he thought that 47 years of military occupation was a "short time," Bengtsson responded that the occupation and blockade did not render the situation of refugees from Gaza and the West Bank "equal" to that of Syrian refugees.
According to Birgitta Elfström, an attorney and former employee of the Board of Migration, Sweden's rejection of asylum claims from stateless Palestinians violates the 1951 Refugee Convention, a cornerstone of international human rights law.
In a 2012 opinion piece, Elfström asserts that when Palestinians who had previously been under protection from UNRWA, the UN agency for Palestine refugees, attempt seek asylum in a new country that has ratified the 1951 Convention, such asylum-seekers should "automatically" be classified as refugees entitled to asylum.
She writes that because Palestinians had already been recognized as refugees by a UN agency, they did "not have to prove anything else."
Asked to respond to Elfström's interpretation, Bengtsson said that "clearly the Swedish authorities do not share that view."
The migration board continues to assert that it is following correct procedure. Nevertheless, its representatives have visited the Palestinian refugees on several occasions, bringing clothes and water.
"We tell them that's kind of them," Nidal Lulu said. "But it's not water we need, it's not clothes. What we need is to be able to live like everyone else.
"We need to start living, start studying, start working. It's up to the Board of Migration to decide if we will be able to live like other people."
If the hunger strike continues much longer, that decision could determine whether some Palestinian refugees will live at all.
Åsa Jansson is an historian and a freelance writer. She is an associate member of the Centre for the History of the Emotions at Queen Mary, University of London, and blogs at The Unpractical Scheme.
Tags