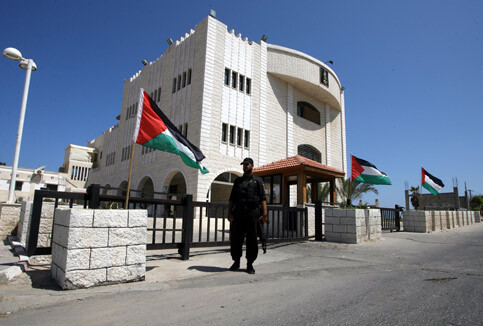 GAZA

CITY

, 6 June (

IPS

) - In the early hours of Friday morning, Israeli warplanes targeted a Hamas-run security post in the northern town of Beit Lahiya, injuring 29 Palestinian civilians, according to Gaza medical sources. In the eastern Gaza City neighborhood of al-Shuja'iya, a 27-year-old man was shot dead by Israeli special forces during another invasion.

As the Israeli military invasions and attacks continue unabated in the occupied Gaza strip, movement towards a so-called Palestinian national unity government seem possible, according to local politicians.

On Thursday, Palestinian National Authority (PNA) Prime Minister Ismayil Haniyeh of the Hamas party extended an open invitation to PNA President Mahmoud Abbas, saying that Hamas's hand "reached out" to the Fatah party to hold talks on national dialogue, reconciliation and political unity.

Abbas had said on Wednesday that he hoped to "restart" unity talks with the elected government of Hamas, a political body that has been isolated and branded a terrorist organization by the United States and Israel since its democratic election in January 2006.

"With the speech that Abu Mazen (Mahmoud Abbas) delivered on June 4th, it was a breakthrough," Ahmed Yousef, top political advisor to Haniyeh in the Hamas foreign ministry, told IPS. "On Thursday, the prime minister delivered a speech responding to Abu Mazen. I hope that with Abu Mazen's step forward, Haniyeh will give two more steps forward, and we can meet in the middle. This could be the beginning of the reconciliation of the rift between Fatah and Hamas."

But some Palestinians on the streets of Gaza City seem wary of this move, particularly because of US-Israeli support of Fatah and that party's history of offering political concessions to Israel in negotiations.

"Until now, neither Hamas nor Fatah have made any kinds of compromises, nor talked about what conditions they have (for political unity) — it's like no one has had the good of the people in mind as a priority," said Basima Ghalayini, a Gaza City-based unemployed information technology graduate.

"If the Palestinian people were the priority, instead of Western interests, (Hamas and Fatah) would have reached a solution by now. Fatah should work together with Hamas. And they should work towards the immediate issues, such as the civil divisions within the West Bank and Gaza. We have little land as it is; we can't divide it even more."

Clashes began between the rival parties in Gaza after the 2006 elections. Since June 2007 when Hamas took over Gaza, faced with a severe economic blockade, regular Israeli attacks all over the strip, and internal fighting, over 400 Palestinians have been killed and thousands injured. With little fuel and scarce supplies being allowed through the industrial crossings into Gaza, many Palestinians view the ongoing Israeli military and economic siege as collective punishment and a broad-based move to isolate Hamas and weaken popular support for the group.

Yet with a political corruption scandal surrounding Israeli Prime Minister Ehud Olmert, along with the Western marginalization of Hamas, politicians in Gaza say that party unification can only help their cause in future so-called peace negotiations.

"I hope that after Abu Mazen stood with [US President George W.] Bush last month at the Israeli Knesset, he had a chance to review his policy and not to count on the Israelis and the Americans — that's the only way he could continue the negotiations with the Israelis. He could bridge the gap between Fatah and Hamas and build unity. This will help him in future negotiations. This is the ultimate goal," Yousef told IPS.

"But we're all living in a crisis, and we have to move towards each other, to help Palestinians restore their dignity and continue their struggle so as not to be stuck between a rock and a hard place."

IPS asked Yousef about Hamas's plans if a unity government moves forward. "The position we have taken," Yousef said, "is that we are not going to compromise our rights or any Palestinian national rights. We will try to mobilize our people and defend our rights, and not to give Israel any concessions."

All rights reserved, IPS - Inter Press Service (2008). Total or partial publication, retransmission or sale forbidden.