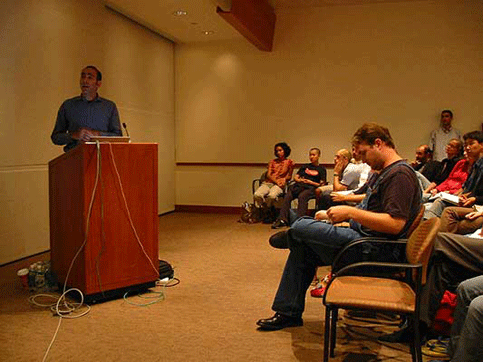 Students packed the Scheuer room on Monday to hear Palestinian journalist Ali Abunimah argue for a one-state solution to the beleaguered Middle East peace process.
Abunimah said he regretted the current media focus on whether killing Arafat was legitimate rather than how to handle the "separation wall" proposed by many Israelis. He supplemented his presentation with slides from his Web site, The Electronic Intifada.
Abunimah said he did not believe the conflict could be traced back to an individual or side. "If you take group A and group B and put them in one space, and group A has all the advantages — economic, military, social —and group B has none, there will be conflict. That is true everywhere in the world," he said.
Although he originally embraced a two-state solution, Abunimah discussed his growing frustration with the Bush administration and its "road map" peace plan.
"The road map was worth a chance — there was nothing else out there," he said. Now he thinks the only answer may be a one-state solution.
Many students felt encouraged by the dialogue. "I never really believed in a one-state solution, but listening to him somehow convinced me it could happen," Anita Kumar '06 said.
Henry Swift '07 added that "it was very refreshing to hear someone discussing what is the most effective solution rather than what is the 'right' solution."
Saed Atshan '06, a Palestinian and member of Students Against the Occupation who helped arrange the speaker's visit, was also satisfied with the event. "People were extremely respectful and polite," he said. "This is such a sensitive issue. Talking about it doesn't usually go this smoothly."
Atshan stressed the importance of finding a Palestinian to speak. "The last three speakers we have had on the issue of Palestine and Israel have been white American males," he said.
During the question-and-answer session that followed the speech, students hammered Abunimah with questions. Some expressed frustration that he seemed to speak in circles and did not answer their questions.
Many parallels were drawn between the Middle East and conflicts in South Africa, Vietnam and Algeria. Abunimah strove to bring home his points by asking students, "If Philadelphia was divided, how many people would swim the river, would walk the miles, to get to work or to school or to their families?"
Atshan worked for about a year to get Abunimah to come to campus. "He is a very popular figure who gets tons of requests," Atshan said. "We were fortunate."
Abunimah is a Princeton graduate who researches at the University of Chicago. He writes for and edits the Web sites www.electronicintifada.net and www.electroniciraq.net, which examine news coverage of Middle Eastern events. He also writes for the Chicago Tribune and the Lebanon Daily Star.
The lecture was sponsored by Students Against the Occupation, Forum for Free Speech, the President's Office, the Office of the Multicultural Dean, the Intercultural Center, and the Department of Film and Media Studies.
ORIGINAL: Palestinian journalist argues for one state, Bree Bang-Jensen, The Phoenix (18 September 2003)