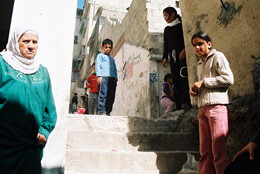 RAMALLAH

(

IRIN

) - A newly formed Ramallah-based "Palestinian community foundation" said it is looking to change the way aid is given, so that more sections of society benefit from international donations and less money goes to waste.

"We don't want to get rid of foreign aid; we want to reform it, so it is in line with the Palestinians' priorities," said Nora Lester Murad from the Dalia Association.

She complained that too often priorities were determined by foreigners whose focus was different from that of locals.

Alix de Mauny, a spokeswoman for the European Commission (EC) in Jerusalem, said its priorities for the Occupied Palestinian Territories (OPT) were determined with the Palestinian Authority (PA) as part of its Reform and Development Plan, presented at the Paris Donors' Conference last year.

"We do not impose our own priorities," De Mauny said, adding that the Europeans have also started to talk with local non-governmental organizations (NGOs) before issuing calls for proposals.

Still, Murad said there was a need for "more community level involvement."

A pilot program run by the association, allowed a small community to democratically decide how to allocate a small grant within Ramallah. After a discussion and vote, the locals divided some US $12,000 between four community-based organizations who had not benefited from international aid.

"Each donor has their own software system," the energetic Nora explained. "You have to know how to use each system to file evaluations and grant applications. And it has to be done in English for the most part."

De Mauny said that because of the large grants the EC gives and the need for accountability, sometimes less established groups might have a hard time getting a grant, but the association runs workshops on how to file applications and gives feedback on rejected proposals, leading to many groups getting aid on a second request.

The European Union (EU) now allows for sub-granting, which means "Palestinian civil-society organizations can also help each other, by partnering among themselves."

Some senior aid workers have said they understand several of the Palestinian criticisms: "We need to keep our eye on the ball and not lose sight [of the fact] that assistance is supposed to be effective for beneficiaries," said Martha Meyers of CARE in the West Bank and Gaza Strip.

Criticism of "local partner" system

Some proponents of the criticism say the aid system has encouraged big international agencies to get funds for a project which it then implements through a local NGO.

While this allows for the arrival of needed humanitarian aid and the implementation of development work, it contributes to a disconnect between donors and locals, while also inhibiting Palestinian grassroots organizations from acquiring knowledge, as some of this is retained by international agency staff, who generally move away after a few years.

"By locally empowering, we reduce the need for foreign assistance," Murad said, adding that this would make aid delivery more cost effective.

The EU said it had got rid of its European partner requirement, in a bid to let more local groups take the lead.

Arab donations

Ultimately, looking inward, the Dalia association said it wanted to increase Arab donations to the Palestinians and set up an "indigenous fund not tied to external constraints," in the words of Sam Bahour, a Palestinian businessman pushing for such an endowment.

This would be matched by a push for more volunteers.

Meyers, from CARE, also noted the importance of volunteers and supporting community-based programs, saying her organization worked with small local groups who run on volunteer work. This helped build up skill sets and served to empower them, she felt.

"Many of the larger Palestinian NGOs started out as small projects and they grew," she said.

Accountability and effectiveness remain crucial, and all agree there is still a need for more established local NGOs and international agencies that can get the funds from donors and get the work done, but many players said they hoped to see more grassroots movements gaining a foothold, proving their accountability and moving ahead — maybe eventually replacing altogether the need for foreign aid workers.

This item comes to you via IRIN, a UN humanitarian news and information service, but may not necessarily reflect the views of the United Nations or its agencies. All IRIN material may be reposted or reprinted free-of-charge; refer to the copyright page for conditions of use. IRIN is a project of the UN Office for the Coordination of Humanitarian Affairs.