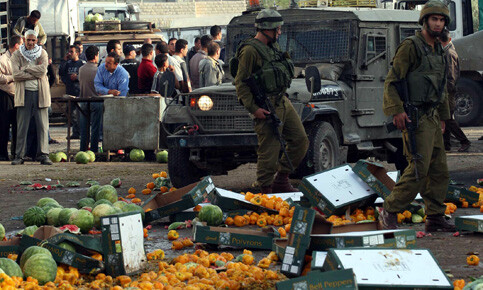 The consequences of Israel's recent war on Gaza are evident to anyone with a television or Internet access. Recurrent images of civilians dying or injured in Gaza's hospitals, smoke bellowing from distant buildings on the horizon and diplomats the world over shuttling from one photo-op to another will, in all likelihood, be duly recorded as merely another chapter of Palestinian suffering at the hands of the Israeli occupation. Those of us who live outside of Palestine can only imagine the horrors that have befallen the Palestinians in Gaza over the last few weeks. However, when the dust settles, the Palestinian people will have to deal with getting back to whatever sense of normalcy they can muster in the face of the whimsical dictates of their occupiers.

Perhaps the most nuanced aspect of Palestinian suffering that goes more or less unnoticed is the abominable state of the Palestinian economy. The systemic and perpetual economic hindrances imposed upon the Palestinian economy by the Israeli occupation are viewed by most experts to be the primary impediment to allowing the Palestinian economy to reach its full potential. The World Bank has identified three principal "paralytic effects" of Israeli policies on the Palestinian economy: access to economies of scale, access to natural resources and access to an investment horizon. It also cited physical impediments — road blocks, closures, earth mounds and the ongoing construction of the wall on West Bank land, the route of which was deemed illegal in an advisory opinion made by the International Court of Justice in 2004 — as a "paralysis confronting the Palestinian economy." [1]

Further exacerbating this paralysis is the political and economic division of the West Bank and the Gaza Strip. The lack of a contiguous Palestinian land mass and the Israeli siege of Gaza have resulted in the divergence of the two territories in terms of the effects on total GDP which stood at an estimated $4.14 billion in 2007. [2] Palestine's total GDP for 2008 is expected to comprise 70 percent of that of 1999, prior to the second Palestinian intifada. [3] In addition, per capita GDP fell nearly 30 percent from its height of $1,610 in 1999 to an estimated $1,099 in 2007 and is expected to decrease by 7.4 percent in 2008. [4] Furthermore, the effects on real GDP of the Occupied Palestinian Territories (OPT) cannot be accurately gauged due to Israel's continuing economic blockade and its subsequent military offensive. However, the International Monetary Fund (IMF) and the World Bank estimate that results from the first quarter of 2008 are slightly negative and project modest growth of 0.8 percent in 2008 "due to a continued yet marginal drop in economic activity in Gaza, given its already-low base, matched with a modest rise in economic activity in the West Bank." [5]

Prior to Israel's invasion of Gaza, its blockade of the tiny coastal territory led to the emergence of a "tunnel economy" that was estimated to provide nearly 90 percent of all products entering the Strip worth roughly $40 million per month. Facilitated by a series of tunnels between Egypt and Gaza, smuggled goods ranged from vegetables and livestock to radios and generators and served as the main lifeline of the civilian population of Gaza. The associated costs of this improvised means of transporting goods is evident in shops and markets across the Strip where the price of everything from basic staples like rice and flour to commercial goods and products have increased dramatically while incomes have dropped precipitously during the same period. [6] The Israeli military offensive that began on the 27 December has further intensified the upward pressure on essential items such as food which has seen a 20 percent and 23 percent rise in prices in the West Bank and Gaza respectively. The price of tomatoes in Gaza during the Israeli bombardment is said to have risen from about 1.5 NIS (about $0.40) before the Israeli onslaught to 7 NIS, an increase of over 400 percent. [7]

The Palestinian economy suffers from numerous institutional restrictions resulting from more than 40 years of Israeli occupation, including no independent Palestinian currency, airport, or seaport. As a result, it is dependent on the ability to trade within its territories and with its neighbors. Trade flows constitute nearly 85 percent of the GDP, 85 to 90 percent of which is with Israel. This economic dependence on Israel can be seen as a direct result of Israel's economic policies. Prior to 1993, Israel engaged in a policy of "integration" that, in theory, sought to eliminate the barriers that stood between the two economies. However, in practice, it codified and solidified the dependences of the OPT's economy on that of Israel. Although there was a rise in Palestinian income as workers took up jobs inside of Israel and on Jewish-only settlements in the OPT, there were prohibitions on developing Palestinian commerce and industry. Accordingly, the dependence on the Israeli economy at the time of the Oslo Accords in the mid-1990s was immense: more then 90 percent of goods traveled to and from Israel and the trade deficit stood at 45 percent of the GDP. According to the World Bank, after the second Palestinian intifada broke out in late 2000, Israel announced that it intended to end all Palestinian employment in Israel effectively pulling the rug out from under the Palestinian economy. [8]

Since Israel imposed its siege on Gaza 19 months ago — effectively stopping all intra-Palestinian and international trade — conventional trade within the OPT has relied solely on the internal and external trade of the West Bank. The numerous restrictions and administrative blockades imposed upon the Palestinian residents of the West Bank by the Israeli occupation have crippled the means of transporting Palestinian products in a competitive manner. As a result, Palestinian exporters face enormous amounts of uncertainty thus crippling their ability to compete in regional and global markets. Therefore, the OPT has witnessed a perpetual decrease in the amount of Palestinian trade over many years even before Israel's construction of its wall in the West Bank. Between 2000 and 2006 the amount of West Bank enterprises that made a significant amount of sales outside of their home cities decreased from 60 percent to less than 40 percent. [9]

The increased levels of uncertainty add to the anguish of Palestinian enterprises that are becoming subject to increasingly high fixed costs per kilometer within the West Bank and by default the rest of the world. A recent survey conducted by the Palestinian Trade Center (PalTrade) identified several parameters that increase costs for transporters inside the West Bank. PalTrade identified as much as a 40 percent increase in distance covered to reach key areas such as Jerusalem and the Allenby Bridge, which connects the West Bank and Jordan, due to Israeli policies that do not allow Palestinian trucks to take a direct route. The survey also noted increases of up to 70 percent in labor costs due to delays caused by road closures without announcement, flying checkpoints, unexpected variations on restrictions on cargo and movement of vehicles and people, losses due to inability to deliver on time and the waste of resources waiting, and trying to predict certain outcomes. [10]

Ultimately, trade dependency on Israel has proved to be detrimental to the Palestinian economy. In order for trade to thrive, Palestinians must have access to global markets and alternative trading routes. As of the publication of this article, the Rafah border crossing between Egypt and Gaza remains closed as it has been since the Hamas takeover of Gaza in June 2007. Although the crossing could potentially provide an enormous amount of respite to the ailing Palestinian economy, this has yet to materialize as a result of a seemingly tacit agreement between Israel and Egypt. Even when the crossing was "operational" it proved not to be a viable alternative to accessing the global market as the crossing operated only 16 percent of its scheduled working hours between June 2006 and March 2007, totaling a daily loss of $500,000 worth of exports. [11]

Trading through Jordan is also uneconomical due the fact that all goods moving to and from Jordan must first cross the Allenby Bridge controlled by Israel. According to the World Bank it is "a cumbersome and inefficient process that adds to the cost of shipping and discourages West Bank shippers from using the Jordan routes." Jordan not only complies with Israel's occupation policies but also imposes its own specific customs requirements on Palestinian products making it even more difficult for Palestinians to trade with Jordan and the rest of the world. Goods traded through Jordan are subject to redundant searches, parcel volume restrictions and lack of adequate storage facilities for sensitive products like vegetables and medical supplies. Due to the recent increases in Israeli restrictions, coupled with some improvements by Jordan, Amman's Queen Alia Airport has become slightly more competitive for handling large volumes than its Israeli counterpart Ben Gurion, which charges $1,150 per metric ton for "security surcharges" on Palestinian products. Nevertheless, the World Bank states that Palestinian traders still prefer Ben Gurion because of "better service, easier access and more frequent flights." [12]

Positioned at the heart of the Middle East, on the coast of the Mediterranean and constituting a sizable portion of "the land of milk and honey" are just some of the factors that lend to Palestine's inherent economic potential. The promise of a thriving and prosperous Palestinian economy is as logical as it is fleeting in the face the ongoing Israeli occupation and persecution of the Palestinian people. A viable Palestinian state will require a sustainable economy without the current hindrances on trade and businesses imposed by the Israeli occupation. The people of Palestine, expelled, bombarded and starving understand that unless realities on the ground change, the economy of Palestine looks set to remain a burden shouldered by Palestinians rather than the foundation of their future state.

Sami Halabi is a freelance journalist and political commentator based in Beirut who covers a variety of economic and political issues relating to the Middle East and in particular the Israeli-Palestinian conflict.

Endnotes
[1] World Bank, Economic Monitoring Report to the Ad Hoc Liaison Committee. "Palestinian Economic Prospects: Aid, Access and Reform" (2008).
[2] Palestinian Central Bureau of Statistics, "The economic forecasts for 2008."
[3] Palestinian Monetary Authority, Palestinian Central Bureau of Statistics, Palestinian Economic Policy Research Institute. Palestine Economic and Social Monitor. Volume 13. August 2008.
[4] See: Palestinian Central Bureau of Statistics, "The economic forecasts for 2008"; Palestinian Monetary Authority, Palestinian Central Bureau of Statistics, Palestinian Economic Policy Research Institute. Palestine Economic and Social Monitor. Volume 13. August 2008; World Bank (2008): 'West Bank and Gaza: Financial Sector Review'; Finance and Private Sector Group Social and Economic Development Department Middle East and North Africa Region.
[5] World Bank, "Palestinian Economic Prospects: Aid, Access and Reform"; Economic Monitoring Report to the Ad Hoc Liaison Committee, 2008.
[6] Jonathan Ferziger, "Gaza Tunnels to Egypt for IPods, Viagra Foil Blockade," Bloomberg, 24 December 2008.
[7] World Food Program, "Food Security and Market Monitoring Report," 2008; Nidal al-Mughrabi, "High prices leave Gaza shops bare, people desperate," Reuters, 10 January 2008.
[8] World Bank, "West Bank and Gaza: Palestinian Trade, West Bank Routes," 2008.
[9] Ibid.
[10] Ibid.
[11] United Nations Office for the Coordination of Humanitarian Affairs, "Agreement on Movement and Access Report," 2007.
[12] World Bank, "West Bank and Gaza: Palestinian Trade, West Bank Routes," 2008.