"Today my body was a TV-ed massacre that had to fit into sound bites and word limits."
Rafeef Ziadah's powerful poem "We Teach Life, Sir" was the inspiration for a photography exhibition and series of exchanges between Scotland and Palestine, titled We Teach Life: Children of the Occupation.
In keeping with the core theme of that poem, the images on display underscore how Palestinians have maintained a strong spirit despite the brutality of Israel's occupation.
Whereas a series of portraits is flanked by testimonies of violence, others capture the mirth of children at play. "Palestine Will be Free," as one photograph was captioned, shows a woman smiling defiantly as she thrusts her outstretched fingers through a window in a gesture of peace. And "Get These Things Off My Land" depicts two ants pushing the shell of a bomb over rocky ground.
The exhibition, a collaborative effort undertaken by Scottish photographer Phil Chetwynd, the Glasgow University Palestine Society and the Lajee Center in Bethlehem's Aida refugee camp, showcased the artwork of children from across the West Bank.
All photographs were taken by children participating in a series of workshops run by Chetwynd, in conjunction with Mousa Abu Maria in Beit Ommar, and with local activists Manal and Bilal Tamimi in Nabi Saleh. The exhibition also displayed photographs from another children's project run by Muhammad al-Azzeh at the Lajee Center.
The series of workshops, aimed at 12 to 17-year-olds, provided training in photography skills and processing, structured to reflect themes relevant to the children's lives and experiences. This included the documentation of Nabi Saleh's weekly demonstrations against the nearby Israeli settlement of Halamish, which has been diverting the village's water supply.
Soldiers "scare us"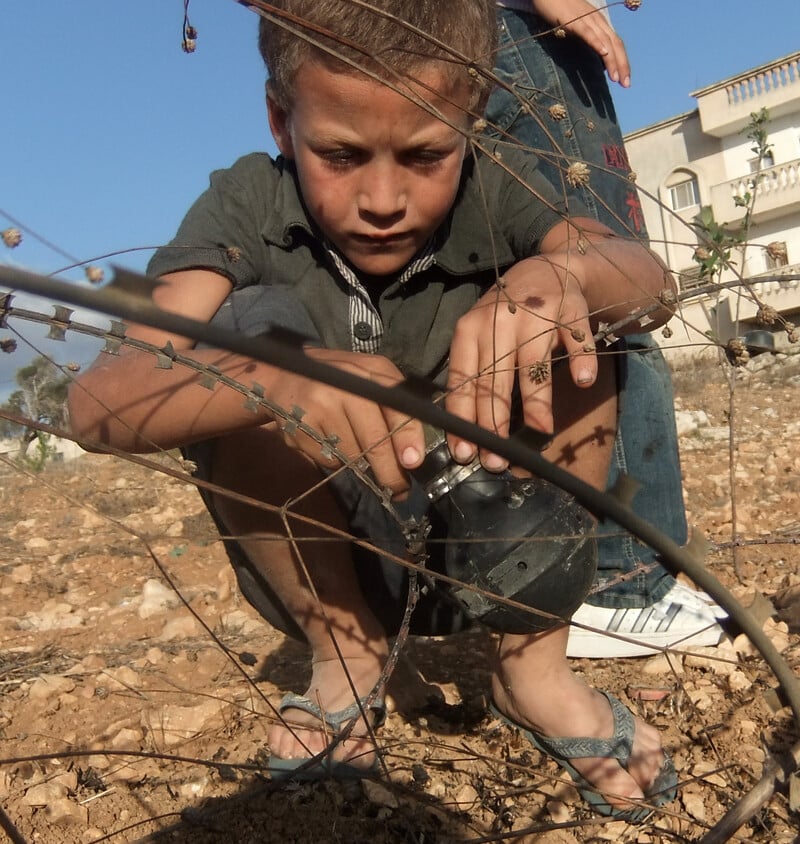 "The Israeli occupation army invaded the village every night to scare us … They threatened us with punishment if we join the demos and they took photos of our faces," said 13-year-old Mohammad from Nabi Saleh, in a note accompanying one of the exhibits.
The idea behind the workshops was to offer the children a chance to document this reality themselves. Cameras were donated to each participant by Cameras for Palestine, a project coordinated by Chetywnd.
"I kept asking myself what function I could possibly have in the resistance movement. Why would they need a Scottish photographer?" Chetwynd told The Electronic Intifada. "But from my point of view, if the Palestinian kids had their own skills in photography they could utilize them to tell their own story, and I wanted to help facilitate that, especially if it would help affect world public opinion."
Chetwynd now plans to establish a skill-sharing network for British and Palestinian photographers.
Forging connections
Forging connections between Palestine and Scotland was the driving principle behind the exhibition. This involved a four-city tour of Scotland over two months, with simultaneous events held in corresponding Palestinian cities. Glasgow's successful twinning with Bethlehem provided the springboard for developing further links and plans are underway to twin Scotland's capital Edinburgh with Ramallah.
Already twinned with Nablus, Dundee forged new connections with Gaza via Skype, linking live with Gaza's Youth Media Center. Aberdeen also linked with Gaza as part of a wider cultural evening, co-coordinated by the Scottish Palestine Solidarity Campaign and the Aberdeen Muslim Women's Association. The event also raised just over #15,000 ($24,000) in response to the eight-day onslaught by Israel in November. All Skype meetings were covered by the Gaza based satellite channel al-Kitab.
Rafat Abushaban, the project's Gaza coordinator, suggested a further dimension to the importance of this linking process.
"Personally and as an activist I think that Palestinians not only need to show their suffering to the world, which is important, but also need to understand the wider world without compromising their rights and beliefs," he said.
"Here in Gaza, we need a wider perspective on the global communities who stand with us, such as Scotland. Palestinians need to educate themselves more on a country-specific basis so as to understand which countries of the world share similar problems and suffering as we do," Abushaban added.
Last stop: Parliament
The exhibition's final destination was the Scottish Parliament where it remained on display for a week. This was launched at a cultural open night and cross-party meeting for Palestine, attended by more than a hundred members of the Scottish Parliament and members of local Palestine-affiliated groups.
The Parliament event, held just weeks after Israel's ambassador to the United Kingdom, Daniel Taub, made public his "concerns about the elements of extreme hostility to Israel in parts of Scottish society," was a demonstration of the widespread public support for Palestine in Scotland.
Parliament hears Gaza's concerns
Central to the Parliament event was another live video conference with Gaza's Culture and Development Group with the participation of students and activists from the Youth Media Center. Although the general back-patting of Scottish politicians and activists risked offering but a token of solidarity, its prominent positioning in the parliament suggested a strong stamp of political commitment. More importantly, the meeting provided a chance to engage with issues on the ground, following the recent Israeli attack on Gaza.
Among the concerns raised were the continuing plight of Gaza fishermen; the difficulties in educating Gaza's youth; the struggles of rehabilitation after the Israeli onslaught; and the limited and contaminated water supply.
When asked what the Gaza youth activists would like to see Scotland do in support of Palestine, the reply came that "Britain needs something to shake them up and change their position of support for Israel" and that the "exchange of ideas between young generations could defeat Israeli propaganda."
Sandra White, a member of the Scottish Parliament, criticized the representation of Palestine in the British media, adding that "as people, not just as politicians, we have voices and strengths, and if the media won't listen or put out the correct message, then it's up to us to do that for them." No longer should Palestine be squeezed into "sound-bites and word limits."
The exhibition was accompanied by a full cultural program, which featured Edinburgh-based Palestinian poet Ghazi Hussein, whose poetry gives voice to the struggle of all Palestinian refugees in their efforts to return to the homeland. In his poem Next Visit, inspired by his own imprisonment, he wrote: "My body is like a question mark, like a river on a map, completely dry." A local group, SanGhani (We Will Sing), performed the poet's words of brutality as a protest song.
The event was a testimony to the importance of representing Palestine through culture, by way of countering the current media coverage which blights British public opinion. "We want to portray the resilience and determination of the Palestinian struggle rather than a life of suffering which, although true, exists too much in the representation of the Palestinian people" said Chetwynd. The photographs, confident and engaging in their illustration of Palestinian life, were able to do just that.
Lauren Pyott is a freelance writer and translator of Arabic, specializing in Arabic literary translation. She has spent a number of years living in Palestine and is now based in Edinburgh. Her website is laurenpyott.wordpress.com.
Tags