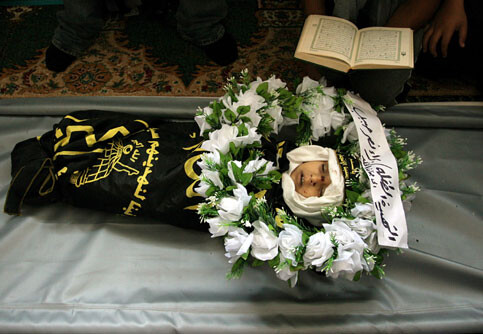 While clashes between Israel and Hezbollah intensify in Lebanon, fighting continues on a second front in Gaza in the occupied Palestinian territory (oPt).
Two young girls were killed early this evening in Jabalia in northeast Gaza and a three-year old girl, Sabrine, was killed in Al Shujayieh, a densely populated area in east Gaza.
These latest casualties bring the total number of children who have died in Gaza since the hostilities began on 28 June 2006 to 33. Some 100 children have also been injured.
"Children of all ages are afraid." says UNICEF oPt Communication Officer Monica Awad. "They have nightmares. Parents in Gaza tell us that children won't let go of their mothers. They are afraid to get out of the houses."
The situation for civilians
The United Nations Under-Secretary-General for Humanitarian Affairs and Emergency Relief Coordinator Jan Egeland visited Gaza on Tuesday 25 July and Haifa in Israel on Wednesday 26 July to assess the damage and destruction caused by both Israeli forces and Hezbollah rockets.
Mr. Egeland said he was shocked by the targeting of civilian infrastructure, including Gaza's only power plant.
"This is a heart breaking experience," said the UN's top humanitarian official, who added there were "too many wounded children, too many civilian houses destroyed."
Mr. Egeland described Israel's month-long military activities in Gaza as a "disproportionate use of force." However he again emphasized that all sides in the Israeli-Palestinian conflict were guilty of violating humanitarian law.
Ms. Awad, who visited bombed areas in Nablus in the West Bank where clashes have also broke out, says the situation for civilians remains very difficult. Children and their families are confined to their homes without clean water or electricity.
In the small village of Seafa, in Gaza, UNICEF distributed water kits and recreational kits to help children affected by the ongoing violence. One of the recipients, Rania Al Ghoul, says her children live in constant fear. "My children have nightmares, wet their beds and are always scared of the dark" says the mother of four. "Every time they hear the shelling and sonic booms they put their hands on their ears and start screaming."
Delivering the basics
Meanwhile UNICEF's emergency efforts on the ground are focusing on health, nutrition, safe water and child protection and include:
the distribution of five generators to the Palestinian Red Crescent Society and the Ministry of Health Primary Health Care clinics to ensure that vaccines are kept at appropriate temperatures.
the procurement of $1.2 million in emergency drugs and disposables for over 400 health clinics
the distribution of 566 family water kits (each serving 10 families) to affected communities.
13 large water tanks (containing 5,000 liters each) will be provided to Coastal Municipalities Water Utility and installed on trucks.
112

UNICEF

indoor recreational kits have been distributed to families in the northern cities of Beit Lahia and Beit Hanoun.
the pre-positioning with

UNICEF

partners of 650 baby hygiene kits along with 300 family hygiene kits ready to be distributed, as well as 888 recreational and school-in-a-box kits and 45 sport equipment kits.

In addition, UNICEF is supporting five child protection teams that reach approximately 3,000 children and 2,000 caregivers each month. The agency is also supporting summer festivals enabling over 15,000 children to escape their ordeal and engage with their peers in sports, art and cultural activities.

Speaking at a press conference in Jerusalem on the eve of his departure, Mr. Egeland, who visited Lebanon, Israel and Gaza, called for a cessation of the violence in the region. "Let's stop the hostilities: Lebanon, Gaza, West Bank, Israel… The rockets have to stop, the military has to stop."

Related Links