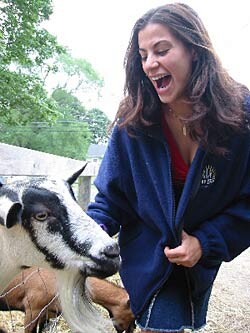 Lebanese Families in Solidarity with Palestinian Families with the cooperation of the Palestinian Cultural Club at
AUB
invites you to a night of stand up comedy featuring Maysoon Zayid and Dean Obeidallah.
The two Arab-American stand up comedians will be performing for the first time in Beirut in support of the "family to family program" which supports 130 Palestinian families under occupation in the West Bank and Gaza.
The event will occur Friday, June 25, 2004, West Hall, AUB. Tickets are $20, the student rate is $10.
Proceeds from this event will go to benefit the displaced families in Rafah, whose homes have been destroyed.
For reservation, either through email from Omar Kamhawi at omarmahdawi@hotmail.com or contact:
May Abboud (03) 821055,(01)-806938
Ikram Sharara (03) 700907, (01)862378
Omar Kamhawi (03) 839979
Maysoon Zayid, a 27-year-old Palestinian-American Muslim with cerebral palsy, performs at clubs in and around New York at night, and by day is an activist for Palestinian rights.
Dean Obeidallah's comedy comes in large part from his unique
background of being the son of a Palestinian father and Sicilian
mother. He was at one time a practicing attorney. He has been
featured in segments about Arab-American comics on ABC's 20/20,
CNN's News Night with Aron Brown, and MNSBC's Nachman
He is co founder and co -producer of the NY Arab-American Comedy
festival. For more info about Dean, please visit www.deanofcomedy.com.
Both comedians host a a monthly radio show in NYC entitled Fen Mejnoon with Dean and Maysoon that showcases Arab-American artists.
Related links