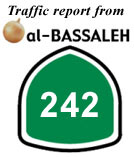 As a service to newly arrived diplomatic and media visitors in Palestine trying to make sense of a confusing new road map,
BNN
provides this helpful and up-to-date traffic report.
Increased diplomatic traffic expected at historic regional intersection of Change and Opportunity. Expect delayed delivery of justice.
Multi-car pile-ups on settlement by-pass roads due to insufficient information on recently issued road maps.
Several reports of diplomatic vehicles crashing unexpectedly into a large wall near Tul Karam; several drivers complained it was not adequately marked on their new road maps.
Drunk (on power) Driving Alert: Watch out for large bulldozers careening wildly near main Rafah intersections.
IDF

announces that all traffic fatalities to be classified as "road kill," and thus not

IDF

responsibility, as soon as new road maps go into effect.
Alert to refugees: All return routes blocked indefinitely.