On 30 March 1976, Palestinian citizens of Israel declared a general strike and held large demonstrations against land expropriations by Israeli authorities in the Galilee.
Now observed annually as Land Day, these events marked the first organized popular rebellion by Palestinians inside present-day Israel. They had undergone three decades of disenfranchisement and intimidation.
In 1948, Zionist militias, which would later constitute the Israeli army, occupied the majority of historic Palestine.
Using force and the threat of force, some 750,000 Palestinians were expelled.
Those who remained in the territory then unilaterally declared as Israel were granted Israeli citizenship, but the new authorities imposed military rule on them that was not lifted until 1966.
Even after military rule, systematic Israeli attempts to squelch Palestinian dissent and colonize both land and minds continued.
The Zionist project is fixated on controlling as much land as possible with as few Palestinians on it as possible. It has used both naked violence and legal frameworks to gradually reduce Palestinian land ownership in present-day Israel to just a tiny fraction of what it was before 1948.
Defiance
Land Day was an act of resistance to an Israeli government plan to confiscate thousands of acres in the north of historic Palestine.
But it was also a form of collective defiance against attempts to erase Palestinian identity. The workers and farmers Israel had tried to turn into obedient subjects took to the streets en masse on 30 March to fight for their lands and to take control of their destiny.
The Palestinian villages of Sakhnin, Arraba and Deir Hanna — known as the Land Day Triangle — were the most affected by the confiscation plans and witnessed the most violence.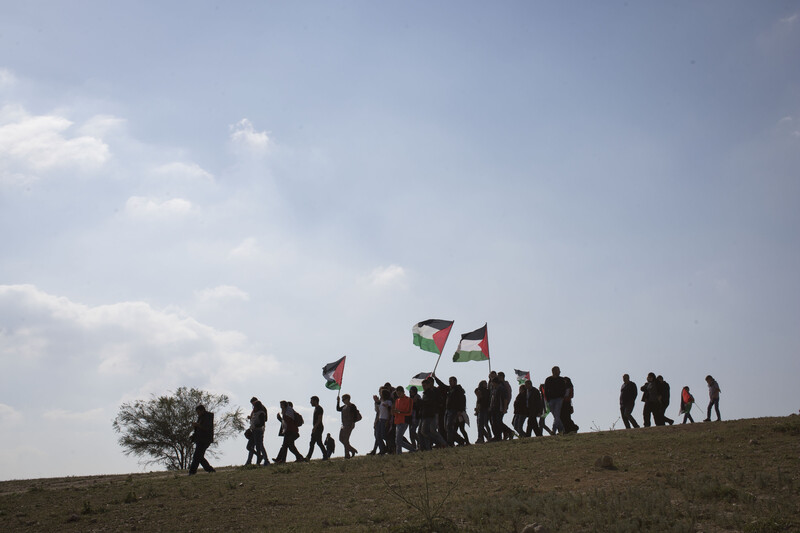 In total, six Palestinians were murdered by Israeli police on that day.
They were Khadija Shawahna, a 23-year-old farmer who was killed by an Israeli bullet while looking for her brother among the demonstrators; Khader Khalayleh, shot with a bullet to the head as he tried to help a wounded teacher and protester; Khayr Yasin, shot dead by Israeli soldiers during an unarmed protest in Arraba; Raja Abu Rayya, killed by soldiers after defying a curfew to protest the killing of Khalayleh; Muhsin Taha, a 15-year-old boy killed during a large protest in the village of Kufr Kana near Nazareth and Rafat Zuhairi, a student and refugee killed by soldiers who raided the town of Taybeh before a demonstration.
The grievances and injustices that sparked the protests in March 1976 linger throughout Palestine today. But those injustices are not exclusive to Palestinians.
Four decades later, on the other side of the globe, at least three prominent indigenous land defenders were assassinated for resisting the onslaught of multinationals on their rivers and forests.
Assassinated
The assassination of indigenous Honduran environmental activist Berta Cáceres on 3 March captured international attention. She was the cofounder of the Civic Council of Popular and Indigenous Movements of Honduras.
She was well known for organizing campaigns against hydroelectric power projects, particularly against construction of the Agua Zarca dam on the territory of the indigenous Lenca people.
Cáceres was shot dead in her home at La Esperanza one day shy of her birthday. She had long complained of death threats from the police, army and corporations.
But she would not be the only victim of state-backed corporate and police brutality that month.
Less than two weeks after her death, fellow activist Nelson Garcia was shot in the face and killed by unidentified gunmen after spending the day with the Río Chiquito community.
More than one hundred Honduran police and military officers had evicted dozens of Lenca families from their land.
On 12 March, another activist, Walter Méndez Barrios, was assassinated near his home in Guatemala. He had been a prominent environmental leader who fought against deforestation and hydroelectric projects, and for community-based, sustainable forest management.
Forefront of struggle
Indigenous activists in Latin America are at the forefront of the struggle to save Mother Earth and prevent the privatization of natural resources, the dispossession of rural communities and the exploitation of the most vulnerable under the guise of growth and development. And thus they bear the brunt of repression.
A report published by the group Global Witness found that of the 116 environmental activists known to have been killed in 2014, 40 percent of them were indigenous and three-quarters were in Central and Latin America amid disputes over mining, agri-business and hydroelectric power.
These activists pay the price for leading the fight against a deadly neoliberal assault, protected by state terror and on many occasions directly backed by the United States, as in the case of Honduras.
In fact, Berta Cáceres had singled out Hillary Clinton for her support as secretary of state of the 2009 coup in Honduras and the subsequent whitewashing of atrocities in its wake.
The social movements sprouting in Central and Latin America grasp the multiple facets of their fight and the need to connect the struggle against the corporations seizing their lands with resistance to capitalism, imperialism, patriarchy, militarism and environmental destruction.
Feminist
A feminist, an anti-capitalist and a staunch opponent of US imperialism, Berta Cáceres was acutely aware of the intersection of these battles and repeatedly called for solidarity between social movements around the world.
Her internationalist perspective was not mere rhetoric, but resulted in action, as it led her to create bonds between her movement and other grassroots movements outside Honduras.
Her perspective has expanded even beyond Latin America.
For Palestinians, Honduras and Guatemala might seem too distant, even too irrelevant for our struggle. And while there are some apparent stark differences in our lived realities and in the faces of our oppressors, there are commonalities as well.
In Palestine as well as in many parts of Central and Latin America, the oppression is directly sponsored by US military and financial aid. And in all these places our collective survival rests upon defending and preserving our land.
Inseparable
Similarly, our struggle for self-determination is inseparable from the struggle against capitalism and militarism.
This does not mean that the forms of resistance employed in Central and Latin America should simply be copied in Palestine or vice versa. Rather, it means that we can create strategic alliances that draw from our respective experiences and build a global movement.
To survive, repressive regimes collaborate with one another and to defeat them, oppressed peoples have to create networks of solidarity.
Transnational corporations are so good at blurring borders to increase their profits; we should break those same borders to create a decolonized, more humane, just and diverse world.
"Berta was a force rooted in the past and imagining a different, decolonized future, free of the three systemic forces she routinely identified as her true enemies. Capitalism, racism and patriarchy," freelance journalist and friend Jesse Freeston said of Cáceres.
To honor her, and to confront those who murdered her, it is necessary to step up the fight and to revive the spirit of Land Day in Palestine and Honduras and throughout the Middle East and the Americas.
Budour Youssef Hassan is a Palestinian writer and law graduate based in occupied Jerusalem. Blog: budourhassan.wordpress.com. Twitter: @Budour48
Tags