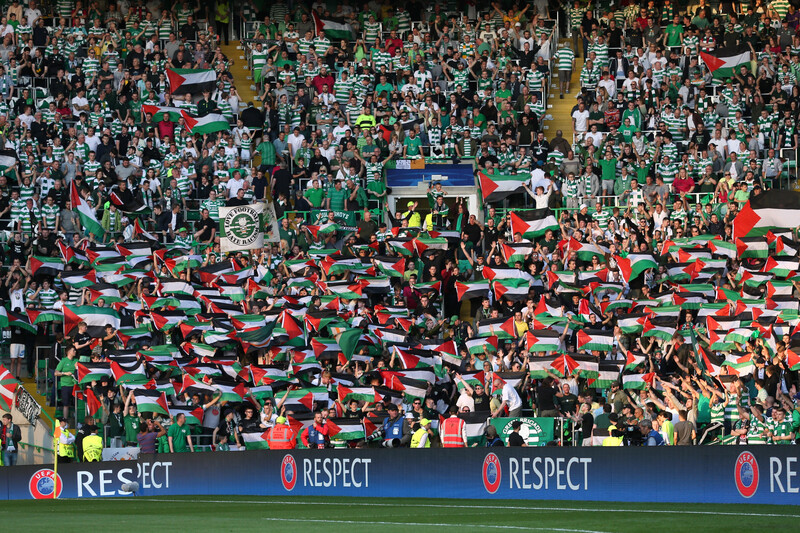 On an August evening in Glasgow last year, supporters of Celtic Football Club waved dozens of Palestinian flags during a Champions League playoff match against Israeli team Hapoel Be'er Sheva, garnering global attention.
European soccer's governing body, UEFA, responded by fining Celtic for violating the sacrosanct – and many argue highly selective – prohibition against mixing soccer ("football" to the world outside the US) and politics.
But the penalty only presented members of the Green Brigade, Celtic's famously fanatical left-wing supporters, or "ultras," with an opportunity to further voice their opposition to the Israeli occupation while also providing practical solidarity to projects in Palestine.
They launched a "Match the Fine for Palestine" online fundraising campaign that ultimately saw Celtic supporters raise and donate more than $210,000 divided between the Lajee cultural center in the Aida refugee camp in Bethlehem and the charity Medical Aid for Palestinians.
BDS potential
The example of Celtic is instructive of the "hugely significant" potential of soccer – the world's most popular sport – in the boycott, divestment and sanctions (BDS) movement.
Aubrey Bloomfield, a researcher and writer in New York specializing in sport and politics, told The Electronic Intifada that utilizing sport in the BDS movement could have "significant" impact.
"I think Celtic fans have certainly been the most high-profile recent example, in part because of their explicit defiance of UEFA … and have also been the most explicit in terms of situating their actions as supportive of the BDS movement," he said.
A successful campaign of boycott against Israeli soccer, Bloomfield added, "would have a significant psychological and reputational impact."
Geoffrey Lee, a coordinator with Red Card Israeli Racism, a UK-based campaign group, said that soccer is "one of the most perfect normalization activities" for Israel.
Within BDS, sport falls under the cultural segment, which is led by the Palestinian Campaign for the Academic and Cultural Boycott of Israel, PACBI.
PACBI spokesperson Mariam Ibrahim called the Celtic fans' example a "model" of how soccer can play a central role in not only forcing the expulsion of Israel from international soccer, but in raising awareness more generally about Palestine.
"The use of football to whitewash Israeli policies can be also an opportunity to open a debate to a much broader global football audience and mobilize millions to support Palestinian rights and the global BDS movement," Ibrahim said.
Much current soccer BDS activism is focused on the six Israeli settlement teams in the occupied West Bank that play in the Israel Football Association leagues.
Activists are calling for FIFA, UEFA's international counterpart, to either force Israel to exclude the settlement teams, or to exclude Israel from international soccer if the Israel Football Association refuses. FIFA's own regulations, specifically statute 72.2, state that clubs from one national association cannot operate in the territory of another national association without its consent.
"The statute means that the [Israeli] clubs on Palestinian territory cannot play in Israeli leagues," Lee explained.
Possible precedents
One course of action for FIFA and UEFA could lie in applying the solution they settled on in response to Russia's annexation of Crimea in 2014.
The "Crimean solution," instigated by UEFA, set a precedent by enforcing the principle that teams based in occupied land (Crimea) cannot play in the leagues of the occupier (Russia). But in the case of Israel, FIFA seems to be "frozen into inaction," Lee said.
"The Russian situation was tackled immediately," he noted, so the lack of action against Israel cannot be explained by an absence of precedent.
Instead, Lee suggested, "there is a natural conservatism among the game's authorities, and they don't want disruption, especially when it comes to politics."
Bloomfield argued that it is FIFA itself that is continuing to mix politics and soccer by allowing settlement clubs to play under its authority, "in violation of both FIFA rules and international law."
FIFA has previously responded to calls for boycott. In 1964, it suspended South Africa from international soccer, and then expelled the country completely in 1976. It was not until 1992, and after the end of the apartheid regime, that the country had its FIFA membership restored.
"FIFA's exclusion of South Africa … is today seen as a moment of pride for football's governing body. It contributed to the international isolation of apartheid and the strengthening of international solidarity with Black South Africans resisting oppression," Ibrahim said.
Indeed, a sporting boycott is the reason Israeli soccer is now played in a European framework. With most of its members refusing to play Israel, the Asian Football Confederation decided to expel the country in 1974. After a period in soccer limbo, Israel joined UEFA as a full member in 1994.
The Asian Football Confederation continues to push for sanctions against Israel. In February, the confederation's executive committee agreed to call on FIFA to seek an "urgent resolution to the ongoing Palestine issues with Israel" and help Palestinian teams to play unhindered.
BDS soccer strategy
In 2015 the Palestinian Football Association, led by Jibril Rajoub, a former West Bank security chief and someone seen as close to Palestinian Authority leader Mahmoud Abbas, threatened to call for a vote by FIFA members on Israel's membership. Ultimately, the Palestinian Football Association backed down, apparently due to a lack of support for the motion among FIFA members.
Bloomfield, however, speculated that perhaps the moves to call a vote were only ever "empty threats," intended to make Rajoub "sound tough and seem like he was standing up to Israel."
"One important challenge is the tension between BDS and the Palestinian establishment, which includes the PFA [Palestinian Football Association]. The Palestinian establishment does not explicitly support BDS, but at times tries to strategically co-opt the movement and its political capital, something that has drawn criticism from BDS supporters," Bloomfield said.
Ibrahim from PACBI was also scathing in her assessment of any Palestinian Football Association role in BDS.
"The space for effective BDS action on Israel inside FIFA remains limited because the Palestinian Football Association, which exercises a tight control over the sports community in Palestine, has acted against Palestinian interests and rights and betrayed its duty to defend Palestinian football," she told The Electronic Intifada.
The actions of soccer supporters, such as Celtic fans, have also provoked discussion on whether the BDS movement should limit itself to the issue of settlement clubs.
"[BDS] should be targeting the Israeli occupation as whole, just as the sporting aspect of the anti-apartheid movement was focused on the whole of the apartheid system, not just racial discrimination in South African sport," Bloomfield said.
Ibrahim agreed that "football has not been exactly prominent in the BDS movement," but added that "momentum is now growing for the FIFA campaign."
For Lee, part of the reason soccer has not played a major role in BDS so far is because of Israel's "low profile" in international soccer.
"More's the pity," he argued, "as in Israel football is of prime importance within domestic politics in order to normalize Israel" as a state with so-called "European values."
Bloomfield envisions "key BDS groups developing a strategy, coordinating with supportive fans and activists, and explicitly articulating what a sporting boycott and sporting sanctions would and should look like."
Independent, creative actions by fans such as Celtic's are "part of why BDS has been so successful and grown so much," he suggested, and should be complemented by a clearer, more comprehensive strategy to harness soccer's potential.
Vulnerable sponsors, reluctant footballers
Another option for expanding the sporting boycott, PACBI's Ibrahim suggested, is to target the economic side of Israeli soccer, pressuring companies that sponsor clubs while drawing attention to FIFA's own professed commitment to ethical business practices. Article 3 of FIFA's statutes, for example, states that "FIFA is committed to respecting all internationally recognized human rights and shall strive to promote the protection of these rights."
PACBI's Ibrahim suggested that fans should also educate their clubs and footballers about BDS and Palestine, and for retired athletes, "who are more free to speak out," to take a public stand.
So far individual soccer players have been slow to step forward. In other areas of the cultural boycott, prominent figures have emerged as vocal supporters, former Pink Floyd frontman Roger Waters being one example.
"The emergence of a Waters-type figure in sport would be a sign that the profile of the sporting aspect of BDS had already grown significantly," Bloomfield said.
Increasing the prominence of soccer within BDS has great potential to complement the actions of supporters on the terraces and in the streets.
The case of Celtic serves as an example of the way sporting spaces generally, and soccer in particular, can be fertile ground for mobilizing international support for justice in Palestine.
Neither FIFA nor UEFA responded to requests for comment.
Eoin Wilson is a freelance journalist focusing on Palestine, international solidarity, protest and social movements. Twitter: @eoin_wilson
Tags