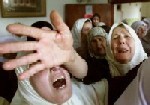 Up until now, oxygen supplies have still not yet arrived to Rafeedia hospital in Nablus. Our attorney Hanan Khatib is currently at the Israeli Supreme Court trying to get permission for the truck to be allowed through, and guarantees that the Israeli occupation forces will not shoot at the car. Rafiedia hospital has nearly ran out of supplies. If this oxygen is not supplied immediately, injured and sick, including premature babies in incubators will die.

Three days we have been working and coordinating with relevant agencies to get oxygen, which is ready, to get to the hospital. However, the truck which was supposed to pick up the oxygen was shot at and the driver had to get evacuated from the truck. Everyone is afraid that as the truck with oxygen will try to get through it will be shoot at, which will explode not only the truck but also the escort. If the babies and critically sick and wounded don't get the oxygen soon, they will all die.

The picture (REUTERS/Reinhard Krause) shows Palestinian women mourn during the funeral of a relative who was killed by Israeli soldiers in Tulkarm.