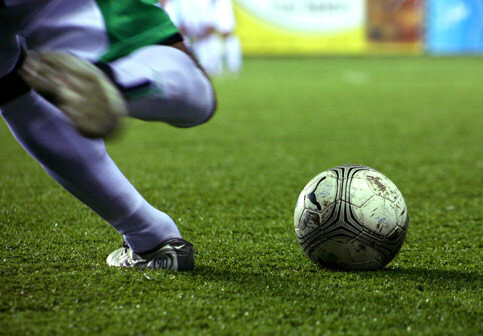 The Palestine Solidarity Campaign (
PSC
) urges the Football Association (
FA
), the Union of European Football Association (
UEFA
) and the International Federation of Association Football (
FIFA
) to take appropriate measures to suspend the national Israeli football team from all international fixtures until the state of Israel entirely complies with international law and relevant United Nations resolutions to end Israeli occupation. This should include a suspension of the Israeli team from the current Euro 2008 qualifiers.
The Palestinian people are experiencing their fortieth year of military occupation. Israel operates an entrenched system of racial Apartheid against its own non-Jewish inhabitants and has been illegally occupying Palestinian land in the West Bank, Gaza Strip, East Jerusalem and the Golan Heights since 1967. It has sought to further annex these lands and has systematically transferred its own civilian population into these occupied territories in contravention of international law. Israel continues to build the illegal Apartheid wall, annexing vast swathes of Palestinian land in the West Bank and creating Palestinian ghettos, despite the ruling of the International Court of Justice that it is illegal.
Palestinians are effectively barred from international football by the extreme restrictions placed on them by the Israeli occupation. In September 2005, Palestine was in a good position in its Asian zone group in the qualifying rounds for the 2006 World Cup, but the Israeli authorities stopped five key players traveling outside Gaza and Palestine failed to qualify. In April last year, Israeli missiles destroyed the only stadium in Gaza, where 1.2 million Palestinians live. Israeli authorities admitted that the stadium was specifically targeted; this amounts to a war crime under the International Criminal Court Act.
A broad alliance of Palestinian civil society groups has called for an international movement of boycott, divestment and sanctions (BDS) against Israeli apartheid. This movement is partly based on the boycott movement against apartheid South Africa. It is important to remember that South Africa was barred from the Olympic Games as well as international cricket and rugby until 1992. This sporting boycott played an important part in the international boycott of South Africa which strengthened the successful movement to end the apartheid regime.
The Palestine Solidarity Campaign calls for UEFA, FIFA and the FA to take immediate action to end the Israeli national team's participation in Euro 2008. To continue normal relations with Israeli national sports teams is tantamount to an acceptance of the Israeli state's crimes against the Palestinian people. A ban on Israeli participation would send a clear message that Israeli apartheid and occupation, like all other forms of racism, are not welcome in international football.
Palestine Solidarity Campaign
Boycott Israeli Goods Campaign
Jews for Boycott of Israeli Goods
Friends of Al Aqsa UK
Related Links