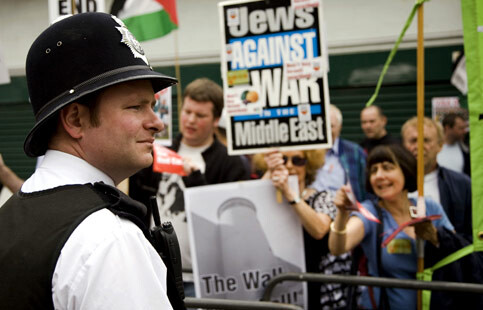 The clinking champagne glasses on Engage's website said it all. The movement established to oppose the proposed boycott of Israeli academic institutions was celebrating a victory, as the British University and College Union (UCU) announced that to even discuss the boycott risked "infringing discrimination legislation." The boycott of Israel, it seemed, had suffered a blow. Engage popped open the bubbly at the end of what must have seemed like a rather good week. Days earlier, the UK's Socialist Worker had published an article in which the boycott was called into question for tactical reasons. Smugly, it was noted that "even" the "Israel-demonizing" Socialist Worker's Party now doubted the boycott.
Undoubtedly, the UCU decision is a setback for the Palestine solidarity movement — but then that is hardly new, or unexpected. Apartheid South Africa, a model for civil society resistance to structural state injustice, took decades to be toppled without the profound ideological, financial and geopolitical commitments that Israel enjoys in the West. So we should not be disheartened, but neither should we settle for telling ourselves that we shall somehow inevitably overcome.
The academic boycott is just one part of the broader boycott, divestment and sanctions movement aimed at bringing about justice in Palestine, stepping into a vacuum left by both those who are perfectly content with the status quo, or those who prefer civilized "dialogue" and "conversation" between colonizer and colonized. In other professional spheres, action is being taken by the likes of architects and doctors, to give just two examples. More shareholders will be pressuring companies to divest, following the example of a number of churches. Consumers can boycott Israeli-made produce as activists continue to raise awareness about this still under-employed method of solidarity and resistance.
We are campaigning for Palestine for different reasons. We begin the struggle from different perspectives and with often widely divergent motives. But Palestine is what unites us. And ultimately it is not, and should not, be about any agenda, personal or partisan — other than Palestine.
It's about the hundreds of thousands of Palestinians ethnically cleansed from their homes in 1948 while the world stood and watched approvingly. We're doing this so that they and their descendants might not be condemned to permanent exile at the hands of the last settler-colonial state. It's about the millions more Palestinians who live their daily lives under the shadows of military watch towers, concrete walls and red-roofed colonies built on stolen land. We're doing this for every Palestinian — and Israeli — who is denied peace and justice because one group of people are subordinating and dominating another.
The anti-boycott movement build their campaign with distortions and smears, ignorance and straw men arguments. The charge of anti-Semitism is the corner store, mythologized history form the pillars, and rhetorical flourish the cornices. But this fragile edifice can only crumble when confronted with both the reality of the Zionist colonization of Palestine and the justifying illogic that because it's Israel, these crimes should remain unopposed. That's why we continue the struggle with a sure hope but without complacency, encouraged by how far we have already come, yet remembering this is only the beginning of the end.
Ben White is a freelance journalist specializing in Palestine/Israel. His website is at www.benwhite.org.uk and he can be contacted directly at ben@benwhite.org.uk. This commentary was originaly published by The Palestine Chronicle and is republished with permission.
Related Links