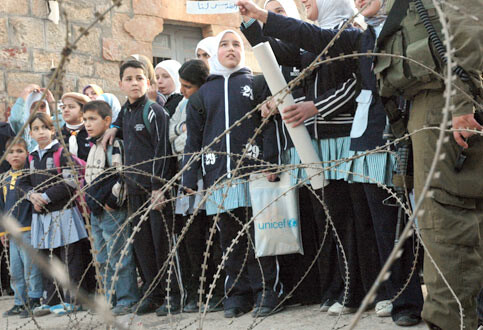 [

PREVIOUS

]

In 1988, following a visit to the occupied Palestinian territories, the US-based non-governmental organisation Physicians for Human Rights gave a warning.

"When parents are unable to protect their small children, and children are repeatedly exposed to scenes of beatings and bloodshed, the consequences may be profound and long-term. On one level, children try to adapt: in the villages we saw five-year olds playing with their collections of rubber bullets and shell casings, and other children, their hands protected by pieces of paper, gleefully carrying expended tear-gas canisters. In a refugee camp, we noticed a two-year old carefully clutching an onion wherever she went. Asked why, the mother explained: 'It's for protection when she goes outside, she thinks it helps when there's tear gas.' Thousands of children are at risk of chronic anxiety and irritability, childhood depression, sleeplessness and nightmares, and disturbances of maturation."12

There is a risk that Palestinian children who grow up under violence will perceive their parents and adults as being unable to protect them. This psychological reaction is a direct threat to the relationship between a child and their parents. The impact of violence caused by the occupation on children can be life long. It can distort their outlook on life, which will not only influence their lives, but also those of future generations.

Israel is legally obliged to protect Palestinian children

In 1990, the Division for Palestinian Rights prepared a thorough study on the situation of Palestinian children in the occupied territories for the UN Committee on the Exercise of the Inalienable Rights of the Palestinian People.13 This study is very clear about the obligations of an occupying power - Israel - to ensure the protection of children.

"International humanitarian law provides general protection for children as persons taking no part in hostilities, and special protection of persons who are particularly vulnerable. Moreover, children taking part in hostilities are also protected. …. According to articles 27 and 32 of the fourth Geneva Convention children, as all civilians, shall be treated humanely, free from coercion, corporal and collective punishment as well as with respect for their life, physical well-being and moral integrity."

Specific reference is made in the fourth Geneva Convention towards the legal protection of children under the age of 15 years. On the basis of articles 46 and 50 of the Hague Convention of 18 October 1907 and articles 33 and 53 of the fourth Geneva Convention, the Division for Palestinian Rights concludes that:

"Destruction of property such as homes and collective punishment have been considered unlawful from the earliest attempt to provide international legal protection for civilians, including children."
The fourth Geneva Convention is very explicit about this in article 33, which states: "No protected person may be punished for an offence he or she has not personally committed." In the Advisory opinion of the International Court of Justice in 2005, the obligation of Israel to comply with these obligations in international human rights and humanitarian law was reaffirmed.14
Policies without action
Israel's violations of human rights and humanitarian law ought to immediately generate a response by the international community. A report by the Canadian Peace-building Coordinating Committee in December 2004 stated:

"Awareness has been raised about the impact of war on young people. But the reality is that millions of children still lack protection for their security and basic rights in situations of armed conflict. Implementation is key; political leadership is needed to make the transition from principles and policies to action on the ground."15
At a conference in Denmark on 2 November 2005, Mr Michael Matthiessen, Personal Representative of the EU Secretary General/High Representative for Human Rights, spoke of the European Union's guidelines on children and armed conflicts, including that: "The EU will consolidate, strengthen and advance EU actions for children affected by armed conflicts through its variety of tools for action, such as diplomatic channels, humanitarian assistance, crisis management operations and training efforts."16
Unfortunately, as the Canadian report declared, political leadership continues to be seriously lacking in the implementation of these policies with regard to the protection of Palestinian children.
International action urgently needed
In 2000, at the occasion of the annual children's celebration, Nelson Mandela spoke the following words:

"As you all know, this young generation is very close to my heart. They are special not only because they are vulnerable, and are the first to suffer whenever we adults get things wrong, but also because of their remarkable spirit, their ability to heal not only themselves but their societies as well. That is why I find it extremely painful when I see children being dehumanised because of war, civil strife, hunger, and disease."17
For how long will the international community continue protecting Israel? What will it take before it finally shifts its attention to protecting Palestinian children? For those not intimately connected with the events in Palestine, it is almost impossible to imagine how the world has been able to turn a blind eye for so long to their pain and suffering.
The generation hardest hit by the violence of the Israeli military forces during the first Intifada was raised by parents who suffered during the 1967 war, and who are the parents of children that are witnessing the current violence of the occupation through the Wall, expansion of settlements, house demolitions, administrative detention and countless other human rights and humanitarian law abuses.
Are we going to wait for another generation to be hurt by the Israeli military forces?
The current violence will definitely have an impact on children. The pain is building up and there is no prospect for conditions improving in the near future to start dealing with that pain. The international community is taking a tremendous risk by ignoring its responsibility to hold Israel accountable for its violations of international humanitarian law and human rights.
Adri Nieuwhof is a psychologist. Jeff Handmaker is a human rights lawyer. Both are independent human rights advocates and advisors, based in The Netherlands.
Endnotes
[1] The Wall and the psychological impact on children, Adri Nieuwhof (24 October 2005)
[2] The Wall - an obstacle to educating Palestinian youth, Adri Nieuwhof and Jeff Handmaker (8 November 2005)
[3] See Health Sector Needs Assessment (PDF)
[4] UN Document A/41/680, annex III, p. 53
[5] United States Department of State, Country reports on human rights practices for 1988", p 1385
[6] See also This is our land, we are not going to move, Adri Nieuwhof and Bangani Ngeleza (8 January 2006)
[7] Arab Association for Human Rights
[8] Samir Qouta, Eyad El Sarraj, Prevalence of PTSD among Palestinain children in the Gaza Strip (PDF) Arabpsynet Journal (No 2 2004)
[9] Weekly report on human rights violations (PDF) Palestinian Centre for Human Rights (2006)
[10] J.A. Graff, M. Boulby, Palestinian Children and Israeli State Violence, Toronto, Near East Cultural and Educational Foundation of Canada, April 1989
[11] Children, PTSD, and the future of Palestine, GCMHP (6 April 2005)
[12] In Palestinian Children in the Occupied Territory, Division for Palestinian Rights (31 March 1990)
[13] Ibid
[14] BY TOPIC: One year on, The illegality of the Wall
[15] The Responsibility to Protect Children: An International Policy Priority, Children and Armed Conflict Working Group, Canadian Peacebuilding Coordinating Committee (December 2004)
[16] How can the International Community improve child protection? Implementation of the EU Guidelines on Children and Armed Conflicts (CAAC), Responsibility to Protect Children in Emergencies, Copenhagen (2 November 2005)
[17] Speech by president Nelson Mandela at the Annual Children's Celebration 2000, Nelson Mandela Children's Fund.
Related Links