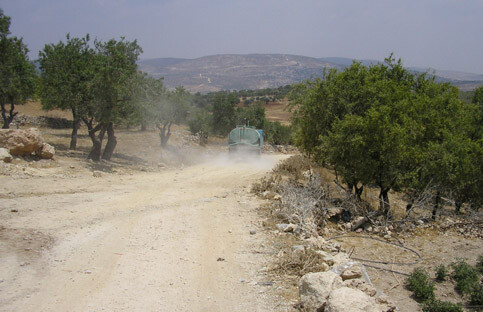 Caritas Jerusalem (
CJ
) wishes to once again call attention to the horror and suffering that olive tree farmers are facing in Palestine. This crop represents the life blood of scores of communities and these farmers, who rely on the produce from their trees for their livelihoods, are once again facing overwhelming odds to safely harvest, process and market their olive tree products.
What petroleum is to Saudi Arabia, olive oil is to Palestine. Olives are a staple crop to the rural Palestinian communities traditionally dependent on agriculture. Olive groves represent over 40% of the cultivated area in the West Bank and Gaza Strip and represent almost 80% of the cultivated fruit trees.1 The number of olives trees planted in Palestine is more than 12 million and represents some 760,000 dunums (190,000 acres) of cultivated land.2 The annual income generated by olives and olive products comprises 40% of the gross product of fruit trees in Palestine and more than 20% of the overall national agricultural output. The olive crop makes up approximately 4.6% of the Palestinian GDP.3 A variety of other value added products, such as olives for food, soap, jewelry and fireplace logs, are also produced from olive oil processing and harvesting. The impact of this crop is especially evident in agriculturally dependent rural areas.
Each day during the olive harvesting season here in Palestine the media is full of stories of olive oil farmers and olive pickers being harassed, detained, robbed, violently attacked, critically wounded and in some cases even being shot and killed while attempting to harvest their olives on their own land.
Yesterday, it was reported in the local media that 70 settlers from the Itamar settlement in the Northern West Bank clashed with some 50 policemen who were dispatched to the area to protect Palestinians living nearby the settlement who were picking their olives.4
In addition, in the last four years, "the Israeli occupying forces have uprooted almost 400,000 olive trees with a value of over 60 million dollars (U.S.). This systematic attack on the olive groves of Palestine constitutes an immense economic and environmental disaster that promises to impact Palestinian society severely for generations to come."5 Such actions also constitute gross violations of the Fourth Geneva Convention, particularly articles 33, 53 and 147. 6
Many of these trees have been uprooted as a collective punishment for the Palestinian people or to make way for the construction of the wall of separation. This current and ongoing situation makes a time of traditional joy and celebration for the bounty of the land, one of personal danger, untold frustration, uncertainty, burden, and bureaucratic coordination nightmares.
Caritas Jerusalem calls for an end to the harassment, land confiscation, vandalism and violence directed to olive tree farmers and those helping them to secure their livelihoods.
Caritas Jerusalem is a Catholic humanitarian organization engaged in relief, development and social service projects throughout the West Bank and Gaza Strip. It is part of Caritas Internationalis, a humanitarian network, which numbers 162 Catholic Member Organizations operating in 200 countries and territories.
Endnotes
Olive Harvest in Palestine: Another Season…another anguish,

ARIJ

(6 November 2004)
ibid.
ibid.
Settlers attack Palestinian olive harvesters, clash with

IDF

, Jonathan Lis and Amos Harel, Haaretz (17 November 2004)
Olive Harvest in Palestine: Another Season…another anguish,

ARIJ

(6 November 2004)
ibid.
More Information