Using what they call the "simplest language," the Eltiqa Group for Contemporary Art seeks to challenge the harsh obstacles of life in their native Gaza: "we color life for the others." In the past month some of their work has reached London as part of a new exhibition organized by the

UK

Palestine Solidarity Campaign (

PSC

) in association with the

A.M.

Qattan Foundation. Occupied Space 2008: Art for Palestine brought together over 100 works not only from Palestinian artists, but from those across the globe from Algeria, Tunisia and Jordan to the

UK

to China. Beautifully curated by Nicola Gray, it is the first exhibition to be put on in the Qattan's new West London exhibition space, the Mosaic Rooms.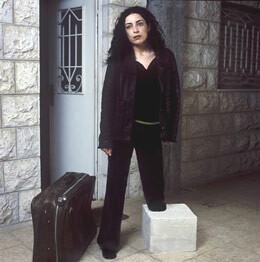 Palestinian exhibits crossed different styles, generations and locations of the Diaspora. Basel El Maqousy, of the "Windows from Gaza" group and an art teacher at the Jabaliya Rehabilitation Centre, contributes a photograph showing boys looking out towards a setting sun as they duck under waves crashing on the Gazan shoreline. Crossroads is the work of Raeda Saadeh, one of the million Palestinians living inside Israel but whose work speaks across human-imposed borders. In the photograph, she stands at a front door, suitcase on the floor to her right, her left foot encased in a block of concrete. In entirely different forms both El Maqousy and Saadeh speak eloquently of Palestinian imprisonment as the same time as vividly expressing Palestinian dreams.

Having trudged through London with a biting wind Rula Halawani's photograph "A Palestinian family enjoys a sunny day out in Jericho during winter" brought a smile to my face, and a longing for the Jericho sun and the food on the balcony. Mohammed Fadel's abstract oil on canvas "Egg Tree" and "Eggs on the Wall" made me think alternately of painted Easter eggs on holiday in central Europe, or brightly-colored clothing brought from a warm island somewhere far from England. On another wall, Jawad Botmeh paints a river of black cutting through a blazing red and yellow canvas in "Settlements." A familiar name to British activists who campaigned over the miscarriage of justice that saw him and Samar Alami incarcerated for over a decade in a British prison, Botmeh says that painting created a third space between inside and outside prison in which he could express his own identity as a political prisoner.

While showcasing rising artists, the exhibition features the work of well-established Palestinians such as Vera Tamari's ink and watercolor impression of an olive tree trunk and Nabil Anani's three intriguingly beautiful mixed media works featuring variously Quranic pages, the ancient Arabic tale of Abla and Antar, and most poignantly now, the work of the late Mahmoud Darwish.
The real coup for this exhibition is that it brings Palestinians as equal players in the international art world (if only this were mirrored on an international political arena). Several globally famous British artists such as Turner prize-winning Antony Gormley (the brains behind the notorious but much loved 66-foot steel Angel of the North on the highway into Gateshead), and the conceptual artists Jake and Dinos Chapman whose controversial work has regularly succeeded in bringing contemporary art into mainstream media. Another noted British contributor is John Keane who has donated a piece inspired by recent work in Angola, but who is no stranger to Palestine. In 2002 he accompanied Christian Aid on a trip to the region resulting in his powerful "Inconvenience of History" series.

While Palestinian and British artists are prominent in a Palestinian exhibition on the streets of London, Occupied Space is enriched by contributions both from other parts of the Arab world and from China. The elongated shapes on the fabulous gold background of Hamza Bounoua's two-meter-wide "World Gold" light up the end of one wall. Were I to have been a buyer it was already too late. This work by the young prize-winning Algerian who claims inspiration from Berber, Andulucian and Islamic arts was already gone.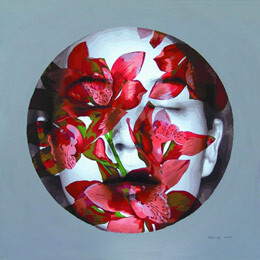 My knowledge of Chinese contemporary art is woefully sparse, but Ye Hongxing's "Splendid Shadows in Floating Life, No.6" makes me interested to know more. In this meter-wide circular work beautiful red petals are strewn across a smooth white face — a self-portrait. Several visitors were repeatedly drawn to it, including Amal Kawash, a Palestinian art student in London. So what did a Palestinian with a more fine arts tuned eye than this English reviewer make of Occupied Space? "Each of the pieces is remarkable in itself, and at the same time they complement each other to form a beautiful mosaic." The value of the exhibition for Kawash — only recently arrived from home in Sidon, Lebanon — was its "indirect message of solidarity simply through exhibiting beautifully crafted pieces which are not necessarily specifically addressed to Palestine."

Over a year in the planning, this exhibition arose out of two goals of the London PSC — a desire to raise funds and to raise awareness of Palestinian art among British artists and audiences. The sale of the works donated by established artists should boost the campaigning ability of the PSC. The exhibition will also support young artists struggling to make a future in Palestine who will receive the payment for their works.

Unsurprisingly, the project faced the obstacles of occupation along the way. "Nicola Gray, curating the exhibition, went to choose work in Ramallah, but physically getting the work out was a complete nightmare. We couldn't even get to Gaza," Betty Hunter, PSC chair explained to The Electronic Intifada. The work of Gazan contributors was selected from pieces already located in Ramallah. "One time I was taking a group of representatives from British trade unions to Palestine, and we all ended up carrying vast amounts of work as hand luggage on the plane home." For anyone who has been through Ben Gurion airport near Tel Aviv and had their personal items thrown all over the place in the luggage search, the thought quite makes one's hair stand on end.

With Occupied Space, the PSC and the Qattan Foundation through its new Mosaic Rooms, have shown serious commitment to developing the opportunities that London can offer as a platform for Palestinian art. Occupied Space, alongside Palestine Aloud, the PSC's recent concert featuring Palestinian musicians and performers alongside famous British faces, demonstrated the possibilities of campaigning on the issue of Palestine within an artistic world. In the words of Eltiqa's website, it has also brought Palestinian "art for art's sake" to new audiences, an experience for which we are far richer.

Isabelle Humphries is completing doctoral research on Palestinian internal refugees in the Galilee. She can be contacted at isabellebh2004 AT yahoo.co.uk.

Related Links
Tags