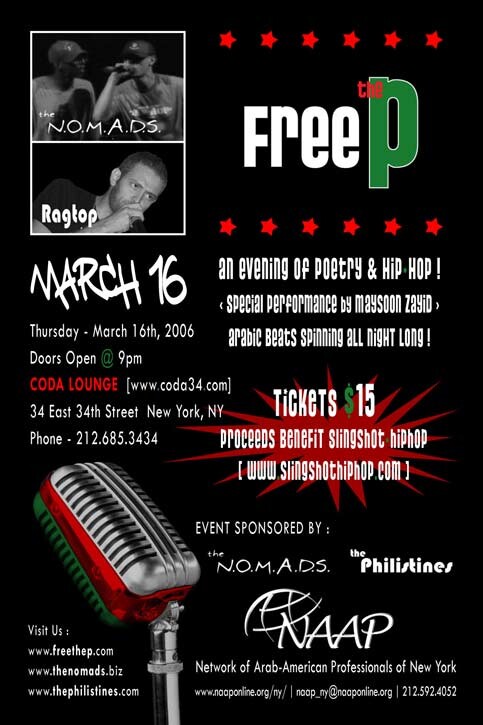 NAAP-NY in conjunction with the N.O.M.A.D.S. & the Philistines present…
Free the P Hip-Hop Slam & Party
Proceeds will benefit NAAP-NY community initiatives and Slingshot Hip-Hop, a documentary film that focuses on the daily life of Palestinian rappers living in Gaza, the West Bank and inside Israel. It aims to spotlight alternative voices of resistance within the Palestinian struggle and explore the role their music plays within their social, political and personal lives.
WHEN: Thursday, March 16, 2005. Doors open 9pm. Show starts 9:30pm
WHERE: Coda Lounge, 34 E. 34th St. (at Madision Ave), New York City.
COVER: $15. Limited at the door. Purchase your tickets NOW at http://www.freethep.com/concert.htm
Opening Performance by comedienne Maysoon Zayid.
Feature Performers include: *Ragtop of the Philistines & The N.O.M.A.D.S and many more!!*
DJ Jungle spinning the hottest Hip-Hop, International, and Arabic beats all night long!
Also on March 16th in NYC