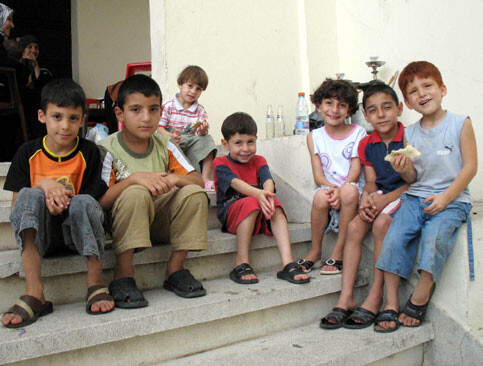 BEIRUT
- The number of people displaced countrywide due to ongoing Israeli attacks has been estimated by the government at 65,000, with most seeking shelter in Beirut and in the north of the country.
"The last update we have from the authorities suggests 65,000 people could be displaced," said Hicham Hassan, spokesman for the International Committee of the Red Cross (ICRC) in Beirut. "But thousands of people are on the move to other areas and it's difficult to track."
"It's now a more difficult situation because bombing has increased and there's little information available," said Hassan. "People are stranded and villages in the south are isolated from one another and the rest of the country."
Aid workers continue to express serious concern for the welfare of those stuck in the country's south, a Hizbullah stronghold that has borne the brunt of Israeli attacks since the bombing began on 12 July. According to aid agencies, the area is largely inaccessible due to the recent bombing of roads and bridges. "People in the south are under siege - they can't move," said Kamel Mohanna, head of local NGO Amel. "We're trying to coordinate with the ICRC and the UN to send a convoy to transport people out of the area."
"There are people without food, water or medicine - the situation is very dangerous," Mohanna added. "We need the international community to apply pressure for a ceasefire and help us distribute drugs and medical equipment."
Meanwhile, the Beirut-based Popular Aid for Relief and Development (PARD) urged both the local and international communities to help contribute to the relief effort. "All types of assistance are needed: medical aid, food parcels, mattresses and blankets and cooking kits, as well as milk for children," said PARD Director Rita Hamden. "If the situation continues," she added, "they'll need clothes too."
Some 500 families, approx 3,000 displaced people, are in the city of Sidon, living in some 10 schools, according to PARD.
"We have distributed sanitation kits for them to be able to bathe and clean rooms as prevention for disease," she added.
Some of the displaced are with relatives and according to Hamdan there is immense financial pressure on families as they cannot afford to pay for new arrivals and all are in need of relief items.
Related Links
This item comes to you via IRIN, a UN humanitarian news and information service, but may not necessarily reflect the views of the United Nations or its agencies. All IRIN material may be reposted or reprinted free-of-charge; refer to the copyright page for conditions of use. IRIN is a project of the UN Office for the Coordination of Humanitarian Affairs.