The villagers of Bil'in, joined by Israeli and International activists, built a mock security fence in the bulldozers' path to the construction site of the annexation barrier on their land.
The villagers' fence was constructed on a long metal box that Palestinian, Israeli, and international activists locked themselves into. On the fence hung signs saying "the wall… over our dead bodies" in Hebrew and Arabic. In order to remove the activists the Israeli military first had to dismantle the mock fence!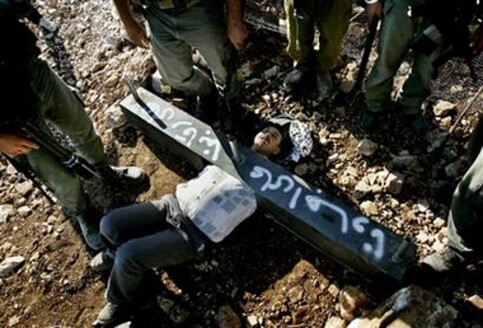 The villagers distributed a letter in Hebrew to the soldiers that read:
Soldier,

Wait a minute please before you aim your weapon. You and your friends are on our land. Had you come here as guests, we would show you the trees that our grandfathers planted here, the vegetables that we grow, the slabs of stone that we played on as children.

But you've been sent here as representatives of an army and a State that has been occupying us since 1967. You have been sent here to uproot our trees, to dry up our land, to deny our children the slabs of stone on which they could play.

That is why we are demonstrating here. Without weapons, facing all your weapons. Only with pain and the knowledge that in this area there will be security for no one without the Israeli people respecting our rights to this land; without ending the Israeli occupation; without us achieving our freedom.

The Popular Committees for the Struggle Against the Racist Separation Fence.
Two Palestinians, one Israeli, and one British activist were detained and later released. One of the members of the Popular Committee against the wall, Muhammed Al Khatib, was beaten by soldiers.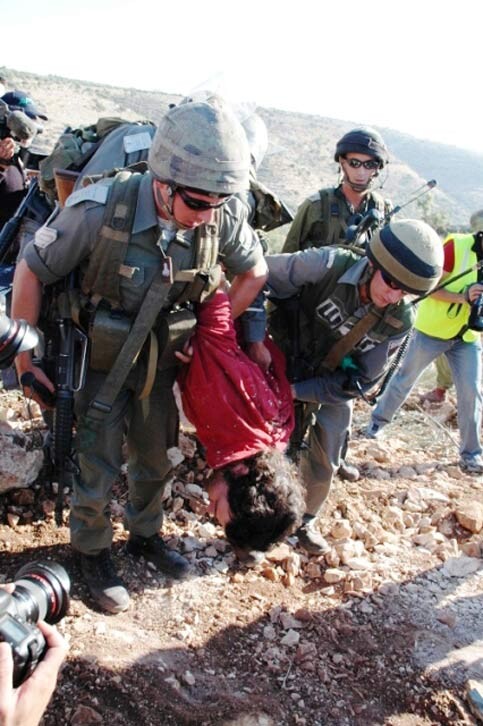 Related Links