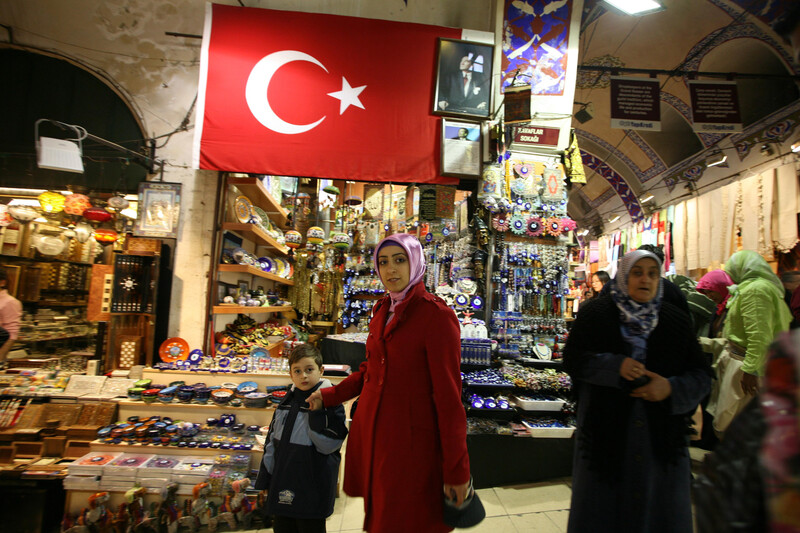 WASHINGTON (IPS) - Turkey and Israel are close to resolving their dispute over last year's flotilla attack, but the partnership that existed between them for more than a decade will almost certainly stay submerged.
As a new flotilla of ships prepared to set sail for Gaza Tuesday, Turkish and Israeli officials and analysts said that only a major breakthrough on Israeli-Palestinian peace could begin to revive a relationship that once featured joint military exercises and hordes of Israeli tourists visiting Istanbul. Even then, the officials said, they doubted that the warmth of the 1990s and the mid-2000s would resurface.
Suat Kiniklioglu, deputy chairman for external affairs of Turkey's ruling Justice and Development Party (AKP), told a conference in Washington sponsored by the Middle East Institute on 23 June that "If there is not dramatic change in the Arab-Israeli conflict, I don't see a Turkish Embassy in Tel Aviv in five years."
Alon Liel, a former director general of the Israeli Foreign Ministry who served in Turkey in the early 1980s, agreed that the relationship is in peril.
"As long as there is no progress between Israel and the Palestinians — I mean Fatah and Hamas together — I don't think we will ever have a breakthrough with Turkey," he said.
A turbulent relationship
Turkish-Israeli relations have gone through dramatic swings since Turkey became the first Muslim nation to recognize Israel 62 years ago, with ties plummeting during Arab-Israeli wars and after Israel's annexation of East Jerusalem. The AKP, in power since 2002, has emphasized outreach to Muslim countries and taken a strong stand in support of the Palestinians.
The latest rupture dates from Israel's three week-long assault on Gaza in late 2008-early 2009.
Israel said it had no choice but to act to stop a steady stream of rockets on Israeli cities and towns. However, its winter invasion of Gaza, dubbed "Operation Cast Lead," killed more than 1,400 Palestinians, most of them civilians, did enormous damage to Palestinian infrastructure and was a public relations nightmare for Israel.
Turkish Prime Minister Recep Tayyip Erdogan was particularly incensed because Turkey had been mediating at the time between Israel and Syria and had made considerable progress. Erdogan halted the indirect talks.
Relations deteriorated further after Israeli elections and the replacement of centrist Prime Minister Ehud Olmert's government by a rightist coalition led by Benjamin Netanyahu. Ties hit bottom on 31 May 2010 when Israeli commandos seeking to turn back a flotilla of ships trying to break the Israeli blockade of Gaza killed nine Turks aboard the Mavi Marmara, a Turkish vessel leased by Turkish Humanitarian Relief Foundation (IHH), which has ties to the Turkish government.
Mending fences
Israel now appears on the verge of agreeing to pay compensation to the families of those killed and to express regret for their deaths. Turkey, seeking not to reignite the dispute, has kept the Mavi Marmara from sailing again to the Gaza coast with a convoy of ships due to embark from Greece on Tuesday. Other ships are already on route from Spain and France.
According to the Israeli daily Haaretz, Israeli Deputy Prime Minister Moshe Ya'alon has been meeting with Turkish Foreign Ministry Undersecretary Feridun Sinirlioglu. Other talks are taking place between Israeli and Turkish delegates to a UN committee of inquiry into the flotilla incident that is expected to issue a report within the next two weeks.
Haaretz reported Sunday that Turkey is seeking to tone down criticism of Turkish government ties to IHH in the report, which also calls Israel's actions legal but disproportionate.
However, the damage done to Israel in Turkish popular opinion — and the perception in Israel that Erdogan and the AKP no longer care about relations with Tel Aviv — seem too deep to repair.
"An alliance of convenience" undermined
Both countries have altered their strategic orientations in ways that have undermined what has always been "an alliance of convenience," in the words of Henri Barkey, a Turkey expert at the Carnegie Endowment for International Peace.
Good relations with Turkey were part of an Israeli strategy of compensating for its lack of rapport with its neighbors by building ties with non-Arab nations on the periphery of the Middle East. Turkey, for its part, valued Israeli support in Ankara's war against Kurdish nationalists and cultivated US Jews to lobby against anti-Turkish measures in the US Congress sponsored by US Greeks and Armenians.
However, with the world's sixteenth largest economy and growing ties to former Ottoman lands in the Middle East, North Africa and Central Asia, "Turkey is coming into its own and no longer needs Israel or the American Jewish community," Barkey said. He also faulted Israel for taking Turkey "for granted."
The Arab uprisings have posed new challenges for Turkey's strategy of outreach to fellow Muslims and "no problems" with neighbors. Both Israel and Turkey are particularly concerned about events in Syria and the potential for conflict spreading across borders. However, Turkey's response to the Arab spring has been proactive, while Israel has hunkered down amid worries about trading risk-averse authoritarian regimes for pro-Palestinian populist ones.
The United States — its own power diminishing in the region — has encouraged both Turkey and Israel to resolve the Mavi Marmara dispute. State Department spokesperson Victoria Nuland noted last week that "we have seen some warming in relations between Turkey and Israel … We want to see that effort continue."
Now that his party has won its third election in a row, Erdogan can afford to be conciliatory toward Israel, at least superficially. However, Israel no longer figures prominently in Turkey's foreign policy vista. In his election victory speech, the Turkish leader saluted "all friendly and brotherly nations from Baghdad, Damascus, Beirut, Cairo, Sarajevo, Baku and Nicosia."
Tel Aviv was notable for its absence.
Jim Lobe contributed to this report.
All rights reserved, IPS - Inter Press Service (2011). Total or partial publication, retransmission or sale forbidden.
Tags