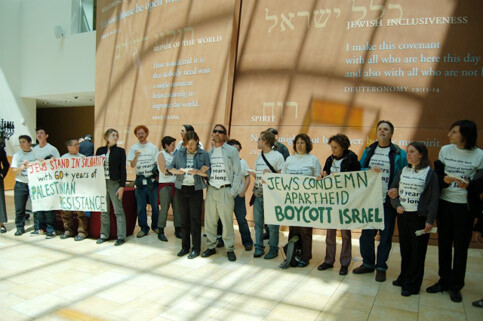 "At the

JCC

[Jewish Community Center] of San Francisco, during a 8 May educational symposium in honor of Israel's 60th anniversary, anti-Zionist activists staged the largest anti-Israel protest ever to take place in the building, according to a

JCC

official. Twenty of these protesters were escorted out by the San Francisco Police Department, which was well equipped to deal with the situation due to intense security preparations for the event."
-

JTA

, "the Global News Service of the Jewish People"

Last month the staff of the Middle East Children's Alliance, Barbara Lubin, Ziad Abbas, Josie Shields-Stromsness and I, joined a Bay Area action that was part of the nationwide "No Time to Celebrate: Jews Remember the Nakba," a campaign organized by anti-Zionist Jews from around the US to protest Israeli Independence Day celebrations and commemorate the Nakba, the forced expulsion of Palestinians from their homeland during the creation of the state of Israel.

Barbara and I were part of a group of Jews who entered the San Francisco Jewish Community Center posing as participants for "Israel at 60: An Educational Symposium." All of us decided beforehand that we were prepared to get arrested and were not going to leave willingly. Once inside we gathered in the main hall and removed our jackets to reveal our T-shirts that read: "Another Jew says 60 years of Israeli apartheid is 60 years too long." We unfurled banners that had been tucked in our pants. We shouted chants about Israeli apartheid, ethnic cleansing, and our vehement denial that Jewish institutions speak for us about Palestine. Contrary to the JTA article cited above, the JCC did not seem "well equipped to deal with the situation." We were there for more than two hours before we were arrested. The symposium came to a halt. Nobody was allowed to enter. The JCC staff and symposium participants stood around watching and shouting at us.

Frankly, I've always been a little uneasy about explicitly Jewish actions around Palestine. Isn't this a human rights issue in which all voices are equally needed and valued? What difference does one's background make when one is speaking up for justice? I worry that people will listen more to what a group of Jews has to say than to Palestinians and other activists. I don't believe in a a special "Jewish position" on Palestine.

On the other hand, I see how the media pays attention to this kind of "man bites dog" story. I see how young activists are creatively undermining the equation of Jewish with Zionist; and how nervous the Jewish mainstream is getting about Jews rejecting Israel. I have heard from Palestinian activists that they believe it's important that Jews speak up as Jews against Israel's crimes. So, this time Palestinians and non-Jewish (and some Jewish) activists were outside the building holding banners, talking to the media, educating passers-by and discomfiting entering participants. For me, the experience was politically invigorating. "No Time to Celebrate" is well-organized and well thought-out by people much younger than me, coming to this issue with global politics, new energy, fearlessness and no apologies.

Deborah Agre is the Development Director for the Middle East Children's Alliance and an activist in the San Francisco Bay Area. Photographs of the demonstration can be found at: http://notimetocelebrate.wordpress.com/.