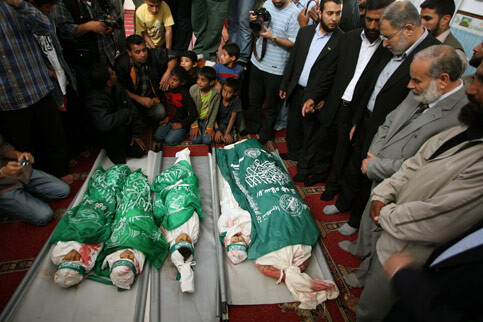 In their simple house made of metal sheets, Myassar Abu Me'teq was sitting next to three of her children having breakfast and holding her one-year-old baby in her arms. She listened to their daily complaints and loving quarrels, trying to comfort them and keep them away from the sound of the Israeli shelling close to their home in Beit Hanoun in the northern Gaza Strip.
This mother did not know that their clock would soon stop ticking, not by their creator but by their enemy. She did not know that it was the last breakfast she would prepare for her children. She did not know that it was the last time she would hold her baby. She did not know that she would no longer know her children and their future as they also would never know their mother as an old woman. Like any mother, she refused to leave her children alone on their trip. She did not want to let go of her baby and insisted on accompanying them as one family in life and in death.
But like many others before her who were killed by Israel, she did not know that she would be the hero of a horror movie, and that she would be leaving this world with her four children, leaving behind two other girls with the bitter taste of loss and images of their mother and little sisters pigmented in blood and pieces of their bodies. An artillery shell — "accidentally" as Israel officials said — hit the family's house and shattered the dreams of the little kids during their peaceful breakfast, ahead of a joyful afternoon. The shell killed them in a brutal way without any mercy for their tiny bodies or their baffled eyes.
Talking again and again about what the Palestinians have to face in Gaza, their suffering and the deliberate killing of their families has become a banal topic that moves nobody, especially with the pervasive silence of fellow Palestinians, the Arab world and the larger international community towards such devastating events. That each Israeli operation will bring a new catastrophic event that talking about it, draws its pain and expresses the deep hatred and inhumanity that our enemy adopts towards us, forces me to write about these families and their tragedy with one hope that my words will make a difference and help in preventing such events in the future.
We, the Palestinians, must begin to realize that the rules of Israel's killing game have changed. There is no respect for Palestinian lives, that they don't see as human and don't give a second thought about the innocent children, mothers, fathers, brothers, and sisters it has killed and entire families that it has destroyed.
As I have written before about al-Athamna family in Beit Hanoun, Abu Ghalya family in Jabaliya, and Abu Me'teq family also in Beit Hanoun, a question is left without having an answer, not about those who were killed and rest forever, but about those who left behind and who have to live with the memories of their experience every moment for the rest of their lives. Day and night, even when time passes so quickly that things sounds fine to them, but deep down in their subconscious they will always keep these bad memories and force themselves to believe, as we all do in such experiences, the big lie that things will be ok and life will go on. But, the truth that we must accept is that these individuals will never be the same and can never live a normal life. We have to be prepared when the time will come when the monster that the Israelis have created, and that lives in the details of each of these stories is freed, and we the Palestinians must face its consequences.
Najwa Sheikh is a Palestinian refugee from al-Majdal located just north of the Gaza Strip. Shiekh has lived in refugee camps in Gaza her entire life. She is married with three children.
Related Links